There are few things better as a homeowner than being able to entertain outdoors. If you've got the backyard space and company coming over, then it would be a shame not to take full advantage of it! However, depending entirely on your backyard space for entertainment can put an evening at the whim of the weather.
If it's too hot out or rain is in the forecast, many homeowners find themselves moving indoors.
If you're looking for a way to expand your outdoor space, protect your party from the elements, or even simply to spruce up the look of your backyard, then perhaps a pergola is the structure you're looking for. Many homeowners have begun to implement a pergola in the design of their space as they provide countless benefits to the home.
We've compiled a list of the top 10 reasons why anyone should consider a pergola!
Whether you're looking for a way to bring the party outside, or simply for a way to bring life to your backyard space, a pergola is the way to go.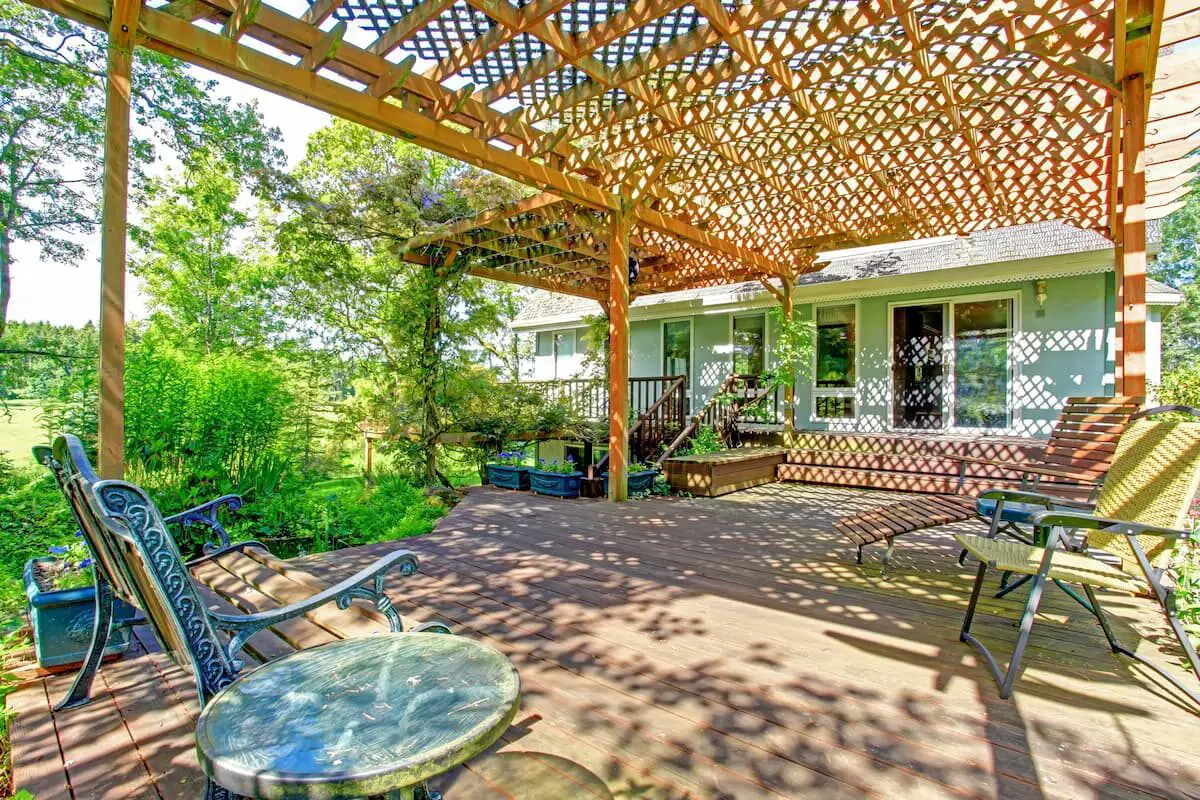 Related Reading: What Size Beams For a Pergola? (it depends…)
Here are the top 10 reasons for having a pergola:
1. Expand Your Outdoor Space
One of the most popular reasons for getting a pergola is to expand your usable outdoor space. If you have a backyard, you know the difference between space and usable space. You could have a patch of yard that is open and green and perfect to use, but sometimes the sun shines too hot and then no one wants to be sweating in that patch for too long.
A pergola would enable you to bring that space into the forefront of your usable area. Pergolas provide the perfect amount of protection from the sun and enable homeowners to transform their backyard space into usable space. A spot that was once unusable is now the peak of your space.
2. Add Value to Your Home
Pergolas are a fantastic way to bring the value of your home up. Having an attractively landscaped and decorated backyard really contributes to the "curb appeal" of your house and to the listing photos your agent may take in the future. According to home pricing experts, a quality pergola alone could draw your asking price up by 20%.
The beauty and accessibility they provide homeowners is what creates the boost in price.
Pergolas are one of the most value-adding additions a homeowner can have. They offer a natural beauty that awnings and gazebos do not and are much more affordable. If you're looking for something that provides comfort now as well as security later, then a pergola is a fantastic addition to your space.
3. Add Privacy to Your Space
A pergola provides plenty of customization options that can be tailored to your needs. One example of a preference that can be met with a quality pergola is your desire for privacy. Your typical pergola might be open and exposed to your neighbors, but that's an easy and affordable fix.
Simply add curtains or latticework to the sides and you've got yourself a private space that is still open to the outdoors. With proper siding on your pergola – which is easy to install – you can earn the privacy you desire whilst still providing yourself and your guests with an outdoor space that everyone is certain to love.
4. Plant Options
If you're a plant owner, then a pergola provides you with an exciting opportunity! Due to the design of the structure of a typical pergola, there are plenty of spaces to hang plants or to plant vines and climbing plants to grow up the sides and/or top. You can decorate your pergola with all sorts of outdoor plants that you otherwise wouldn't have access to.
Thanks to the semi-roof on a pergola, you can hang plants from the beams that wouldn't be able to survive indoors or outdoors in direct sunlight. The pergola offers that in-between space that certain plants thrive on. On top of opening up a door to new plant options, you're also allowing yourself to decorate the pergola with natural beauty. By planting climbing vines, you can also increase the privacy and sun protection offered by the pergola. 
5. Shade and Weather Protection
As mentioned earlier, one of the biggest benefits offered by a pergola is the amount of shade and overall sun protection. A pergola is a perfect mixture of outdoors and indoors with its upper beams. They block out enough of the sun to keep the space cool whilst allowing some light to get through and keep the area temperate.
You can easily add a bit of fabric to the top to further protect yourself from the elements. Should the rain start coming down, any furniture underneath the pergola will be relatively safe. It'll still get wet, sure, but much less so than if left out in the open. You'd be surprised how protective those beams are.
6. Entertain Outside
Not only does a pergola expand your outdoor space, but it creates an amazing spot to entertain. While the rest of the backyard will still be open to use, chances are your guests will want to spend their time underneath the pergola. It's a stunning structure that keeps the area moderately cool, even on the hottest of days.
Place your fire pit underneath the pergola – the fumes will rise through the beams and you'll be safe to use it without fear of fire! Place your dining or conversational seating underneath the pergola and experience a temperate climate with your guests outside. The pergola allows homeowners to bring entertainment outside, no matter what the weather conditions are calling for.
7. Customization Options
Whether it be painting, building, or decorating, the customization options that a pergola provides are endless. If you have a wooden or a fiberglass pergola, you can paint it to match whatever design you're looking for. On all types of pergolas, homeowners can specify the design of the overall structure, which will likely not compromise the build.
As mentioned earlier, you can add latticework to the side for extra privacy or an awning to the top for added protection. The design of a pergola is so versatile that almost any decoration or addition will work well with it. A pergola is far more customizable than other forms of outdoor space extenders (i.e. gazebos).
8. Easy to Build
Don't have the money to outsource the pergola build to a company? Lucky for you, they are one of the most popular DIY structures out there. The design and construction process is so simple that, with the right set of tools and safety measures, you can do it at home. I highly recommend knowing a bit about construction before starting the build, but once you're ready, the process is simple.
The simplicity of the build will ensure that your new pergola will be up and ready to use in no time. Whether you're doing it yourself or outsourcing to a professional company, the build process will go by in no time at all.
9. Connect to Your Home
Another customization option that is available to you with a pergola is where you want the structure to be based. You can either build a stand-alone pergola or you can connect a pergola to your house. Thanks to the lightweight materials and design, it won't place unnecessary stress on your siding or roof material.
Connecting the pergola to your home allows you to create a sort of pathway. You can connect the pergola from your backdoor to a gazebo or other form of outdoor structure for a welcoming and weatherproof outdoor space. The possibilities are endless with a versatile and simple pergola.
10. Stunning Structure
The beauty of a pergola alone is enough to turn heads. It's a simple design, but one that rounds out a space. With a pergola in your yard, you'll be the envy of the neighborhood. Your outdoor space will be optimized and you'll be ready for whatever weather is thrown at your party!
No matter the material you select, you're bound to have a great structure that offers shade, privacy, protection, and a definitive space for entertainment.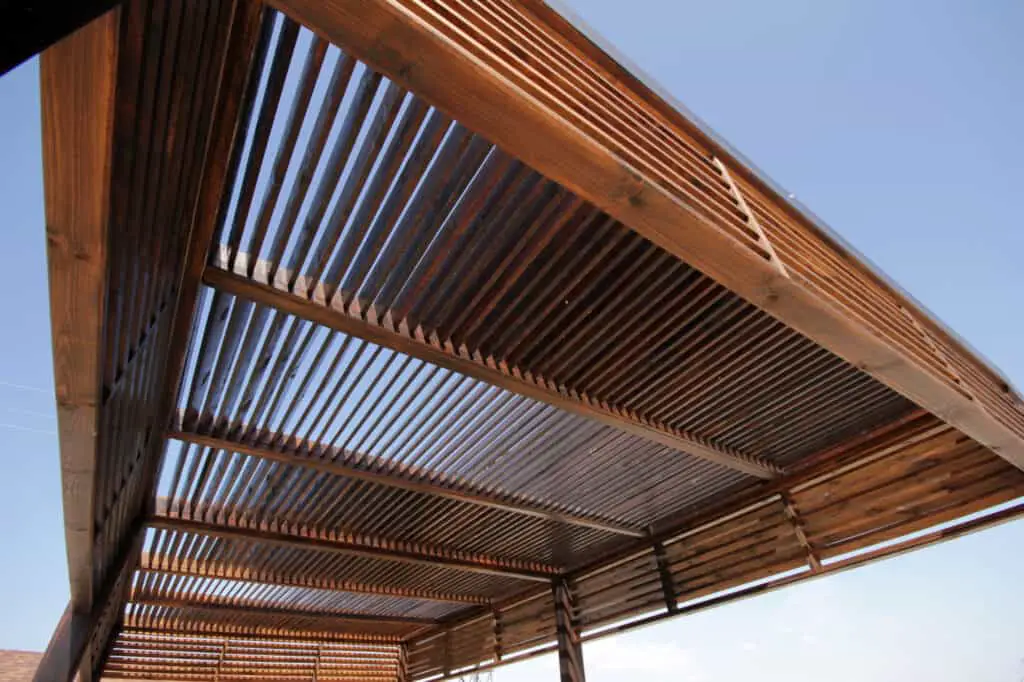 Selecting the Right Pergola for Your Space
Now we get into the details of choosing the right pergola for your space. There are plenty of factors that go into picking a pergola, many of which come down to preference. However, as a homeowner, you must be familiar with the details of your home and your space when selecting your pergola. A material that works in one location might not be the right choice for yours. You could find yourself spending much more than you need to on base materials or maintenance.
Before you settle on a pergola, make sure that it's the right one for you and your space. Here are the factors and details that you should consider when shopping for a pergola. 
Materials
One of the most important decisions you're going to make, regarding your pergola, will be the material of which it is constructed. There are plenty of options available, but some materials might serve certain locations better. For example, fiberglass could be the better choice for a particularly rainy region.
Wood – Pressure-treated wood is one of the most common materials used for a pergola. This is due to its abundance, ease of accessibility, and low cost. It's easy to acquire and simple to maintain. It does, however, have to be pressure-treated to withstand the elements. Regular wood will provide an interesting and unique look, but you'll find yourself replacing the structure within a year.
Cedar – This option is slightly more expensive than pressure-treated wood, but is one of the most popular materials for the way it looks alone. It offers a stunning natural finish that can fade and change over the years, but never lose its luster. Cedar is a naturally bug-resistant wood that can withstand years of use. You have the option to stain it and maintain it or let the elements fade it  for unique and natural style. If you have Cedar muskoka chairs or other furniture in your yard, this has the added bonus of creating a cohesive look with your furnishings and pergola. 
Vinyl – Easy maintenance is important in a pergola and the wooden options certainly do not offer that. Vinyl pergolas are chosen for simplicity and reduced post-installation costs. These pergolas will last for years without you having to perform maintenance or upkeep on them. The only downside to a vinyl pergola is the lack of customization. Vinyl is hard to paint so most homeowners stick with the typical white finish.
Fiberglass – The larger your space, the larger the pergola. As the pergola expands, it needs to be able to support more weight. Luckily, fiberglass is much stronger and sturdier than your typical wood or vinyl. This allows you to go longer distances without a support beam and enables you to cover more space with less material. However, fiberglass is the most expensive material on our list. They're lightweight, easy to paint, and will last for years!
Pricing
Along with the materials you choose, many factors can impact the total price of a pergola installation. Factors such as installation space, labor, and upkeep can sneak up on you, so it's important to be aware of them.
You'll likely be prepared for the cost of materials and labor, but what if your space isn't suited for a pergola yet? There might be some terraforming, landscaping, or other yard construction needed before a pergola can be installed.
Once your ground has been leveled or your deck expanded, it's time to install the pergola. The total cost of installation will vary based on the materials you select and the company you work with (or if you decide to do it yourself), but it shouldn't break the bank either way.
Once the pergola is installed, the only thing you need to worry about now is maintenance. Prices for premade pergolas (link Wayfair) range from $500 – $5,000 and custom options will range from about $2,000 – $6,000
Maintenance
Depending on the material you select for your pergola, there could be some maintenance costs down the road. Vinyl and fiberglass are much more self-sustaining than the wood options and will likely require much less upkeep. Basically, if you spend more on the materials now, you likely won't have to spend as much on maintenance later. Similarly, if the woods you select for the structure are healthy and well-treated, then chances are you won't have to work as hard to maintain them.
In Conclusion
Selecting the right pergola for your own backyard entertaining space comes down to your preferences as well as the requirements of your neighborhood. Some HOAs have restrictions on the installation of outdoor structures and some areas require a permit for pergolas over a certain dimension. We would advise checking with a local contractor to see what they recommend based on their experiences installing pergolas around the neighborhood. They may also have some helpful tips with regards to location and materials. Overall, a pergola is a perfect way to bring life to your backyard and to bring the party outside!