Should a pergola be attached to your house? This is a question that many homeowners have asked themselves. There are benefits and drawbacks to attaching the pergola to the house, so it's important for you make an informed decision about whether or not this is something you want in your backyard!
A pergola that is anchored close and connected has a greater chance of withstanding strong winds or heavy snowfall due its proximity, which makes it more livable for homeowners who live in areas where these conditions occur often during certain times each year!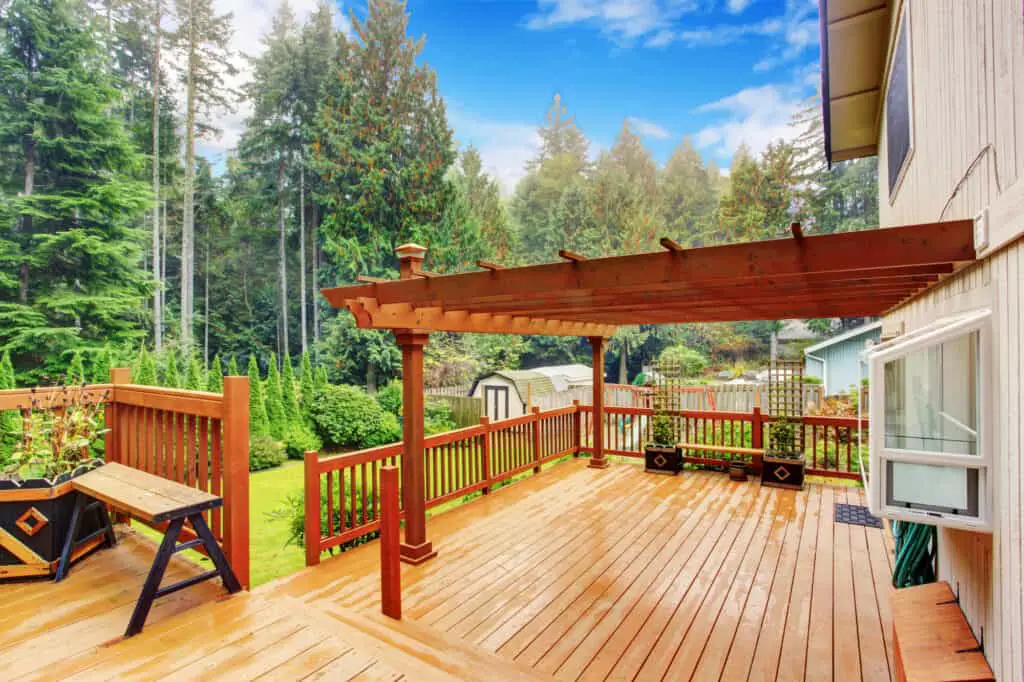 Benefits of Attaching A Pergola To Your House
Most homeowners will agree that a pergola attached to a house is visually stunning. It helps to create a seamless transition from indoors to outdoors and will always be a point of conversation when entertaining.
But attaching a pergola to your house has functional purposes as well. For starters, it will take up less space. Smaller backyards and patios with restricted space can still benefit from pergolas if they are attached to the house rather than built as standalone structures.
Attaching a pergola to the house will also take away most of the lateral stability issues associated with freestanding pergolas.
An attached pergola will help provide more shade as well. This is an especially great benefit for homeowners who live in areas where these conditions occur often during certain times each year!
Drawbacks of Attaching A Pergola To Your House
There's no way around it, pergola's require maintenance. Also, don't expect your pergola to look the same year after year. Wear and tear definitely affect pergolas.
When it comes to attaching a pergola to your house you need to be aware of the type of material the pergola will be attaching onto. For example, if the side of your house has brick veneer, you'll probably want to avoid placing any significant load on it.
You'll also have to consider the area you'll be attaching the pergola to. Are there gutters and siding that need to be removed? This adds another layer of labour as adjustments will need to be made.
You'll also want a level surface for the pergola, which could mean removing sod or other landscaping features in order make sure it is flat enough and provides clearance between objects like trees that are near your house's exterior walls of windows so they don't get damaged when you install them over time because as mentioned above – wear-and tear also affect these structures!
Basic Tips For Attaching a Pergola To a House
Measure
Marking up your yard is a lot easier than you might think. It starts with marking where to stand for the freestanding posts and work backward from there, remembering not to use anything that's been painted before – it will wash away after rain or watering. When deciding on what type of wood post you want, consider durability; metal poles are great if they can withstand being run over by cars in front of your house!
Next comes digging holes and screwing them together into tall towers like ladders for even taller trees or bushes near sidewalks so people don't trip as much when walking down the street.
Here are some basic steps and tips for attaching a pergola to your house. First, figure out where you'll want the freestanding posts to be positioned.
Install Posts
When installing freestanding posts, you want to ensure that the anchors are sturdy and not going to shift over time. You can use wood post anchors or a base kit depending on how your posts will be installed – in-ground or on top of an existing deck.
If using pressure-treated lumber for any part of the installation process, make sure it is galvanized hardware that has been powder coated as well if possible so they won't corrode faster than other material options would have done otherwise!
When trying to install free standing posts there may be weight from these pieces plus onto ledger boards; this means its important that you take care with what type of anchorages are being used because some types could deteriorate quickly over time whereas others
Install Beam
Install the main top beam to connect two freestanding posts and serve as a support for rafters. When attaching this, consider using ornamental wood ties that are meant be seen; it will save you extra work of hiding or painting over ugly hardware.
Install Cover
You can either leave the top of your pergola bare, or cover it with a tarp, shingles, or plants and vines.
In order to make your pergola stand up and look sturdy, you first need to attach the rafter clips. Rafters can be installed by either nailing them down or using brackets for added support – both are equally effective! You may also enjoy selecting a roofing material for your pergola from our list of options that includes shingles, tarpaulin, plants and vines.
It is always important to put in an adequate amount of rafters when you are building a pergola. If the top isn't sturdy, then it won't be worth your time or money!
You can either leave the top bare and allow for some natural landscaping opportunities on this space, but if there is no risk involved with including material overtop (such as plants) consider using shingles to give that nice aesthetic touch. In conclusion: installing raftered clips first will help provide stability while adding these final touches – make sure not to forget about them because they're so crucial!
The Purpose of a Pergola
A pergola is an open structure that can be freestanding or attached to a home. They provide shade and protection from harmful UV rays, while also giving climbing plants something on which to grow.
The word pergola has origins in Late Latin, meaning a projecting eave. It was mentioned in an Italian context by John Evelyn at the cloister of Trinità dei Monti (Rome) when he used it to describe a hunting "pergola" built on Salisbury Downs for that purpose.
While they do not provide full shade on their own as stand-alone structures, pergola's versatile design allows many options when it comes to shading in your outdoor area. If you desire total coverage during those hot summer days or want protection from pesky insects that may be around at any time of day than consider adding an optional retractable canopy which can give you partial covering if desired and different levels depending on where the Sun is located throughout certain times of the day!
Professional Pergola Installation
If you don't have much experience with adding structures to your home, practicing on your own home is probably not the best idea. Consider hirering a professional pergola installation company to do the work for you.
A professional will have years of knowledge and experience in this type project, so he or she'll know how long it should take and what materials are needed before they start your pergoa lproject .
They also make sure that all codes from their municipality must be followed during construction which can save a lot on headaches later down the line.
Some of the chain hardware stores like Rona and Home Depot may offer installation and set up services with their products.
You can also try to contact a local contractor to see if they are available for hire.
Don't forget that you'll need a building permit and often it's best not do the project on weekends as city inspectors are more likely be unreachable during this time of day, so plan accordingly!
Final Thoughts
Pergolas are an excellent way to enhance your outdoor living area and provide shade for a breezy summer day. They don't just look great, but also serve as functional pieces that can help you enjoy time outdoors throughout the year!
Attaching a pergola to your home allows for you to enjoy the shade and protection from sun, rain or insects.
When looking at adding some sort of cover then consider attaching one onto either side wall if desired such but going all out could allow two sides plus part backside instead too!!! This would provide total coverage against whatever may happen throughout each day