Pergolas are a stylish way of creating a lovely shaded or covered area covering a deck or patio.
Whether you are looking to build a pergola in the backyard of your home, or you own a business and are looking to construct a pergola for some outdoor seating, we can all agree that pergolas are beautiful structures when harmoniously built.
A fantastic benefit to having a pergola is that it can significantly assist in shading without actually having a roof. Some people prefer gazebos in colder climates because you will still be covered when it snows or even rains. However, pergolas are fantastic in warmer temperatures.
There are so many looks a pergola can have, and just a couple that are common are rustic looks and more modernized looks. What's great about wood as the material for pergolas is that you can paint or stain it or simply just let the weather naturally distress it.
Nevertheless, pergola's create a relaxing space to spend more time outside, so continue reading this article in order to know which type of wood is best for your project and your needs! To start, below are the four principal wood types typically used for pergolas.
Pressure Treated Wood (PT)
Cedar Wood
Tropical Hardwood
Thermally Modified Wood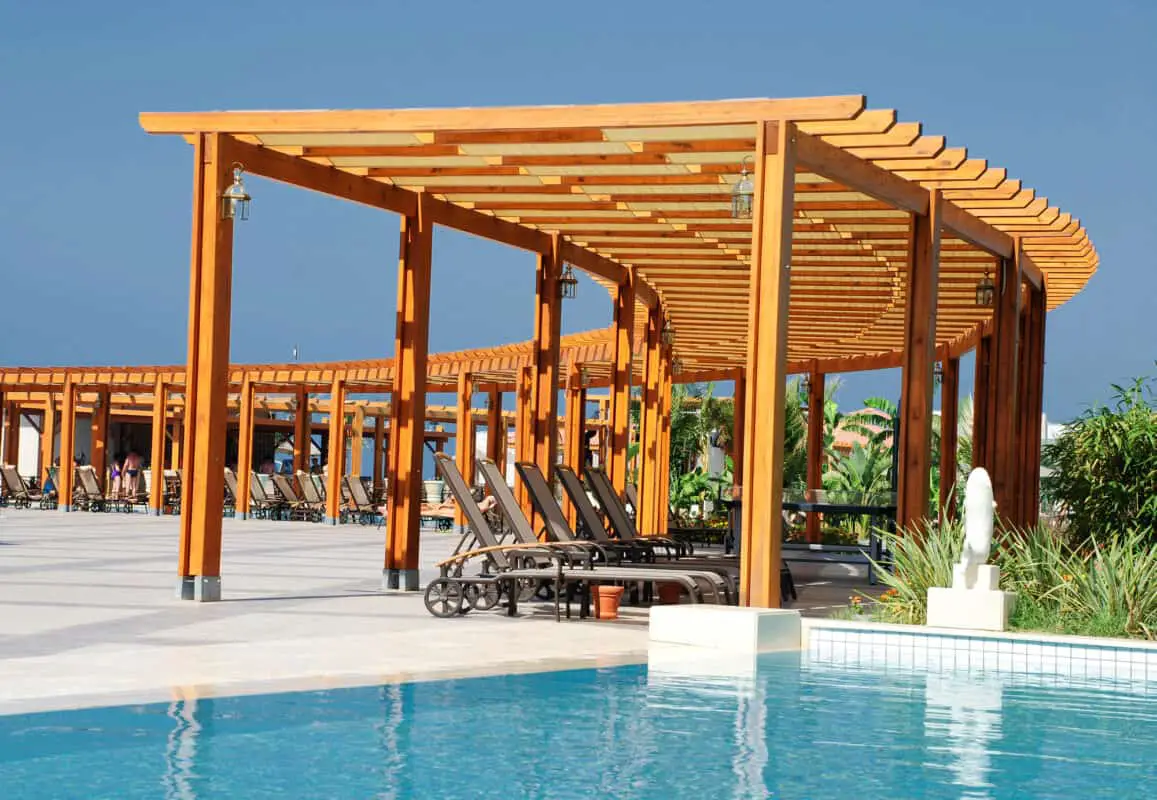 Different Types of Wood For Your Pergola
Pressure Treated Wood (PT)
Pressure-treated wood is a budget choice for those that aren't concerned about appearance. PT wood is the most commonly used wood for pergolas, but it is not without its flaws. Because of the chemicals used to treat this wood to be resistant to rotting, decaying, and insects, it leaves a discolored stain overtop, and many don't care for the appeal.
Even though pressure-treated wood is cost-effective, it does show a blue or green tint to its coloring. When homeowners realize the shade is odd and unappealing, most decided to paint or stain it another color.
In my opinion, if you are going to be spending more of your money to fix the coloring of the affordable wood, you might as well spend the money on higher-quality wood like red cedar or redwood.
Cedar Wood
Cedarwood is notably pricier than the pressure-treated kind, but it is a naturally protected wood. Native to Canada, cedar is naturally strong and durable. Cedar is excellent for all different climates but is best suitable for a harsher climate because it can withstand extreme temperatures and easily repels dirt, insects, rot, and decay all naturale.
With cedar, you have the option to paint or stain it another color. However, if you leave it to weather down, it will turn into a grey-like hue. Yes, cedarwood is more expensive than pressure-treated wood, but you can be assured that it doesn't have any of the chemicals used to treat it since it is all-natural wood.
Tropical Wood
The type of tropical wood many choose to use is Ipe. It is an expensive and attractive alternative but hard to source. Tropical timber is widely accepted as the ideal wood to be used for outdoor projects. Ipe, in particular, is a tropical hardwood that will last through the saltiest of water.
Ipe has incredible durability to weathering, and just like many others, it is resistant to insects, dirt, rot, and decay.
However, the workability for Ipe tropical wood is impeccable compared to cedar or pine wood. People had said that the pier for New York City's Coney Island is entirely made out of Ipe hardwood and has lasted 25 years before they ever had to maintain it.
Thermally Modified Wood
The best choice for an optimal appearance, price, and performance would be thermally modified wood. By definition – "thermal modification is a scientific process that changes the characteristics, chemistry, structure, and performance of wood at the cellular level."
Compared to the above-mentioned woods, thermally modified wood is super-heated to a point where the wood becomes even more stable than others by essentially "cooking" the natural sugar in the wood, in turn, creating this wood to be further resistant to rotting and decay.
The most significant benefit to thermally modified wood is the stabilization it has once created. Stabilization helps to stop shrinkage or expansion during warm or cold temperatures leading to a more dependable exterior project that doesn't need much maintenance.
Maintaining and Cleaning A Pergola
Maintaining and cleaning pergolas don't have to be a hassle. If you have chosen any of the popular or higher-end woods mentioned above, then you are golden. The natural aspects the wood provides are fabulous for protection against the elements. However, you want to keep termites at bay with regular cleaning or maintaining the wood.
However, over years of wear and tear, you'll eventually need to touch up your pergola's wood. One way to avoid this in the shorter term is to use a clear oil-based sealant. Using a wood sealant will help aid in any circumstance where weather plays a harsh role in your area, and you could keep this up every two to four years if it is needed.
Suppose your pergola is not treated or adequately cared for. In that case, the wood could rot and deteriorate faster than anticipated, resulting in making necessary purchases to replace your entire patio cover.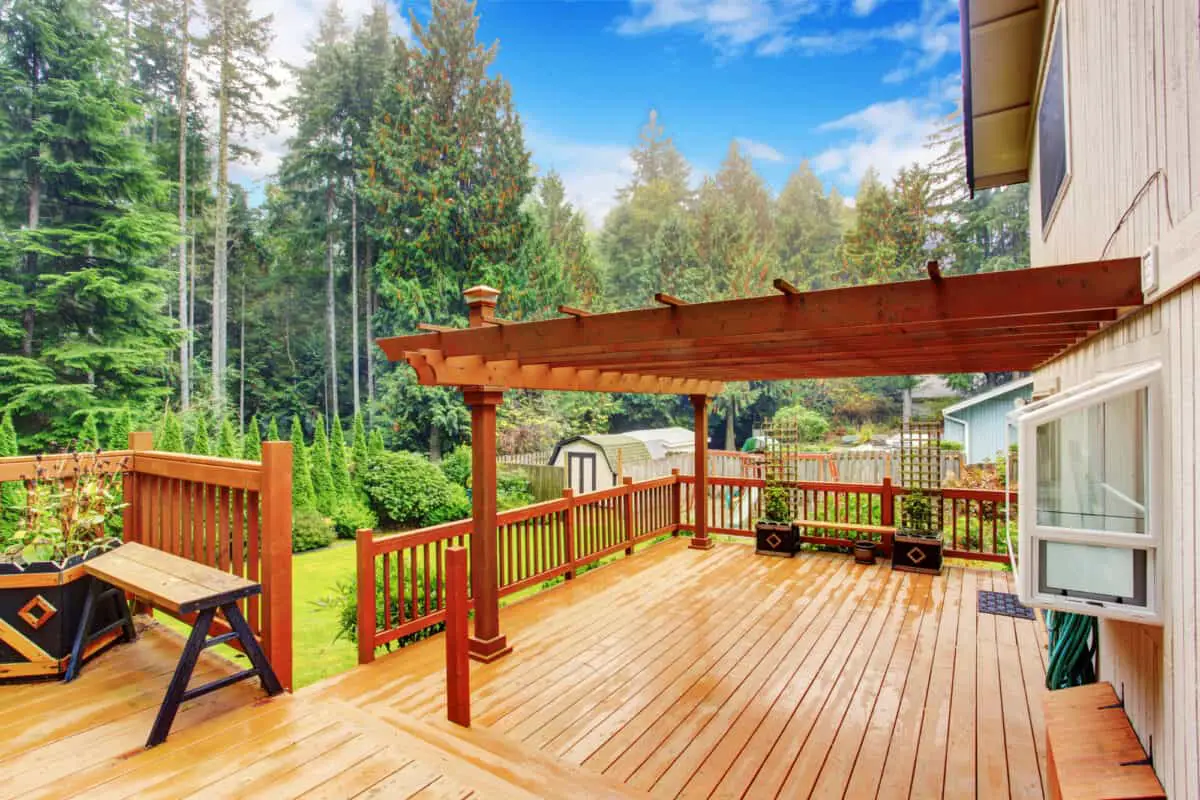 Conclusion
Nowadays, you can build pergolas with practically any type of wood available, but it narrows down to how you essentially want the outcome to look like or how the pergola will be used.
Fundamentally, wood is used to construct Pergolas because it tends to be readily available at your local hardware store. Many people claim that working with wood for pergolas is durable and straightforward.
When wood is exposed to outdoor conditions, it simply works better. With wood as your material, you can easily adjust the sizes and customize the design to exactly your needs.
Whatever wood you choose for your home or business's pergola will determine how long your structure will last and how much maintenance it will require. Ask yourself how long you want your pergola to stay, what it is you want to receive from it, and from there on, determine which wood, color, and look that visually appeals to you.