It is never a bad idea to have an outdoor place where you can relax or host friends and family. Especially in times like the present, hanging out with people outside is now becoming more the norm and happening much more frequently.
There are many ways you can make sure that your outdoor space both looks good and puts off a sense of welcoming to anyone who comes to hang at your place. A pergola is a nice way to make you outside hang out much more elegant.
A pergola can serve many functions. The key is to know what size you should make your pergola.
So, What is a good size for a pergola? For large decks, a common size is 16×24 feet. For backyard or free standing pergolas, about 12×16 works well. And for a small backyard patio, you're looking at around 12×12 as a common size.
There are many pitfalls that can happen if you do not have the right size pergola, so study up and make sure you are giving yourself and your guests the best outside experience they can ask for.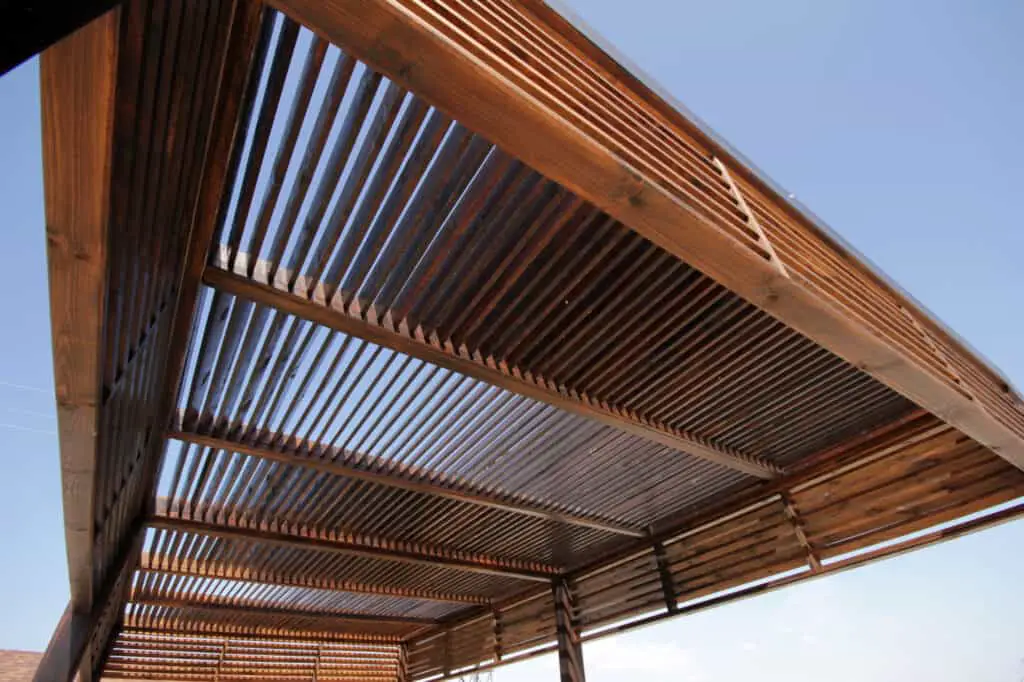 5 Tips For Finding Your Perfect Pergola Size
Before you go out and start shopping for a pergola, you will need to consider these 5 things to make sure you are looking for the right size.
1. Furniture Needs
You will need to know what furniture you are going to use outside. Either go out and know what furniture you want or make sure you go ahead and buy the furniture before even thinking about the pergola. This way you will know how much space your furniture is going to take up on your patio or deck.
2. Visualize Dimensions
Once you have figured out the potential dimensions of your pergola, it would be wise to place visual dimensions on the ground. This means you should stake out the corners in the grass. If you are using your pergola on a deck or patio, you can use cones as to where each corner will go for the pergola. This will help give you a visual outline of where your pergola will be.
3. Create a Mock Pergola
Once you have your markers down, the next thing you should do is actually place your furniture in the space to see what it will look like. That way you can tell if your furniture fits just right or if you need to get a bigger size than you thought.
4. Mark Down the Layout
After you have your furniture in the designated pergola space and are satisfied with it, mark it down where everything goes. That way once your pergola is up, you know exactly where to put everything.
5. Measure Height Requirements
Now that you have everything set, including the square footage of your pergola, you will want to start thinking about the height of it.
Most pergolas are about 8 feet tall but some can go to 9 if you are thinking about using any ceiling accessories on them.
What Are the Different Sizes Of Pergolas?
Knowing where you want to place your pergola is a huge deal when it comes to finding a good size for you. Some people place their pergolas on decks, patios, or even their lawns.
Depending on where you place your pergola may decide just what size you are going to get.
Large Decks – Usually 16×24 Feet
When you think of placing your pergola on a larger deck, usually that means you are getting a little more fancier than usual. You are probably looking to add a kitchen, fire pit, and built in seating all out there on your deck.
Choosing a larger pergola helps accommodate your larger deck for both practical and style reasons.
You are probably going to want to use your large deck for entertaining, so that means you are going to need a large pergola to help keep your guests out of the sun's heat to keep them cool.
If you think about style, you want your large deck to look as good as it possibly can. If you choose the wrong size of the pergola, it will stick out like a sore thumb.
The other side to that is if you pick out the perfect size for your pergola, it will fit nicely with your deck and be a fitting cap to your outdoor space.
Backyard or Free Standing Pergola – 12×16 or 16×20
If you do not have a deck but still want an outdoor experience, finishing your yard with a pergola is the greatest centrepiece for that experience. The plus side to completing your yard space with a pergola is that you have the greatest range when it comes to deciding the dimensions you want to have.
Since you do not have to worry about making sure your pergola coincides with anything else, you can have it as large as you want. The first rule of thumb is deciding just how many people you plan to have underneath it when people will come over.
If you are thinking that no more than 6 people are going to sit underneath it, a 12×16 sized pergola probably will work best for you.
If you are planning on throwing big parties and think that you will be seating around 12 people, the 16×20 pergola is definitely the way to go.
Small Patio – Approximately 12×12
Just like decks, a patio can be a lot of different sizes. Of course, that means the size of the pergolas that go with them will vary as well. Most of the time, patios are of the small variety so that is why the 12×12 is being classified under small patios.
Usually, you will go with a modest-sized pergola for your patio that will help you and your family appreciate the outside space that you have a lot more than you do now. The 12×12 pergola is the most used size there is. It will give your family as much space as it needs and flows right out into your backyard.
This sized pergola will not seem overbearing unlike if you decide to get a pergola that is too big for your patio. If you go with a large pergola for your small patio, it will look intrusive and out of place. When you have people over, they will notice it but not in a good way.
So remember, if you have a large patio, you do not need to get the 12×12, you can get one that fits. A pergola can help complete your home and make your family gatherings that much better.
Final Thoughts
No matter if you are building a deck, patio, or an outdoor entertainment place, a pergola can help take that area to the next level. When you decide it is time to host people over your place, they will be amazed at where they are at and how extravagant your place looks.
So remember, when you are thinking about purchasing a pergola, you must think about where you are going to place it. A terrible fitting pergola will nothing but ruin your outdoor experience.
You need to think about what kind of furniture you are going to use, where you want people to sit, and how many people you are thinking about having over to your place.
Once you have that all figured out, you can start the pergola process and make sure you get one that you, your family, and your friends can appreciate greatly. Now get out there, and impress people with your pergola.
Continue Reading: