Creating a beautiful backyard is an important goal for many homeowners. A pergola can be a wonderful centrepiece to any outdoor space. An attractive and well-built pergola provides an area to relax and rest, and take a deep breath, all in the shady comfort of a pergola.
A pergola provides an escape from the elements and creates a private little oasis. With families staying home more than ever, homes have become a safe escape from the outside world.
But, do pergolas add any value to a home? Pergolas provide the homeowner with more valuable "living space" outside. Because of this, pergolas can add additional value to homes. Depending on the style, material, and décor, pergolas can feel like a true outdoor living room.
In this post we cover what homeowners consider before installing a pergola in their home in order to increase its value, so keep reading.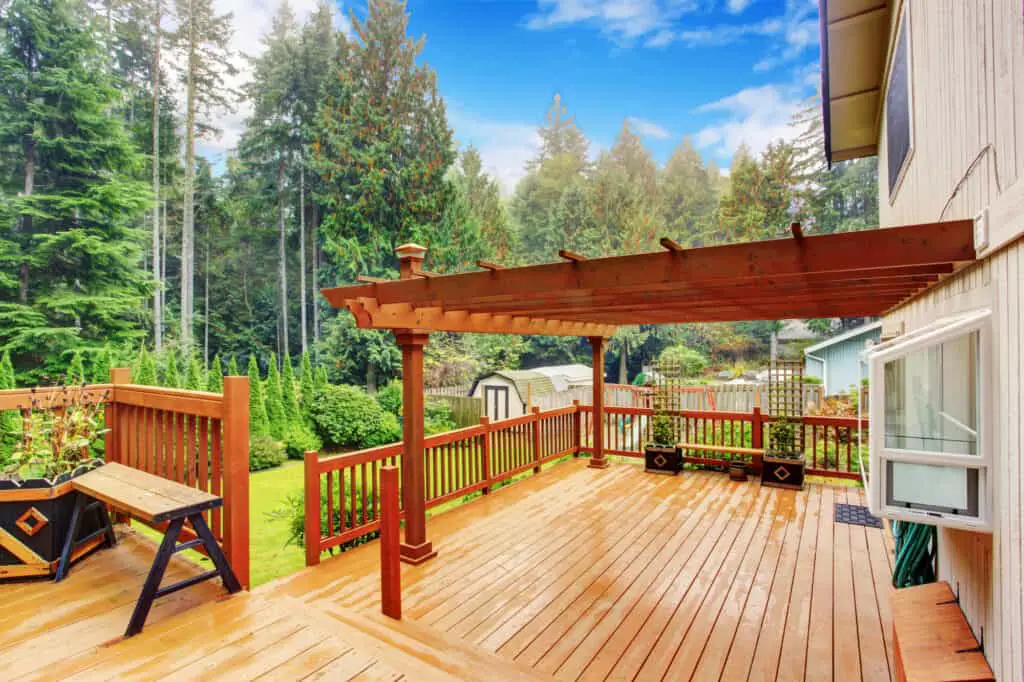 The Type of Value a Pergola Adds to a Home
Pergolas provide the homeowner with more valuable "living space" outside. Because of this, pergolas can add additional value to homes. Depending on the style, material, and décor, pergolas can feel like a true outdoor living room.
With the addition of tables and chairs, benches and fluffy pillows, or lighting, a pergola can continue the décor theme of a home, or be styled in a completely different way. This contributes further to the outdoor living room feeling.
While a pergola doesn't add any more actual square footage to a home, it can be made to feel as if it does. The homeowner can create a peaceful and quiet retreat with the addition of a music system element, lighting, or some comfy seating.
How does a family game night or a romantic date night under the stars sound? Those memories can be yours in your own pergola.
How Much Does a Pergola Cost to Build?
The cost of planning, preparing, construction, and materials can vary from location to location. For example, the cost of installing a pergola in California as opposed to Kansas will vary as a result of the cost of the materials, labor, location, and the demand for them.
Adding a pergola to the landscape in New York City or Los Angeles will more likely cost more than in more rural areas like Kansas or Kentucky. However, building a pergola in a larger city or a more populated urban area may see a greater return on investment than in a rural area.
As the saying goes, location…location…location.
The availability of materials in various locations also varies from place to place. Whatever the materials are that are used will need to be chosen, ordered, delivered and installed regardless of where the property is located.
The type and style of the chosen pergola can also determine how much value is added from the investment. Pergolas can be of varying sizes, from large to compact.
They may also be made out of a vast variety of materials. What are some of the materials that may be used for the construction of a pergola, and how can the cost affect the value of a home?
Materials and Costs
Wood
Wood is an attractive choice for pergolas. Many different types of woods can be used for the construction of a pergola including Tropical hardwoods, pressure-treated wood, or red cedar or redwood. While attractive, wood may not be the best choice for a homeowner's pergola.
The wood that is chosen and the maintenance that is performed will determine how the pergola will look over time, and how long it will last. With wood pergolas, proper maintenance—including thorough cleaning and re-staining may help the pergola extend its life.
These factors contribute to how much value a wooden pergola will add to a property. Wooden pergolas are more expensive than other options. They range from $7,000 to $18,500.
Metal
Metal provides a more modern, industrial appearance to a pergola. A pergola made of metal is one of the sturdiest and heaviest available. There are numerous styles, colours and materials that may be used, increasing the design possibilities.
These structures can also be attached to another structure, or remain free-standing. If painted, the paint may begin to peel and flake after being exposed to environmental factors or after a period of time.
Steel is the most cost-prohibitive option, while aluminum is another option that is easier on the wallet. The cost of a steel pergola can range from $5,000 to $13,000.
Aluminum
Aluminum pergolas require little maintenance. These pergolas are also relatively simple to install. They are perfect for installation in a location close to a structure or attached to a house.
As for appearance, aluminum pergolas are designed to withstand environmental extremes and will not rot because they are nonporous. Aluminum pergolas generally range from $2,000-$3,000 for a 100-square-foot pergola.
This does not include installation or other additional charges.
Vinyl
Vinyl pergolas can be an attractive component to a property's hardscape. They can come in kits and are easy to maintain, usually only requiring a yearly power wash.
They can work nicely in just about any part of a yard. However, they are the least strong of the options and have the potential to collapse under heavy snow.  They also may warp if exposed to weather extremes such as heat, wind, and extreme cold.
Additionally, they must be freestanding and cannot be connected to a home or other structure. The typical cost for vinyl pergolas ranges from $4,000 to $10,000.
Fibreglass
A pergola made of fibreglass has some similarities to vinyl. It is non-porous and requires no more than a power wash once a year. Fibreglass is resistant to corrosion and will not corrode, pit or rust.
Once exposed to temperature extremes, weighty snow loads, or frequent wind events, fibreglass may crack and warp like vinyl.
Prices for fibreglass pergolas range from $3,000 to $8,000 based on location and the size to be built.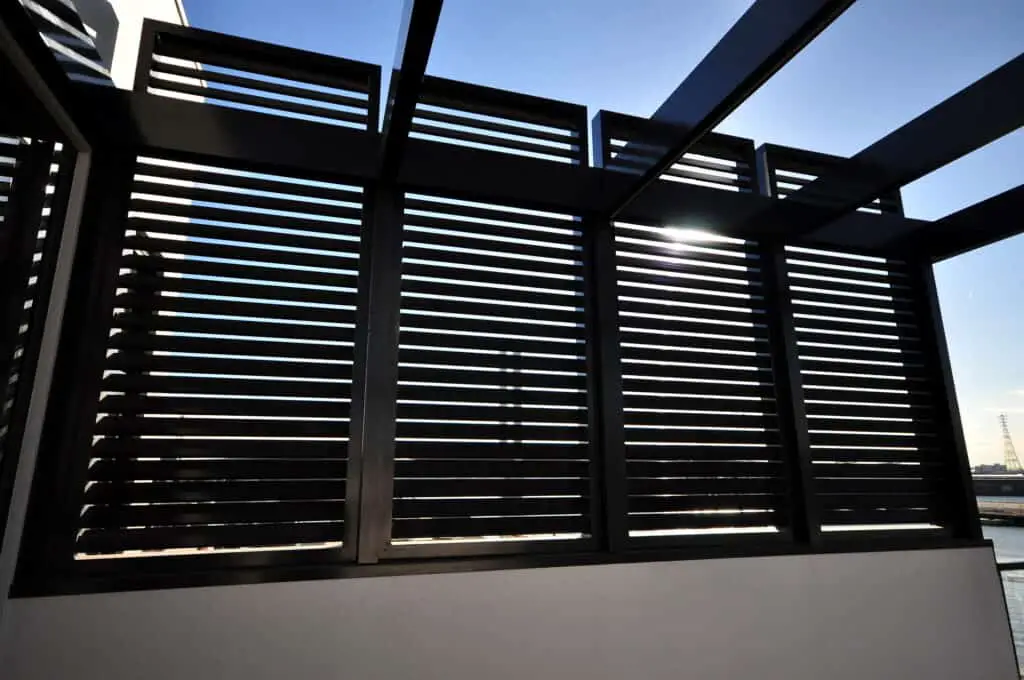 Return on Investment for Pergolas
Adding a pergola, whether attached or detached, can give a return on investment of between 50-80% according to industry experts. To increase the probability of a higher return on investment, homeowners and builders should ensure that the pergola fits in with its surroundings.
According to property experts, pergolas should always be planned and built with aesthetics in mind. With this in mind:
A pergola may be the ideal way to add a welcoming gathering space with tons of character to a property. With so many options to explore, from materials to style to size, the possibilities run the gamut.
Homeowners can buy a do-it-yourself kit and install the pergola themselves, or custom design their pergola to blend seamlessly with the environment surrounding it.
Final Thoughts
Since outdoor living and gathering has become increasingly more popular, pergolas have also been increasing in popularity. The overwhelming data indicates that outdoor living space that increases a homeowner's usable outdoor space is much sought after.
For the right buyer looking for a relaxing place to unwind and enjoy the outdoors while being protected from the elements, a pergola may be just the ticket. It may also provide a landscape centrepiece that may inspire a future buyer to purchase the property.
A well-built pergola is a big investment. However, homeowners can be assured that it offers a positive return on investment.