Pergolas are a fashionable way of creating a lovely shaded or covered area shielding a deck or patio.
Whether you are looking to build a pergola in the backyard of your home, or you own a business and are looking to construct a pergola for some outdoor seating, we can all agree that pergolas are beautiful structures when harmoniously built.
Being HGTV's favorite outdoor accessory, pergolas indeed are gorgeous and enhance how you use your overall space. Many homeowners want to know, "exactly how long does a pergola last?" and this answer entirely depends on the type of material used.
You can choose to choose wood, metal, or synthetic material such as vinyl.
If you are looking for style, practicality, and extended lifespan, then vinyl is a fantastic option as the building material for a pergola for you.
Because vinyl pergolas have clean, simple colors, it can make any vinyl pergola feel more formal. Wood pergolas can rot or decay when weathered down, and metal can rust, whereas vinyl is entirely impenetrable to any elements.
The Lifespan of Wood vs. Metal vs. Vinyl
Since pergolas are considered outdoor decor, the maintenance of keeping up with them while exposed to the harsh weather can be exhausting. Using wood as the material for a pergola could last you about five to twelve years of outdoor fun if you appropriately treat and care for the pergola annually.
Metal pergolas will most likely be the cheapest option since you can buy them as kits in the hardware stores; they only last up to five years. Metal pergolas aren't built for a lifetime and, because of this, they are susceptible to rusting due to outdoor elements and completely falling apart because of poor structural issues.
Now, pergolas made from vinyl will actually last you a lifetime. I know what you are thinking. A lifetime, really?! Yes! Make sure to do your research on whether or not the vinyl you are looking for is high quality. As long as you understand the low maintenance work ahead of you for a vinyl pergola, you can maintain a beautiful and aesthetically pleasing pergola.
Vinyl Durability
As you can imagine, wood, metal, and synthetic vinyl react differently to natural elements such as moisture, heat, insects, and even time. Vinyl is not significantly affected by weather or insects. However, vinyl can become damaged by impacts from a snow or hail storm or rocks thrown at it.
Once there are damaged sections in your pergola, you will have to replace it to keep up the nice aesthetic a pergola has. Vinyl is made from synthetic material and is durable in all weather climates, including rain, snow, and even harsh UV rays.
However, some experts don't recommend building a vinyl pergola if you live in mountainous regions that receive tons of snowfall. It can eventually sag and break since vinyl is the least strong compared to wood metal.
Customizing Vinyl Pergolas
There are so many different options to the structure and look of a pergola that if you are looking to customize a vinyl pergola for yourself, you will come to find out it is more challenging than its counterpart, wood.
Since the synthetic material is complex to source and takes specialized tools to craft, vinyl pergolas will then come in pre-fabricated or pre-cut kits.n However, since materials used for vinyl pergolas are already pre-cut, the installation time is reduced significantly and can be cost-efficient too.
Maintenance
Some people have concerns that vinyl pergolas will fade over time, and while this might have been true for earlier days. Because of how today's vinyl materials are created, they are incredibly long-lasting. If you have a vinyl pergola, you won't need to do any annual maintenance to protect its lifespan, as you would with wood or metal.
Vinyl is impeccably easy to clean. If you notice your pergola is a bit dirty, all you will have to do is use a hose to clean it off. Note that if you decided to paint over your vinyl materials, you might have to upkeep them sooner than you think because the paint can chip off weather permitting.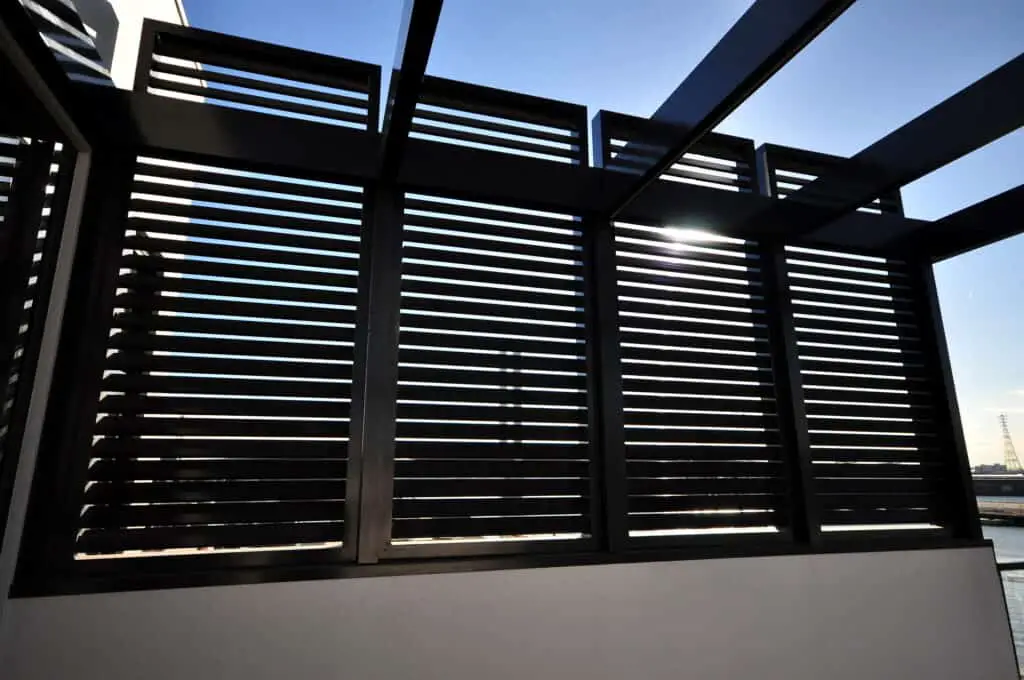 Pros and Cons of Vinyl Pergolas
A massive pro to having vinyl pergolas as a homeowner is that nowadays, homes are typically built with vinyl for the house's outer shell or siding. This means that the pergolas chosen for a homeowner's backyard will easily match the house's aesthetics. However, keep in mind that you may be limited to the colors available.
Pros:
Compared to wood or metal, vinyl is the cheapest pergola material
With vinyl material, you will have a shorter installation time, resulting in getting your backyard ready faster for sipping iced tea in your garden under some shade during a warm summer day.
Because vinyl looks modern, you can have an overall clean and formal appearance from the colors available
Hardly any maintenance is needed with vinyl.
Vinyl is ultra-lightweight, so it can cover more extensive areas without needing additional posts.
Cons:
Vinyl is not the most robust pergola material since it can bend and weaken under heavy snow loads or after being revealed to fluctuating heat.
If you are looking for a more rustic look, vinyl is not for you. It is so much more formal and clean.
Since all vinyl pergolas are predetermined in the sizing and structure, there is less customization available.
A vinyl pergola is freestanding, meaning it cannot be connected to a home.
Conclusion
If you want to incorporate a pergola into your patio, yard, or garden, a fantastic option is going to be a vinyl pergola! Pergola's creates a relaxing space to spend more time outside, and whichever pergola material you choose will be an investment and permanent addition to your home, and nowadays, you can build pergolas with so many variants of material available.
Still, it will help you narrow down if you think about exactly how you want your pergola's outcome to look like or how the pergola will be used.