Pergolas are outdoor shade structures that often form an open lattice to allow for air to circulate freely. Not to be confused with arbours, which are smaller and usually contain a bench with a roof.
Pergolas that are much larger can be used for sitting areas, walkways, or passageways or just an extension of a patio deck for at-home entertainment.
The structure itself is formed by vertical posts that are supported by cross-beams. Pergolas are not meant to block out the sun entirely, instead, they offer some relief from direct sunlight.
However, there is a specific variation of a pergola called a ramada which boasts an entirely covered roof with open sides. This variation does provide complete shade from the sun.
Homeowners are taking advantage of their outdoor space by landscaping and adding other structures, such as a pergola, that can add personality and visual appeal. Pergolas offer an extra space for homeowners to enjoy an aspect of indoor/outdoor living to increase their usable space for entertainment.
Those who already enjoy the luxury of an uncovered patio deck may experience the woes of inclement weather like sweltering summertime sun. By adding a covering, like a pergola with slight lattice working, it can provide enough relief and light shade to make the summertime experience enjoyable.
Furthermore, to make the structure more aesthetically pleasing, some opt to decorate by adding "everything from chandeliers and ceiling fans to small speakers, strings of light, even fabric," according to LoveYourLandcasping.org.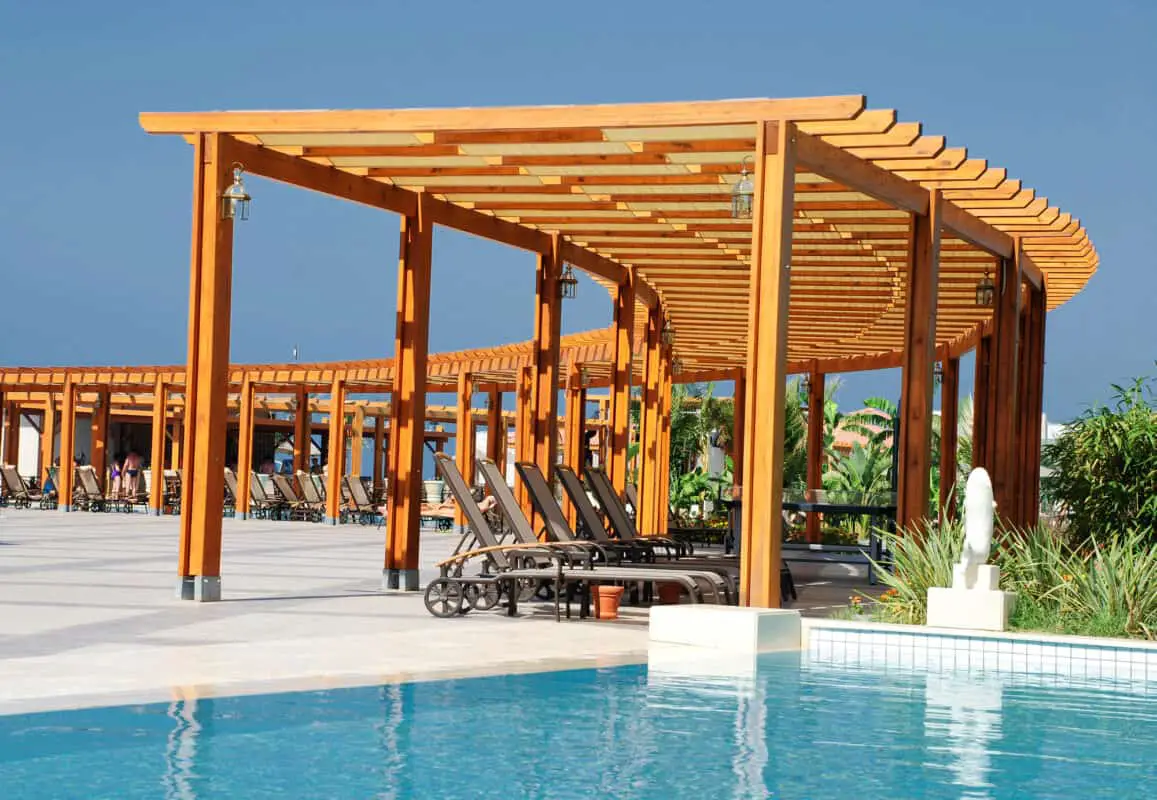 Do Pergolas Block the Sun?
Traditional pergolas are only able to provide 20-30% of shade coverage and do not protect against the sun or ultraviolet rays. Some liken the experience of a pergola to sitting under a tree — while the leaves of the tree allow shafts of light to fall through, it doesn't totally block out the sun.
While pergolas can be aesthetically appealing with their open lattices and decorative string lights, some wonder how much relief they can actually offer. With open lattice work, there are still plenty of available spaces for sunlight to pass through.
While there are other, more customizable options for pergolas, the traditional pergola offers about 20-30% shade protection.
Some from TemoBackyardLiving.com say, "Lounging underneath a pergola is very similar to sitting underneath a tree. You can enjoy some rays of sunlight peeking through, but also get some relief with streaks of shade."
The cross beams of the lattices provide sun protection during the day, but they will fall short of offering relief or shade when the sun's angle is mismatched with the angle of the cross-beams.
This is also dependent on the time of year and time of day. For the most part, people want to enjoy their pergola on harsh summer days when the low angled sun is the strongest. This can be uncomfortable if the home is located in a particularly sunny area and the surroundings are less forgiving.
When assessing a traditional pergola it's good to keep in mind that pergolas and their lattices can vary in size.
Depending on the size of the lattice slates and the angle at which it is installed can block out more sunlight and in turn provide more shade. TemoBackyardLiving.com suggests, " If you truly love the look of a pergola but want to get more shade out of it, then you can cover the beams with an outdoor fabric or add a climbing plant with vines that will eventually cover your top."
Customizing a pergola could be the best option for those looking for full coverage shade. When installing or choosing a pergola, some may want to ensure the lattices are pulled close together to ensure more shade, however, bamboo, fabric, retractable canopies, or foliage can be added.
In short, yes, pergolas can and do block the sun. How much of the sun they block varies based on style and when the pergola is being used. While there are many variations of pergolas that can offer complete shade, the traditional lattice or cross-beam pergolas will only offer so much relief.
If this is a concern and other models may not be cost-efficient, choosing where to install the structure will be vital.
Advantages of Having a Pergola
Pergolas are a great way to easily add value to a home. These shady structures are easy and affordable DIY projects for any homeowner looking to entice buyers or to simply enjoy more time outdoors.
With the average cost of a traditional pergola sitting at $3,600, it's easy to understand why some may want to take this project into their own hands.
Pergolas are lattice or cross-beam structures designed to offer relief from the sun while allowing air to circulate freely. Pergolas are distinct from arbours in that they are larger and can be used in a variety of ways such as walkways, sitting areas, or outdoor living space.
While pergolas do not provide complete shade, there are customizable options available to retrofit the cross-beams at more desirable angles or to add fabric or retractable canopies for desired living.
Pergolas are a great way for anyone looking to entertain, enjoy the outdoor lifestyle, or add a unique feature to their home. There are plenty of ways to dress up a pergola to make it feel festive or adhere to a certain aesthetic.
Designers, landscapers, architects, homeowners, and buyers are attracted to this feature to add a bit of shade to any outdoor space.
It's been noted that since the emergence of outdoor living has skyrocketed, so has the need for appealing landscaping and additional features to add value to one's home. An estimated 50-80% return on investment is seen when improvements are made to the backyard space or patio area of a home. 
While there are pros and cons to professional installation versus DIY, these structures ensure a new living space that everyone can enjoy for years to come.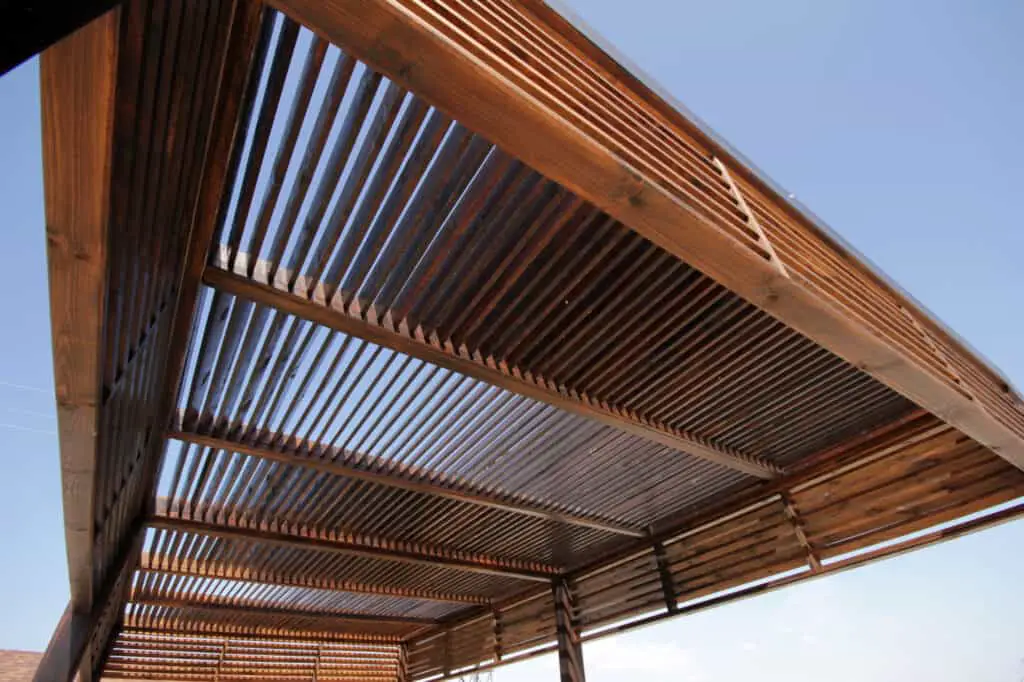 Disadvantages of Having a Pergola
After installing a pergola, they may require routine maintenance or treatment depending on the kind of wood used. Over time they may need to be cleaned, painted or treated to avoid them looking weathered.
Furthermore, traditional pergolas are made from durable wood but this could also attract termites. During regular pergola maintenance, it'll be especially important to look for any disturbances or activity in the wood.
While there are other material options like vinyl or bamboo, wood is traditionally used for pergolas and runs the risk of damage over time. Pergolas could require maintenance, a fresh coat of paint, or even termite treatment if left untouched.
But again, if well maintained they can last a long while.
Conclusion
With plenty of options to choose from — pergola's can be completely customizable and a fun weekend project for any DIY'er. With plenty of online resources, one will be able to find and create the perfect pergola they have been dreaming of.
Ensuring they are made from durable wood, these shady structures will be able to last many summers, and endure even the best outdoor parties. Pergola's can also be attached to your house which can have its advantages depending on your situation and needs.
For someone looking for complete coverage from the sun, pergolas may not be the way to go, however, they are an affordable option that can be changed or updated over time according to one's needs.
For those looking for slight shade and the opportunity to enhance their outdoor living, a pergola could be the solution.