A pergola is a perfect structure to have in your outside space. It allows you to bring the entertainment outdoors, to have guests over, and to sit and enjoy the fresh air; no matter how hot the sun might be. With the rafters on top, you get the open-air feel that only the sunshine can provide, while still being able to stay cool in the shade.
A pergola truly is the best of both worlds when it comes to time outside.
But you may be wondering; can a pergola protect you from the rain?
There are many criticisms about pergolas, one being that the open-rafter roofing leaves plenty of chances for the rain to come in and ruin your time outside. With such wide gaps, what's stopping the rain from pouring down on you and your guests?
Well, with a pergola on its own, this is a fair criticism. However, pergolas are seldom just the wooden structure we all picture.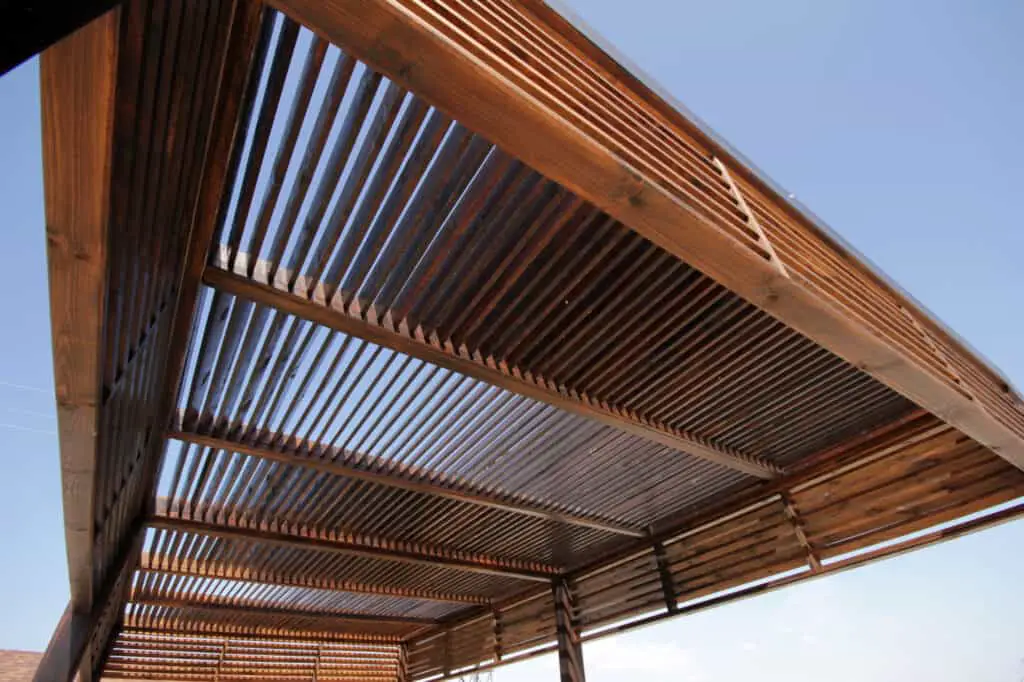 Weather Protection For Your Pergola
With the right additional feature or roofing style, a pergola can provide plenty of fun in the sun as well as the rain. If you have a standard pergola, you'll likely need an extra curtain or two to protect from the rain, but the structure itself is sure to hold nicely.
Most pergolas are treated to be waterproof, which will be perfect for when the next summer storm comes along to try to ruin your day (or evening).
Some pergolas even feature a built-in gutter system which provides ample drainage so that you aren't left with a pool of water on top of your flat pergola roof. So, while your pergola structure itself might not be great at stopping the rain, pergolas can be outfitted with whatever features you need to provide ample rain protection.
Pergola or Louvered Roof?
The type of roof that you have will also impact how rain-proof/resistant your pergola is. One of the most popular types of pergola is the louvered roof. This style features, typically aluminum, slanted rafters that can easily be adjusted to account for the angle of the sun.
With the louvered pergola, you can close off the roof so that no sun gets through, or you can open it up completely for maximum sunshine.
The same mindset can be applied to the rain. If a storm is just around the corner, you can prepare your space by closing off the roof so that no rain slips through and ruins your experience. Many of these louvered-roof pergolas also feature a drainage system so that the rain doesn't collect and fall when you open the pergola back up. As far as rain protection goes, a louvered pergola is a must.
Maintaining Your Pergola
Maintenance is simple with a pergola as they're typically built to withstand the elements for years at a time. Most materials are already well-prepared to handle strong winds, heavy rains, and years outside in the sun. There's no real pressure to keep your pergola maintained year after year.
With that being said, it doesn't hurt to keep an eye on the system as a whole. If you notice any rust, cracks, rot, or general wear and tear, getting a head start on addressing it could save you thousands down the road.
Waterproofing the System
Some materials might not be ready to handle the weather, but that's a simple fix. If you're using wood to build a pergola from your area or supplied by a local mill, chances are it hasn't been treated to be waterproof yet. If this is the case, you can simply purchase some treatment yourself from a hardware store and apply it to the structure. It's as simple as a thorough paint job and can be done by hand with ease.
Add a couple of coats, and you're now ready for the rainy season to arrive.
If your pergola is made from fiberglass, vinyl, or a sheet metal like aluminum, chances are you're already protected from the elements. These materials are built to withstand the rain and will require very little maintenance to keep in top condition.
There are also plenty of pre-treated woods that are used in most pergolas. Find out the status of the treatment of the materials you're using.
Added Features to Protect From Rain
If you have a wooden or fiberglass pergola, hope is not lost! There are plenty of extra features you can add to your pergola to ensure that it can shelter you from the rain. Another good thing about pergolas is how simple it is to add things to them. With a louvered pergola, fans, lights, and other electronic features are easy to add.
With your standard pergola, shade, lattices, and canopies can be affixed to help save the day from the rain.
Waterproof Lattices
Lattices are a fantastic addition to any pergola and they offer plenty of additional rain protection. The only way that rain is hitting you with a lattice installed is if it's coming at you sideways.
If the wind is powerful enough to force the rain sideways, you should probably be inside anyway, regardless of how much cover you have. With that being said, a waterproof lattice will provide plenty of coverage from the storm, along with the side benefit of added privacy!
Canopy
With the right canopy installed, you can thoroughly protect yourself from the rain in any pergola. Not to mention the added style factor that a canopy adds. With a waterproof curtain above your heads, the rain will have no effect on your afternoon outside. Quality canopies can be easily installed on your pergola and will provide you the rain cover that you might not get from the rafters alone.
We are reader supported. We may earn a commission when you buy through our links.
Last update on 2023-01-18 / Affiliate links / Images from Amazon Product Advertising API
Different Materials
Adding a simple roof to your pergola will go a long way to protecting you from the elements. Simple roofs like aluminum or tin can easily cover up your space when the storm is coming. Provide your space with the protection you desire and cover up when the rain is coming.
These types of roofs are simple to install and offer a unique, modern look to every pergola. Protecting yourself from the rain in a pergola is simple!
Continue Reading: Waterproof Pergola Roof Ideas
Final Thoughts
With one or two small tweaks, it is easy to take your pergola from a shade-providing structure to a rain-protecting structure. This will be especially useful in spring and fall or if you live in a rainy climate. Don't let the rainy days get you down!