Having a pergola provides an outdoor retreat or a place to entertain; however, the open latticework or vine roofs of pergolas leave your deck or patio at the mercy of the weather, especially rain. Finding a waterproof roof for your pergola ensures that your outdoor retreat is protected, and you do not need to unpack and pack up chairs, tables, couches, etc., when it is not in use.
If you have recently installed a pergola or are looking to install a pergola, keep reading as we discuss the best waterproof options for your pergola to ensure that your BBQs are no longer rained out. We will also mention waterproof pergola roof ideas that provide shade, privacy, UV ray protection and keep the snow out.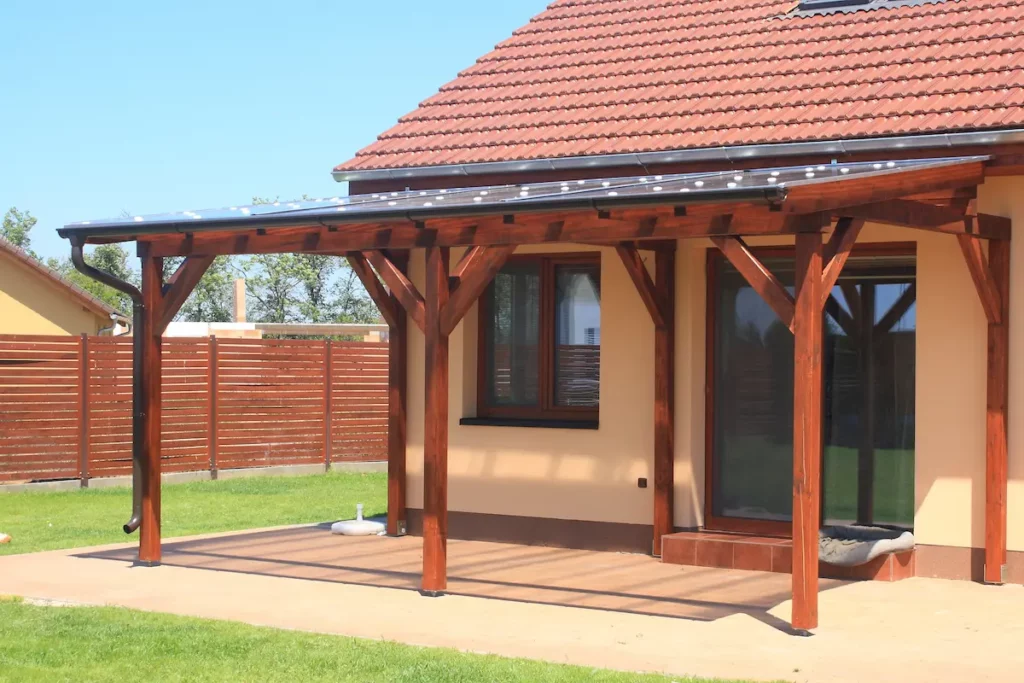 Related Reading: Can a Pergola Have a Solid Roof? [ANSWERED]
1. Waterproof Canopy
Using canvas to make a waterproof covering for your pergola is a popular option, as canvas, unlike cloth, is tighter in construction. Canvas can be sprayed or treated with a waterproof or water repellent compound, depending on your requirements. The use of waterproof canvas is ideal as it can be used in DIY kits or high-end pergola roof designs.
The waterproof canvas is fitted or attached to the top structure of the pergola by screws or ropes to form a fitted canopy. The canopy tension needs to be tight to ensure that rain does not pool in the middle of the roof and cause water damage. The canopy's tension also ensures that the water can escape and run off the edges.
There are multiple size and color options for canopies that can be fitted to the pergola roof to provide an aesthetically pleasing waterproof option.
2. Waterproof Shade Sails
Waterproof shade sails are one of the most common and popular roof covers available for pergolas, as they are affordable and look great when installed. Shade sails can be installed both on the roof and sides of the pergola for added shade and privacy. 
Waterproof shade sails are made of woven polyester yarn that has been coated with PVC. The construction of the material of the shade sails protects against mold growth and water damage.
You can purchase waterproof shade sails in multiple colors and sizes and even use them to cover your driveway, carport, or any outdoor area that may need durable waterproof covering.
3. Multitrack Canopy
These waterproof covers are generally constructed as part of your pergola installation, as they are made to fit inside the frame. The structure of the pergola roof will have two or more tracks that guide a series of that battens. These battens keep the waterproof canvas canopy tight as it moves, covering the entire pergola's top.
The top-of-the-range multitrack canopy systems will have slightly curved battens to allow the water to run off the edges of the canopy when it rains. There are also built-in gutters in the pergola posts to ensure that the water drains off the roof efficiently.
Waterproof multitrack canopy covers are more expensive and have to be built into the structure, meaning you can't cover your existing pergola roof with this system. This waterproofing roof covering may not suit those who do not want exposed rafters when the canopy cover is retracted.
4. Slide On Wire Canopy
These waterproof canvas covers are designed with battens that are stretched across the roof width way. These covers are retracted or moved to the suitable user position by wires. The battens are fitted inside the canvas canopy and are not structurally part of the pergola roof frames. The battens are supported by wires that are attached to the pergola roof.
Slide on wire canopies kits can be purchased and constructed at home for smaller pergola dimensions. These pergola roof coverings may not be suitable for larger pergola structures, as the wire tension required to support the canvas may not be sufficient, especially when it rains.
To ensure adequate protection against rain and weather that causes additional weight to that canopy, you need to ensure that the water has somewhere to drain when installing the canopy. Extra guide wires may need to be installed to position the waterproof canopy so that water can drain, and the additional weight of pooling water can be supported and not break the wiring system.
Slide on wire canopies can be opened and closed fully either manually with poles or automatically with a motorized system.
5. Louvered Roofs
A louvered roof is an advanced and more expensive option for adding a waterproof roof to your pergola. Louvered roofs are often referred to as opening roofs, motorized pergolas, or adjustable patio covers. Louvered roofs on pergolas use blinds and shutters with angles slats, allowing you to control the amount of light and air entering.
The structure of a louvered roof consists of main horizontal beams and corner posts that are connected with louvers. Motorized louvers can be operated with the use of a phone app or remote control device. 
A specialist frame made from rust and mold-resistant materials such as; fiberglass, metal, plastic, glass, or wood fitted with a tilting mechanism is needed to be installed. This allows the slates or blinds to be adjusted at an angle, allowing the user to control how much sun enters or to close completely to keep the rain out.
Fully closed louvers' channels ensure that any rain spills over the edges. Louvered roofs are available in many different designs, colors, and materials.
6. Metal or Tin Roofs
A tin or metal roof is ideal for your pergola as they provide more protection against rain and direct UV rays than canvas coverings. They are not as expensive as louver roofs and are more user-friendly. 
Metal or tin roofs are ideal for pergolas in climates that experience lots of heavy rain, hot sun, and other harsh weather. Metal or tin roofs can be expensive, but they are more durable and can easily be rolled or cut into any shape or size to fit your pergola roof.
The only downside to metal or tin roofs is that they cannot be retracted and moved quickly to accommodate the sun's movement or weather that may occur at an angle, such as sideways rain or snow. 
7. Roll Retractable Canopy
Roll retractable canopies are supported by tracks installed on the pergola roof and pulled out and in by cables. These self-supported material awnings are a compact solution to adding light waterproofing to your pergola roof. 
It is important to make note that the structural design of roll retractable canopies is not suitable for heavy rain protection. 
8. Corrugated / Flat Panels
Corrugated/Flat panels are an economical solution to waterproofing your pergola roof. These panels are available in numerous materials, including polycarbonate, PVC, and fiberglass (the most affordable). These panels are installed to block direct sunlight or rain.
Clear or lightly tinted panels are ideal if you are looking to let the same amount of light in through the roof. The corrugated shape of the panels provides rigidity to the roof structure and is very quick to install.
The polycarbonate panels are the most durable and costly as they come with UV coating. Like the tin and metal roof option, corrugated 
and flat panels are fitted and unable to be retracted or angled. 
Continue Reading: Can Pergolas Actuall Block the Rain?
Conclusion
Fitting or installing a waterproof cover/roof on your pergola allows you to spend more time enjoying the outdoors regardless of the weather. The multitrack canopy is our favorite for an economical retractable option.
If you can spend a little more, the louvered roof is an all-around winner that provides and retractable and fully closed function with good drainage.