Louvered Pergolas take everything that makes a typical pergola great but makes it better with. They accomplish this with adjustable, awning-style coverings. If you're looking for an effective and simple way to keep your yard safe from the harmful rays of the sun while allowing it to stay bright and warm throughout the day, then a pergola is the perfect backyard structure for you.
A louvered pergola takes that protection and comfort to a whole new level and introduces a much more customizable coverage in the yard. No longer will you be driven indoors when the sun comes out in full (or unexpected rain starts to fall). Any backyard space that you have is open for entertainment and can be used whenever you'd like!
Rain or shine, a louvered pergola is ready to keep your event running smoothly.
But what, exactly, is a louvered pergola? What makes it so desirable? How much does a louvered pergola cost? Let's take a look at the louvered pergola and see if it's worthy of your space (and its price tag), or not.
We'll take a peek at the differences between a louvered and a standard pergola, as well as the benefits they might offer. We'll check the prices and the ease of installation so that you can spend your time searching for the perfect louvered pergola without the worry of breaking the bank.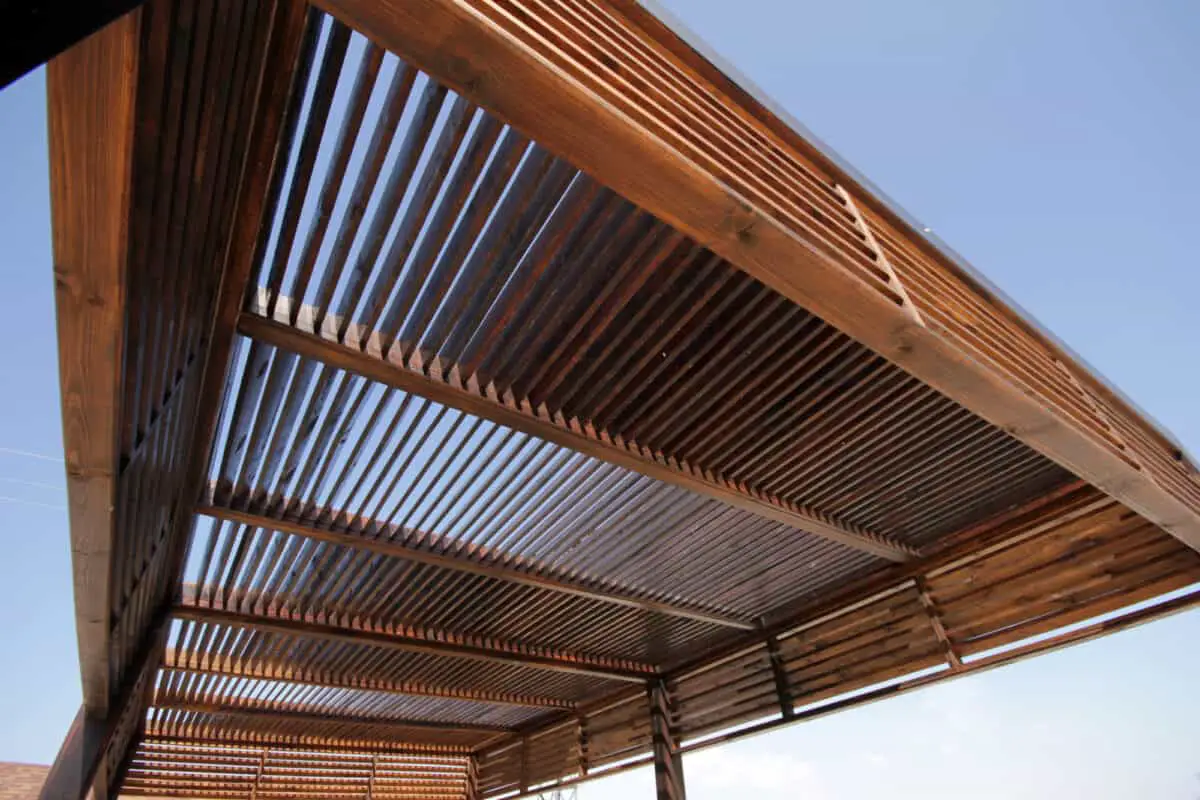 Related Reading: The Difference Between Pergolas, Ramadas, And Gazebos
How Much Do Louvered Pergolas Cost
With a louvered pergola, you are paying for the extra protection and added style. At the very least, a louvered pergola is likely to cost you about $20 per square foot. This accounts only for materials, not the cost of labor, and is the pricing for a lower quality structure. Some louvered pergolas can cost upwards of $100 per square foot to install. The higher the price, the higher the quality materials.
It might be expensive to install a louvered pergola, but the extra protection and features make it well worth the price. Your space will be accessible at all periods of the day so you no longer have to monitor the sun's position and strength when deciding if you want to go outside. A louvered pergola frees you to go outside whenever you want without fear of the heat.
Differences Between Louvered and Standard Pergolas
Your typical pergola is a fixed structure that features an open-air, rafter-style roof that allows the sun to shine through in controlled amounts. These rafters are typically made from wood or fiberglass and are the perfect way to keep a space cool while still allowing the sun to shine. A standard pergola will bring your entertainment outside, no matter how bright the sun is.
A louvered pergola takes the idea of a pergola and makes it much more customizable. Instead of having fixed rafters that depend on the angle they're placed at for shade, you can adjust the roof of a louvered pergola to account for the needs of your guests. If the sun is simply too bright, but you're not ready to go indoors, change the angle of the rafters. Close them up for full protection if you need.
The ability to adjust the roof of a louvered pergola will be priceless if the rain starts falling or the sun is at its peak. Keep the fun going outdoors with the adjustable louvered-style pergola roof. Your typical louvered pergola comes with aluminum roofing which is much better at shielding you, your family, and your guests from the sun and its harmful UV rays than your standard wood rafters.
The Benefits of a Louvered Pergola
A louvered pergola offers plenty of benefits to your space. They allow you to bring the entertainment outdoors, no matter the weather. They can provide a modern, stunning look to your backyard space that other shade structures simply cannot match.
Ample Shade Protection
As I mentioned, the ability to adjust your pergola roof is what makes the louvered pergola so desirable. It's designed to account for the angle of the sun and to provide shade that would not be accessible with your standard pergola. The ample shade protection of the roof allows for more placement options as you don't have to account for the direction the pergola is facing as much.
Better Airflow
With the slanted rafters that can be adjusted, you're likely going to receive much better airflow with a louvered pergola. A regular pergola tends to place the rafters at an upright angle, reducing the amount of air that can enter through the top of the structure. With a louvered pergola, those rafters are slanted, allowing for much better flow and a cooler environment.
Choose Your Own Design
Louvered pergolas allow for much more customization options. Whether it be the design of the pergola itself or the additional features you can bring to the pergola, there's plenty of options available. Louvered pergolas are much easier to adjust to your space than your standard wooden or fiberglass designs. The aluminum roof is much easier to customize and requires less structure.
Are Louvered Pergolas Waterproof?
Chances are, if you're working with a reputable installation company, your louvered pergola is waterproof. This means that it won't be damaged by excessive rainfall and can stay out in a storm. You might want to polish up the rafters every so often and check out some cleaning tips to ensure your pergola stays functional for many years to come, but the rain won't ruin it.
It's important to make note that the pergola isn't water-resistant. This means that it will still get wet, and once the rain has cleared, opening the roof back up could lead to an instant shower of all of the water that was collected. It might be smart to check out a drainage system for your pergola so that you're not constantly drenching your entertainment space.
Final Thoughts
Louvered pergolas take all of the benefits offered by your standard pergola and make them even better. The shade and protection offered by a typical pergola now become enhanced with a louvered product and the protection from the elements, yes even rain, is in your hands.