If you're in the process of designing your backyard landscape, you're probably looking at choosing an outdoor structure, too. However, it's most likely that you're confused when looking at the different options available to you. Should you choose a pergola, a ramada, or a gazebo?
Pergolas, ramadas, and gazebos have distinct architectural differences between them and they also serve different purposes. Here is how each structure compares:
| | | | |
| --- | --- | --- | --- |
|   | Pergolas | Ramadas | Gazebos |
|     Style | The structure is open and airy   | The structure has a covered, pitched roof with open sides   | The structure is often fully covered with a pitched roof and a vaulted ceiling   |
|     Purpose | Suitable for the summer and provide partial shade and shelter | Suitable for cooler seasons and provide complete shade and shelter | Suitable all year round and provide complete shade and shelter |
Whether you're looking at an outdoor structure to provide shade, entertainment space, or, to improve the overall ambiance of your home, knowing the differences between these options will help you to decide on the perfect one that will best meet your needs. Keep reading to learn more.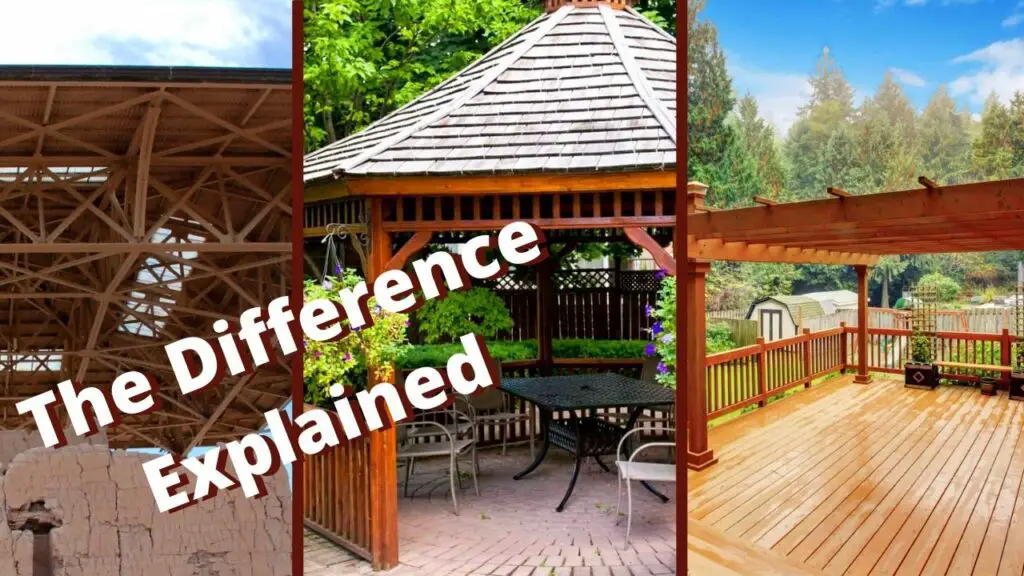 Related Reading: Can You Raise The Height Of A Gazebo?
Choosing Between A Pergola, A Ramada, And A Gazebo
Many people often use these terms interchangeably. However, when it comes to choosing the right outdoor structure to best meet your needs, you need to know the architectural distinctions between them and what they are most ideal for. These are the 2 main points to help you consider:
Style – the style of the structure should complement your backyard surroundings and your home.
Purpose – you should be able to make use of the structure all year round so, ask yourself whether you want full protection from the weather or partial shade.
Along with that, you need to first think of the climate your home is situated in. The climate plays a large role in deciding which materials are best suited for longevity. Then, you can proceed with thinking about the style of the structure that you want to go with to fit the purpose that you have in mind for it.
Pergolas
They are the favorites for homeowners who value an open and airy structure to complement their property. These structures are also ideal for those who wish to incorporate vegetation such as vine plants into their entertaining area.
Style
Traditionally, a classic pergola is often known as an outdoor structure with an open roof, usually supported by columns or posts which are designed to accommodate creeping or vine-like vegetation.
Modern pergolas still follow the same specifications – an open and typically flat latticed roof, often constructed with a wood trellis. Sturdy columns or posts support the trellis structure where vines and vegetation can grow on them. Eventually, vine plants can make their way to the top, covering the open cross-beamed roof beautifully.
Pergolas are thought to be ideal for smaller backyards or homes with an open patio. Nevertheless, they are versatile enough to fit in with any kind of architecture; you just need a little bit of creativity to make it all work.
Purpose
Pergolas are great as they can be constructed to extend an existing patio or designed to look like an extension of the home. For example, they'd work nicely to cover outdoor kitchens or built-in BBQs.
They're not the best at providing shelter from the rain but, they can provide partial shade from the sun at certain times of the day. So, they're perfect for the summer days and nights when you're entertaining friends and family.
Ramadas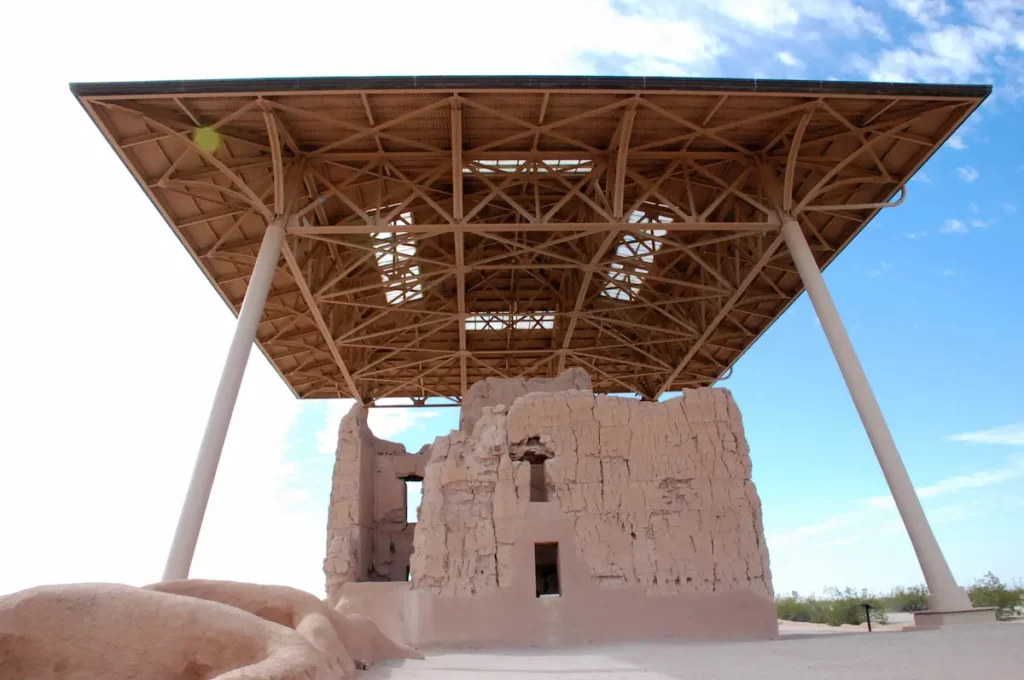 They can be the smart choice for homeowners living in a cooler climate who'd want a covered structure to entertain friends and family in. These structures are also usually designed to match the style and material of the home.
Style
A classic ramada used to be an expanded structure such as an open walkway or porch usually roofed over with branches designated to provide shade. A modern ramada is now usually a rectangular or square-shaped outdoor structure with a fully covered roof and open sides which usually matches the style and material of the house.
Ramadas are thought to be best constructed in larger and more open backyards with lawns or gardens as they take up more space as independent structures.
Purpose
Ramadas are ideal for providing complete shade and shelter from the rain. They have a closed and pitched (sloping) roof that retains heat which can be nice for the cooler seasons. They can be built either as an extension of the home or as a free-standing project.
The sturdy structure of ramadas has made them a popular choice amongst homeowners and landscape architects due to the convenience of adding details such as a fireplace, a barbeque area, an outdoor kitchen, or a wet bar. The covered structure works well to protect appliances from the rain and other outdoor factors that could damage them.
Whether you have a pool or a garden, ramadas are a wonderful addition to your backyard as they can provide for both relaxation and entertaining.
Gazebos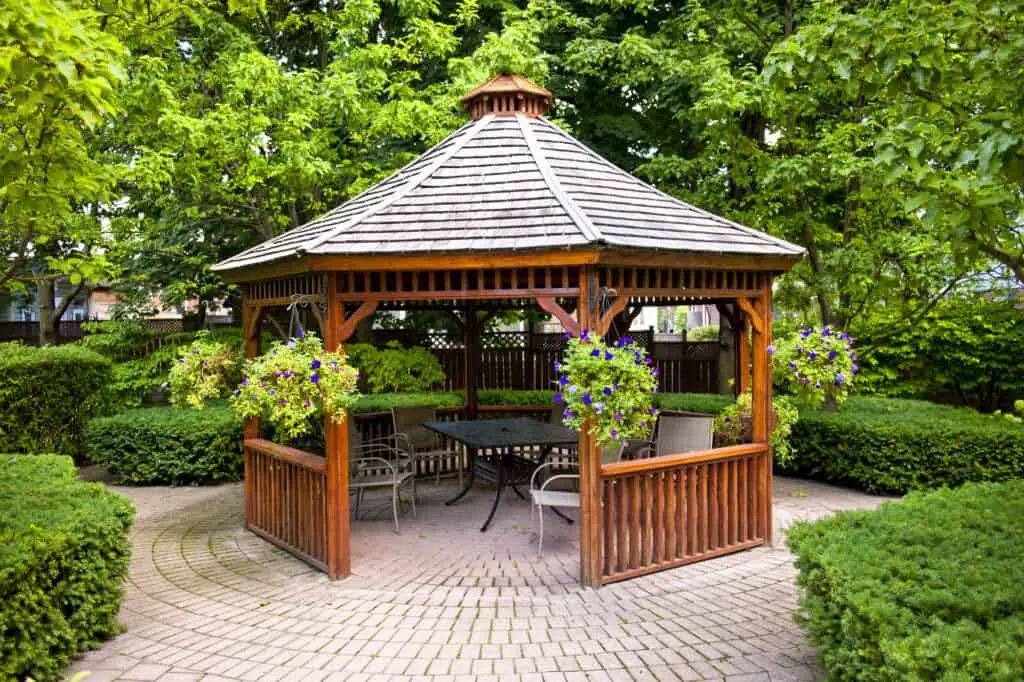 They're probably the most recognized outdoor structure in landscaping designs. They're ideal for homeowners who would like an open structure to take advantage of an attractive view or a beautiful landscape.
Style
Traditionally, gazebos are often found on hills, facing woodland areas, or next to a beach view. Nowadays, if an outdoor structure has a least five sides, then it can be considered a gazebo.
They're thought to fit better with traditional homes as they can enhance the overall appearance of the backyard or become the centerpiece of the outdoor space
A gazebo often has an overall circular shape with 5 or more sides, usually octagonal or hexagonal with supporting posts. They have a fully covered, pitched (sloping) roof and a vaulted ceiling. Similar to ramadas, gazebos also have a solid roof with open sides.
Moreover, gazebos are also thought to be ideal for larger and more open backyards with lawns or gardens as they take up more space as independent structures.
Related Reading: How Many Sides Does a Gazebo Have? [ANSWERED]
Purpose
Gazebos are free-standing projects that are usually situated in a space providing an attractive view such as woodland, a pond, a flower garden, or a beach view.
They can provide complete shade and shelter with their fully covered structure. Not only can they be fitted with screens on all sides but, they can also be fitted with electrical supplies such as a fan or a television.
They can be made to be the perfect place for both day and night to entertain your friends and family or to simply admire the surrounding view and landscape.
Do I Need A Permit?
Outdoor structures such as pergolas, ramadas, and gazebos can be practical and attractive methods to give off a more desirable ambiance to your home. However, it's wise to seek a permit before you build any, even if it's on private property.
While permits might not always be required for small pergolas and patio covers, it's better to check with your town officials to make sure that you adhere to local laws. Understanding the requirements will allow for your project to move safely and efficiently.
Can I Build Them Myself?
There is no saying you can't when you do choose to build your outdoor structure with your own hands, provided that you have the right skills and tools to do it. There are a lot of DIY kits and supplies that you can buy from home improvement retailers.
However, due to safety and compliance rules, it's wise to hire or work with professionals such as landscape architects or building contractors. This way, errors will be less likely to be made and you can enjoy your pergola, ramada, or gazebo with your family and friends in no time.
Are They Permanent Structures?
Both pergolas and gazebos are permanent structures that are set in place for the long term. However, gazebos can be portable which means that they can be built and moved from one place to another. On the other hand, ramadas can be either permanent or temporary structures depending on the materials that you used to build them.
Which Structure Is The Cheapest?
Bottom line is, that the amount of money you'd spend on these outdoor structures depends on how big you want them to be, the materials and manpower that you're using to construct them, and the additional details you wish to incorporate.
However, as you might have already worked out by now, pergolas are the cheapest to build in comparison to ramadas and gazebos, You can easily install a pergola in a matter of days whereas ramadas and gazebos require more planning, material, and labor.
Related Reading: Are Louvered Pergolas More Expensive?
Conclusion
So now, you should be able to identify the perfect outdoor structure for your backyard. Whether you live in a warmer or cooler climate, there's always a perfect option that best fits your requirements and preferences.