Beams used within a pergola should be, at a minimum, 2" by 8" in size. While the answer can vary depending on factors such as the size and use of the pergola, these dimensions offer a good overall starting point for pergola building.
Whether designed to enjoy practical usages such as shade, or the simple appeal of aesthetics, pergolas make a wonderful addition to a landscape. Prior to taking advantage of this luxury, you first must consider design-build and what materials must be needed to obtain the type of pergola you are hoping for.
When ordering material for your pergola, some things to keep in mind are the intended use of the pergola, the type of material being used to build the pergola, how large you would like your structure, how much sun you will be trying to block, and what type of pergola you are building. Keep reading to learn how to analyze these factors and what they might mean for the size of your beams.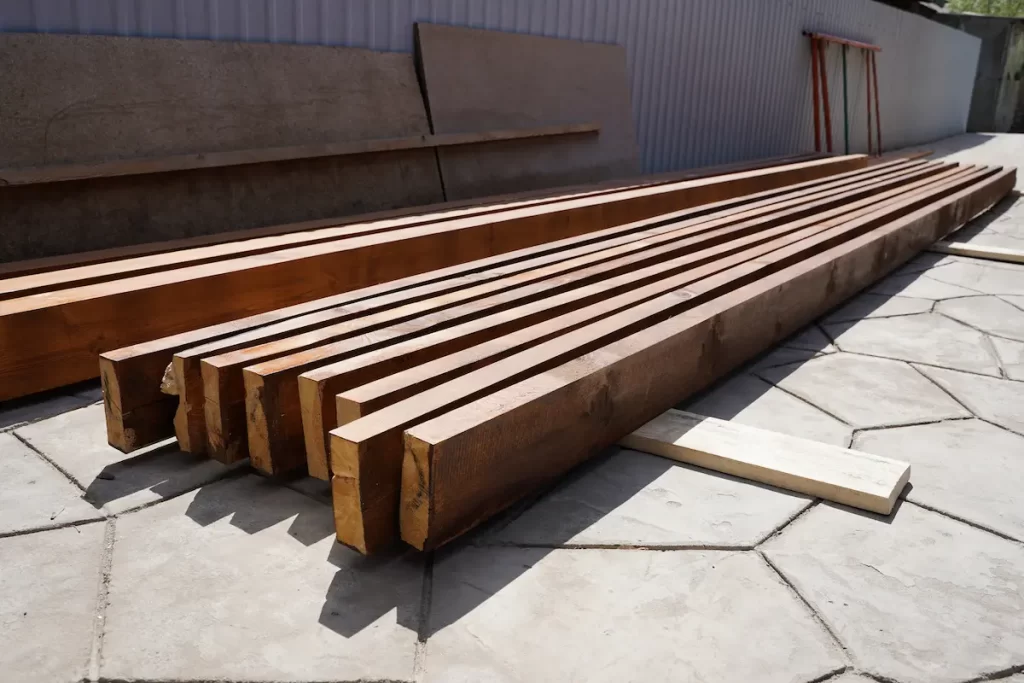 Related Reading: 4×4 or 6×6 Posts for a Pergola? [ANSWERED!]
The Importance of Choosing the Right Beam Size for Pergolas
If built correctly, your pergola can offer years of enjoyment and usefulness to you and your family. Creating this structure with the correct sized beams will allow maximum benefits, such as the desired amount of shade or sun and the ideal appearance.
The right beams will also add life and safety to your pergola, so it can withstand weather concerns and normal wear and tear.
Intended Use of Pergola
For some, pergolas are used simply for shade during the hot summer. If this is you, you might want to lean toward using wider beams to create more coverage from the sun. Or, if you are hoping to create an aesthetically pleasing structure for a nice view, your decision would be based more on the design aspect and shape of the beam.
Likewise, using a pergola as a garden resource would also change the dimensions of your beams, as you would look at optimizing usage for the sorts of plants you wish to grow, such as vining potential.
Type of Material Being Used
While most pergolas are built using wood, there are actually many options available for builders to choose from. Some of your options include vinyl, pressure-treated wood, fiberglass, cedar, PVC, or aluminum, to name a few.
Why does this matter for choosing beam dimensions? Some of these materials are readily available and can be cut to your size request, but others are more difficult or expensive to find and cut into a particular size. This should be considered when choosing dimensions.
Related Reading: Douglas Fir vs. Cedar for Pergola: Which One is Best?
The Size of Your Pergola
It probably doesn't come as a shock to you that the size of your proposed pergola will matter when choosing beam dimensions. Popular sizes for these structures are 10' X 10', 10' x 14', 10' x 12', 12' x 12' and 12' x 16'. 
Technically, you could build a pergola to any size you would like, but these particular measurements are popular for their ability to cover a dining area or sitting area without taking too much land space. Figuring out how large you would like your pergola is a good step to take to help you decide on your beam measurements.
One rule that can be followed is to have your beams overhang on each side of the pergola by 1'6". Keeping this in mind: for the length of your pergola, then add 3 feet (so your beam overhangs by 1'6" on each end) and you will have your beam length.
Examples:
A 10' x 10' pergola will have 2" x 8" x 13' beams
A 12' x 12' pergola will have 2" x 8" x 15' beams
A 10' x 14' pergola will have 2" x 8" x 17' beams
Simply, add 3 feet to the desired length of your pergola.
Sun Versus Shade
Pergolas will only slightly block the sun while you are under them. It is estimated that most pergolas block about 20-30% of the sun. For those looking for more shade, it may be valuable to add width to the beams themselves.
To consider this option, think about where your pergola will be located and decide if the added width would bring more shade under the structure. For example, if the sun sets facing a particular side of the structure and you would like to utilize the pergola during the evening, it may be worthwhile to add the extra width.
Types of Pergolas
Like most structures, there are various types of pergolas available to choose from. You can have a freestanding pergola, away from other buildings, or you could have a pergola attached to another structure such as a deck or house. What type of pergola you plan to build can change the amount of support you need to plan for.
If the pergola will be freestanding on grass, you may need more support all around to keep the structure safe and standing. If the pergola will be attached to another structure, you may need less support, due to the added strength brought from the already existing structure.
It's important to take great consideration when determining the level of support your structure will need, as safety is paramount. Adding more support than necessary is not a bad route to go down.
Related Reading: The 10 Top Reasons for Owning a Pergola
Many Considerations
Determining beam dimensions for your pergola is an important step in beginning your design process. While there is much to consider when making these decisions, the task is manageable and something you can accomplish in a short amount of time. With this, also comes answers to many other questions you might have about your pergola.
Therefore, when you have finished this step, much of your design will be completed and you will be able to start the buying and building portion of the job.
Pergolas are beautiful additions that can inspire and bring life to areas you want to enjoy. Allow the process to be worthwhile and enjoyable and you will soon have your own pergola to reap the benefits of.