Gazebos are probably the most recognized outdoor structure in landscaping designs. They're great for homeowners who would like a stunning addition to complement their homes. They're also the perfect place for entertaining guests or relaxing with friends and family.
Gazebos are traditionally built as permanent structures with their legs fixed to the ground. These structures are much harder to adjust but that doesn't mean that they can't. With the right tools and expertise, you might just be able to do it. Although fixed-legged gazebos might be harder to construct and adjust, they are more cost-effective in the long run as they are built to withstand a wide range of conditions.
But nowadays, you can choose to have gazebos that are portable and have adjustable legs. These are much easier to build and adjust. If you want a gazebo that can be customized to fit various conditions, then this solution might be worth paying more for. You can find them at most home improvement retailers.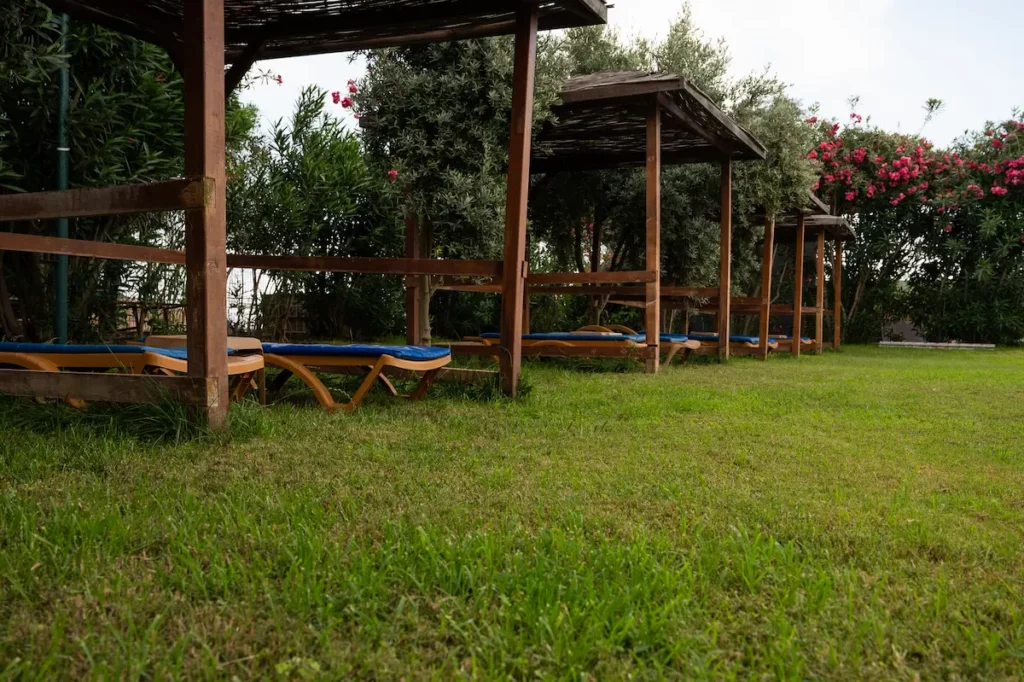 Related Reading: Are Gazebos Safe in Wind?
Raising The Height Of Your Fixed Gazebo
If your gazebo is indeed a fixed structure (the legs are not adjustable) but you're still looking to take this on as your DIY project, then you can always try what is probably the cheapest and safest alternative there is to extend the height of your gazebo.
You can start by using a power saw to cut the pillars in each column equally. Then, you can get bottle jacks (mini hydraulic rams used to lift heavy objects) and place one completely extended in the cut on each pillar. Now, you'll have these bottle jacks sitting on the bottom while supporting the top.
On the other hand, it's always best to consult a building contractor that specializes in outdoor structures. This is because there are 2 main things that you need to consider carefully:
Materials
You need to know what your gazebo is made out of so you can get the right materials that work best with it.
Gazebos tend to be made out of wood, vinyl, or aluminum but, some can come in steel, wrought iron, concrete, and even stone. If the reconstruction process is extensive, then you might also need to identify the materials used for roofing and flooring as you might need to replace or add to them, too.
Height
By now, you're more likely to have an idea of how high or tall you'd want your gazebo to be. Typically, it can be as high as 18ft but this depends on how big the gazebo is. So, if you'd want to raise it higher than that, it might be difficult to construct and use, or even dangerous. 
So, you need to have the right measurements. Also, you might want to give some more thought to its purpose – Do you want it to provide more shade? Do you want it to be sturdier? Or do you want it to look nicer?
Raise The Height Of A Gazebo With A Concrete Pad Foundation
This is certainly your most durable option, but also the most time-consuming. If this is the route you want to go with, there is a much more detailed how-to than what I can provide here. Basically, after gathering your materials, you will follow these steps:
Build the Frame for Your Concrete Pad
Use 2"x4" wood boards to construct a wooden frame around the perimeter of your pad.
Dig the area within the Frame
Within your frame, dig out 6" of dirt. This is the recommended depth.
Add gravel
Fill up 4" of what you just dug up with gravel or lose rocks to drain water as the concrete dries and for future wet weather. Wet with a garden hose.
Mix and Pour Concrete
Mix your concrete as per the manufacturer's instructions and pour. Use the recommended tools such as a concrete edger and a 2"x4" board to screed across the concrete surface to smooth it out. Check the level of the pad with your level.
Let Dry
After 7-10 days the pad will be ready for you to screw the pillars of your Gazebo into, and you will have it approximately 3"- 4" thick.
Perhaps this option isn't desirable to you because you want your back door to open out into the gazebo, and a concrete base would block the door. Thankfully, you have other options.
Related Reading: How to Install a Gazebo Without Drilling into Concrete
Raise The Height Of A Gazebo With Stone Plinths
Stone plinths are an excellent way to add height but are less secure than a concrete pad, especially the higher you go.
You can attach each pillar of your gazebo to its own plinth the same way you would attach them to a concrete pad. However, some of them come with square holes to insert your pillars into.
Don't use plinths that are too tall, as they are more expensive, taller than you probably need, and give the gazebo more chance to be uplifted by the wind if it isn't attached correctly.
This way, you don't have an entire pad in front of your back door, if that's where you want to put your gazebo. The main downside to this option is that it is quite expensive, almost as expensive as a concrete pad if you opt for a real stone or concrete plinths.
Raise The Height Of A Gazebo With An Elevated Post Base
Stainless steel post bases and shoes are originally designed to keep the wood or metal pillars of a gazebo off of the ground to preserve them from flooding and rot or rust and to give them additional support. But they are designed to be screwed into existing concrete.
Post bases and shoes come in a variety of designs, both in their function and aesthetic. They are simple to use. Before bolting down your pillars, you put the post bases or shoes in the desired locations first and bolt them down. Then, you place the pillars of your gazebo in the shoe or on the base. Finally, You attach the bases or shoes to the Gazebo pillars themselves with the appropriately sized screws.
In England, since they have a lot of moisture, they devised bases that can be raised up to 326mm, or almost 13" high. These also have to be secured to concrete. They are still sturdy enough to be used with gazebo pillars because they have a base plate, a central tube post welded to that, and a load-bearing plate above that.
The biggest difference with the majority of these elevated bases is that they are made to go inside the timber for a better appearance. Still, there are adjustable bases that can simply be screwed to the bottom of the timber. If you don't mind waiting for your package to arrive from England this may be what you want. Be sure to contact them to ask about delivery charges outside of the mainland UK as per their terms and conditions.
Concrete Blocks
This isn't the most secure option, but it may be the easiest, and quite decorative. This option simply glues together concrete bases, glue's the pillars to those bases and fortifies their bond together with decorative bricks that are also glued in place. Here are the steps.
Get your Building Material
Purchase reliable name-brand masonry adhesives, decorative brick, and four 8"x16"x4" concrete blocks for each pillar.
Prepare Your Materials
Clean and let dry your concrete blocks, decorative bricks, and wood so that the glue will be able to bond more easily.
Work when the weather conditions are right for the glue, not too hot or too cold. Check the packaging to see what the temperature range is, but normally this range is between 69 and 95 degrees Fahrenheit.
Build Together
Construct your concrete base with four concrete blocks laid on their side, two on the bottom layer side by side, and two on the top layer perpendicular to the first.
Attach the wood to the concrete with your adhesive specifically made for attaching wood to concrete and make sure the wood and concrete are both as smooth as possible.
Finally, attach your decorative bricks around each pillar. Apply the adhesive to the flat side of the bricks and aligns each one carefully around each pillar.
Raising The Height of Your Adjustable Gazebo
Some gazebos come with adjustable legs, making them reasonably easy to install and adjust. With this feature, you can now make the gazebo higher.
To add or remove the legs, you just need to carefully unscrew them from the bottom of the gazebo. Also, you must lift the gazebo and give the legs a little wiggle before unscrewing as the screws can easily come off even if the legs don't detach. Now, you just need to adjust the legs to your desired height.
However, you need to be aware of how much weight each leg can support. One standard gazebo leg can support 25kg of weight. Moreover, adjustable legs are not fixed to the ground and they're only supported by the tension in the leg springs. So, if you live in a windy area, you might need to replace the legs more often as they get worn out easily.
Regardless, having a gazebo with adjustable legs provide you with greater flexibility. It can give you the ideal shade most of the time and protect the structure from heavy rain and snow. Moreover, the adjustable legs also give your gazebo a solid base, making it more stable and sturdier, especially on uneven ground.
On the other hand, you can also get gazebo leg extensions from hardware stores. You can get them in different heights but most that you'd find might be able to give you an additional 50 cm should you require a taller gazebo. However, you need to be careful in finding the ones that suit your gazebo as they can either be made for standard, industrial or commercial ones.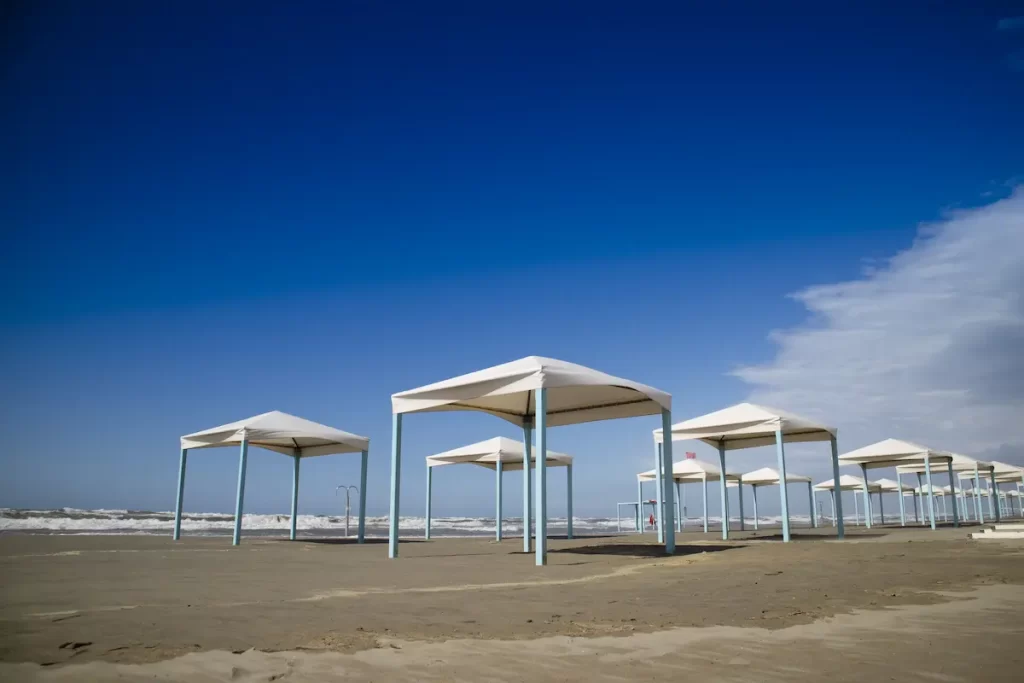 Why Raise The Height Of A Gazebo?
The main reason why someone would look to raise the height of a gazebo might be because they'd want to extend the structure, making it bigger and taller to make it sturdier or to make it suit the season better.
Should you wish to raise the height of your gazebo, it's important to know whether your gazebo is a fixed or an adjustable structure. This might be an obvious tip but you might be surprised by how many people won't even consider this.
Related Reading: Are Patio Heaters Safe Under a Gazebo?
We are reader supported. We may earn a commission when you buy through our links.
Last update on 2023-01-07 / Affiliate links / Images from Amazon Product Advertising API
The Risks Of Tall Gazebos
Even though gazebos can be a stunning addition to your backyard, a gazebo that is too tall might not be suitable for use. Due to the height from the ground, it can become unstable and eventually fall over especially during high winds, causing damage to your property or others. In a worst-case scenario, people might even get hurt.
Additionally, you should also make sure that the height of your gazebo is appropriate as you may be subject to a fine against your property. Outdoor structures such as gazebos can be a practical and attractive method to give off a more desirable ambiance to your home. However, it's wise to check with your town officials to make sure that you adhere to local laws. Understanding the requirements will allow for your project to move safely and efficiently.
Continue Reading: How Many Sides Do a Gazebos Have? or What's The Difference Between Pergolas, Ramadas, And Gazebos?
Final Thoughts
Regardless of which option you decide to go with, do your best to contact a landscaping expert to get their advice on how to raise the height of your gazebo and whether the method you would like to use will work with your specific gazebo model.
As you can see, concrete and screws are your most likely options and so an expert's input should always be welcome before you do something permanent. Oftentimes, garden centers and home improvement stores will have such experts available, especially if they offer landscaping or outdoor furniture installation as a service.