Anyone who has seen the film The Sound of Music will remember that two of the most iconic scenes take place in the pergola at Captain Von Trapp's grand Austrian residence.
Perhaps with those images in mind, many homeowners want pergolas built in their own garden or backyard. But what if the homeowner lives in an area prone to hurricanes or high winds?
Are pergolas safe in hurricanes? Homeowners can successfully install and enjoy a pergola with the proper planning. With careful placement, construction and materials, pergolas in hurricane or wind-prone areas can be beautiful and secure options for homeowners.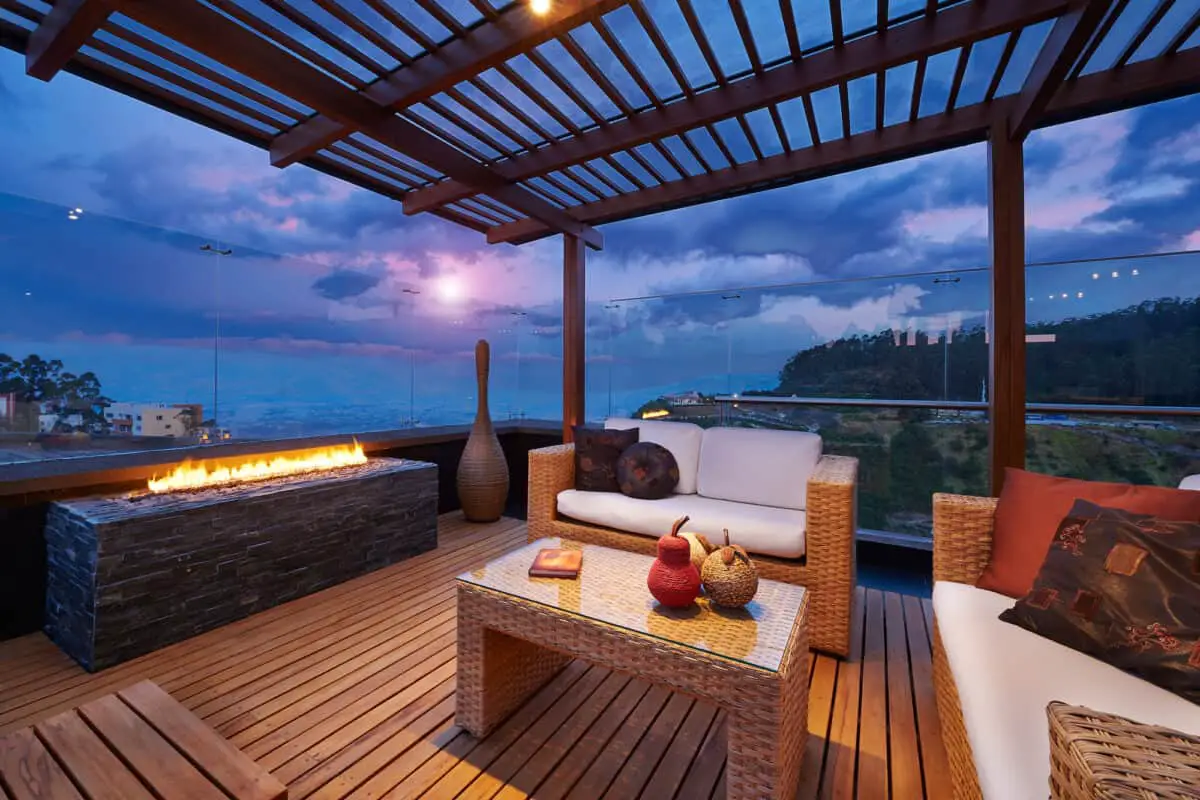 Pergolas in High Wind Situations
Homeowners in areas with frequent high wind conditions such as hurricanes need to consider the damaging effects of high-speed winds.
The amount of wind a pergola can withstand will vary with the placement, construction and materials used. To understand these effects, hurricane characteristics must be kept in mind.
Hurricane Facts
So, what should potential pergola builders look for if they live in hurricane zones or areas of frequent high winds?
Factors that Affect Pergola's Ability to Withstand Hurricanes
Placement
The placement of a pergola can either make the structure more wind-resistant or leave it open for damage. Freestanding pergolas are far weaker and more easily damaged. Pergolas located next to or attached to a larger structure can provide more stability.
The structure offers a buffer from the wind as well as added strength. The way the pergola is situated or oriented could also play a large role in preventing colossal wind damage.
It is recommended that pergolas in areas of possible high winds be orientated at a 45-degree angle pointed in the direction of the wind. This will increase the aerodynamics of the structure.
Structure
Structures that are thicker, or built with stronger materials, tend to last much longer. Comparing thicker, more hefty building materials, consulting with experts, and doing research on the components of a pergola is a crucial aspect of the construction of a long-standing structure.
A structure that will last must be carefully constructed. Quality pegs should be used and properly hammered in. Additional stakes, added to the included pegs, should also be utilized.
This will assist in securing the pergola to the ground. Ensure that the hardware is heavy-duty, and is made of stainless steel. Standard and galvanized steel will tend to rust. Brass can also be used.
Materials
Pergolas built with different materials will yield varying results. With the right materials, pergolas can be built to withstand adverse weather conditions and can last for years.
In addition to the stakes mentioned above, weights can also be used. Weights can provide more stability and can be placed on each corner of the pergola.
Ideal Pergola Construction Materials and Hurricanes
Some construction materials are not beneficial in high winds. If materials that are too lightweight or flimsy are used, the chance for destruction increases dramatically.
If materials such as unreinforced vinyl, some softwood choices, and fibreglass have been proven to not be effective in high winds. They just aren't strong enough.
Since strong winds may be anticipated, builders must be aware that pergolas are open structures without walls. Since they don't have walls to buffer or block the strong winds, the materials used are crucial.
It should be the first thing considered when looking for the most wind-resistant designs. The following are not recommended for pergola materials in areas of high or hurricane-force winds:
Wood
Wood is the most commonly used material for pergolas. While beautiful, the lumber used should be strong enough to avoid cracking, which then weakens the wood.
This softening can cause the structure to lose its integrity. This would leave it vulnerable to high winds.
Fibreglass and Vinyl
Fibreglass and vinyl are relatively low maintenance. However, they are both prone to become brittle. Additionally, they are too lightweight if not reinforced.
Fibreglass and vinyl pergolas are not able to withstand high force winds. They just won't hold up.
Metal
Pergolas made of metal may be a good option for strength and durability. However, metal pergolas tend to be high maintenance and corrosive. After encountering harsh elements, metal with a baked-on finish may start flaking.
Once exposed to weather conditions, metal can wear out quickly. If not secured properly in a wind event, metal parts may become airborne and either injure someone or cause further damage.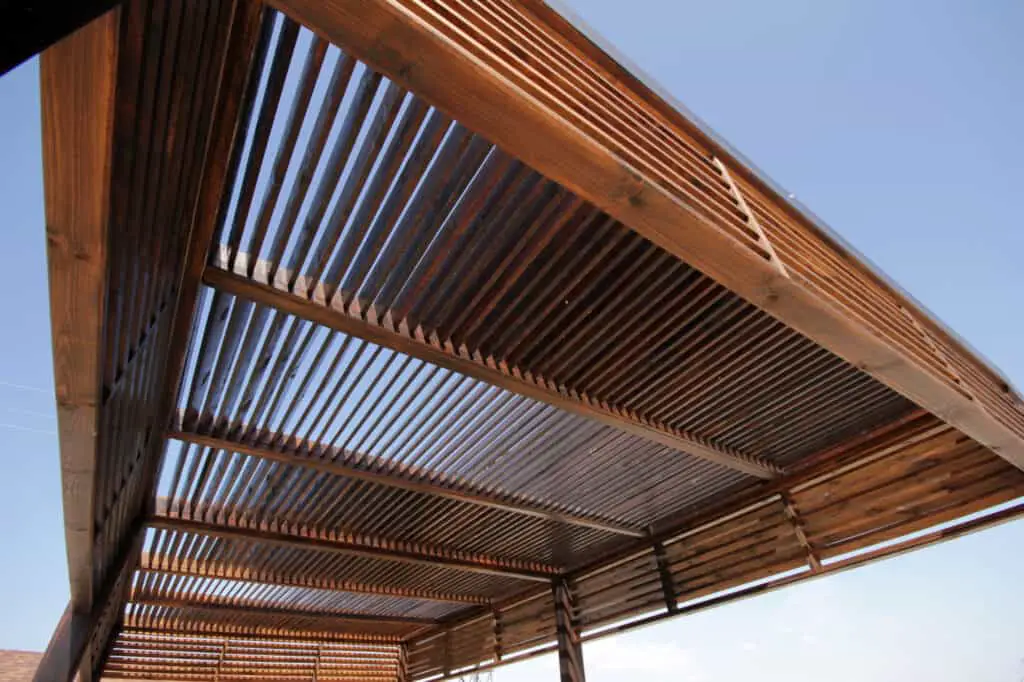 Best Materials For Pergolas and Hurricanes
So, what is a good choice for pergolas in hurricane and wind-prone areas? This option tackles the aforementioned issues.
Metal frames with a vinyl exterior may be the perfect fit.
The metal frame reinforces the structure. It gives the structure strength and makes it more stable. This stability helps the pergola withstand high winds and adverse weather conditions.
It is also relatively low maintenance. Pergolas constructed with vinyl reinforced with metal do not require any long-term upkeep or paint and are easily cleaned. It is definitely an option to be considered.
When reimagining the hardscape of a backyard or garden, a pergola is a fabulous option. Even in hurricane-prone areas, there are options available that are designed to withstand high winds and adverse weather conditions.
The proper placement, construction and materials can greatly reduce significant damage from high winds.
What is a Pergola?
A pergola is a feature located in a garden or yard. They are also commonly referred to as gazebos. Pergolas are composed of vertical posts that most often support crossbeams.
The roofs of pergolas may be made of canvas, cloth, lattice, slats, metal, wood, fibreglass…the possibilities are endless. These structures provide a definition of what may be an otherwise lacklustre yard.
For homeowners who want a specific, defined area for conversation, barbecuing or just relaxing in the backyard, a pergola might be just the right fit.
Popular Additions to Backyard Hardscapes
Pergolas have quickly become some of the most popular additions to outdoor hardscapes. They are most often freestanding structures that offer shade, protection from weather elements, and can also have seating areas. Pergolas add enjoyment and value for investment.
Many of the pergolas seen in neighbourhood backyards and parks are made from kits. These kits provide homeowners and builders with generally simple installation and offer tremendous control over the backyard project.
They also add considerable value to homes on the market as they are versatile and sought after by home buyers.
However, in areas at risk for high winds and the potential of hurricanes, materials, shape and construction of the chosen pergola should be made with plenty of time, research and care.
Final Thoughts
Numerous companies manufacture pergolas that are well-suited for wind threatened locations. Some manufacturers are Heartland Pergolas, Western Timber Frame, Structure Works, and Trex Pergola, just to name a few.
By researching, talking with experts, careful planning and construction with appropriate materials, an attractive pergola can spruce up any landscape or climate.
Pergolas can create a special gathering spot and add value to a home. Explore all the options, do the research, and enjoy your new pergola!
Continue Reading: