Looking for the best fire pits that are also safe for wood decks? Fire pits that hold heating elements above the deck flooring allow for proper ventilation and ones that aren't fueled by burning wood tend to be the safest for decks.
Installing an outdoor fire pit on vinyl or wooden deck can be a bit nerve-wracking, especially if you're not familiar with the different types of outdoor fire pits.
And while a fire pit built of fire brick and cement pavers might work in the yard, it's not an excellent fit for decks.
There are several different deck-safe outdoor fire pits currently available, and they differ in price, size, and fuel type.
Here are the best fire pits for wood decks:
Landmann Big Sky Firepit – Best Overall (with accessories)
AmazonBasics Natural Stone – Runner Up
Outland Firebowl 870 – Best Portable
Outland Living Propane Fire Pit Table – Best Premium
Breeo Double Flame Smokeless – Best Wood Burning
We are reader supported. We may earn a commission when you buy through our links.
Top Pick
Runner Up
Portable
Model
Amazon Basics Natural Stone
Quick Review
Made with sturdy steel and a black finish, and includes a spark screen which is great for getting close and cozying up to a fire on the deck.
Despite the name "basic", it's still fairly stylish. It comes with diamond copper accents and a black steel fire bowl.
Inexpensive, lightweight but still powerful. Great for camping or to test out whether a deck firepit is for you.
Dimensions
33.9 x 33.9 x 23.6 inches
Top Pick
Quick Review
Made with sturdy steel and a black finish, and includes a spark screen which is great for getting close and cozying up to a fire on the deck.
Runner Up
Model
Amazon Basics Natural Stone
Quick Review
Despite the name "basic", it's still fairly stylish. It comes with diamond copper accents and a black steel fire bowl.
Dimensions
33.9 x 33.9 x 23.6 inches
Portable
Quick Review
Inexpensive, lightweight but still powerful. Great for camping or to test out whether a deck firepit is for you.
Last update on 2023-01-15 / Affiliate links / Images from Amazon Product Advertising API
Whichever fire pit you end up going with, it's always recommended to have a fire pit heat mat for your wood deck. This will help to significantly reduce the potential for damage to your wood deck.
Last update on 2023-01-25 / Affiliate links / Images from Amazon Product Advertising API
This article offers a deep-dive into outdoor fire pits dangers, the safety-friendly features to look for when searching for a deck-safe outdoor fire pit, and a handful of potential deck-safe fire pits that are bound to make a warm impression on homeowners.
And while all these deck-safe fire pits have their pros and cons, it's often recommended to have a fireproof pad underneath your deck fire pit (depending on the model).
If you use a wood-burning fire pit for your wood deck you should definitely consider a heat reflector pad and a fireproof matt.
Most of the top models on this list use either propane or natural gas as their primary fuel source. Using gas as a fuel source will help make your fire pit safer for on the deck.
But if using any type of gas is not possible for your location and situation, then we've reviewed a few ideal wood-burning fire pits that can be used safely for wood decks.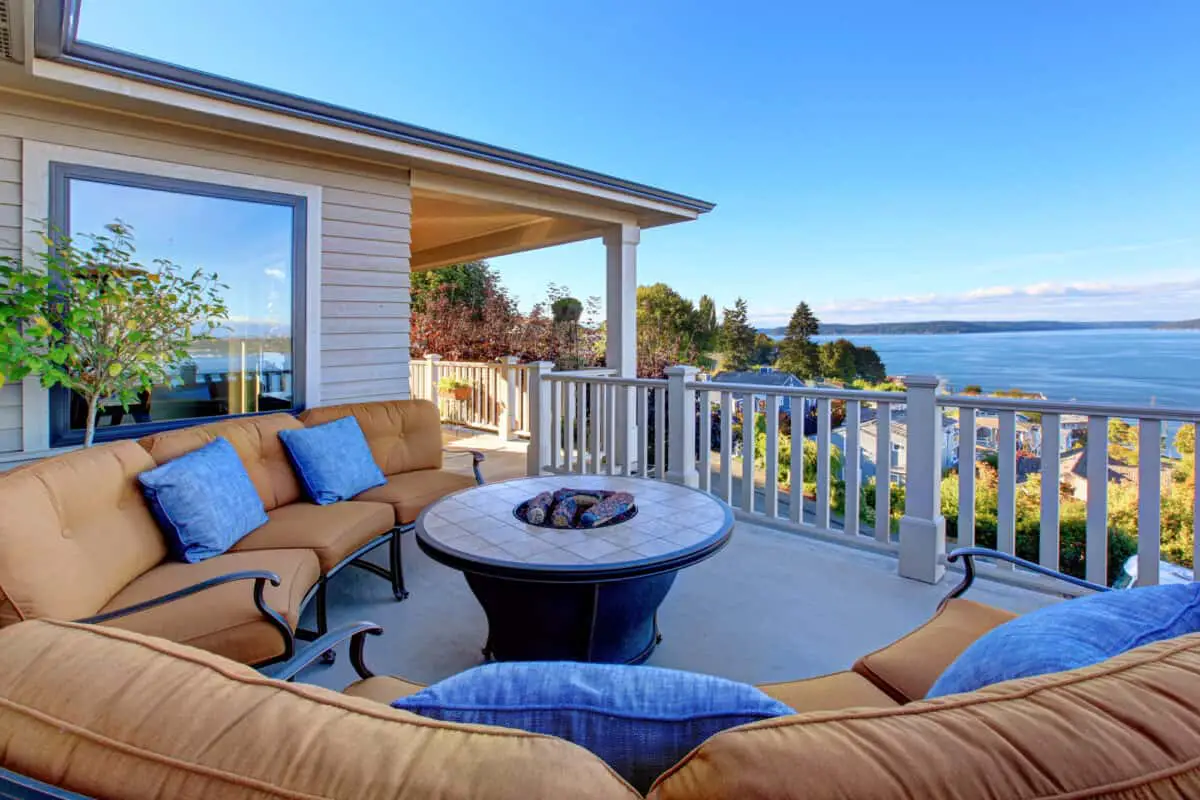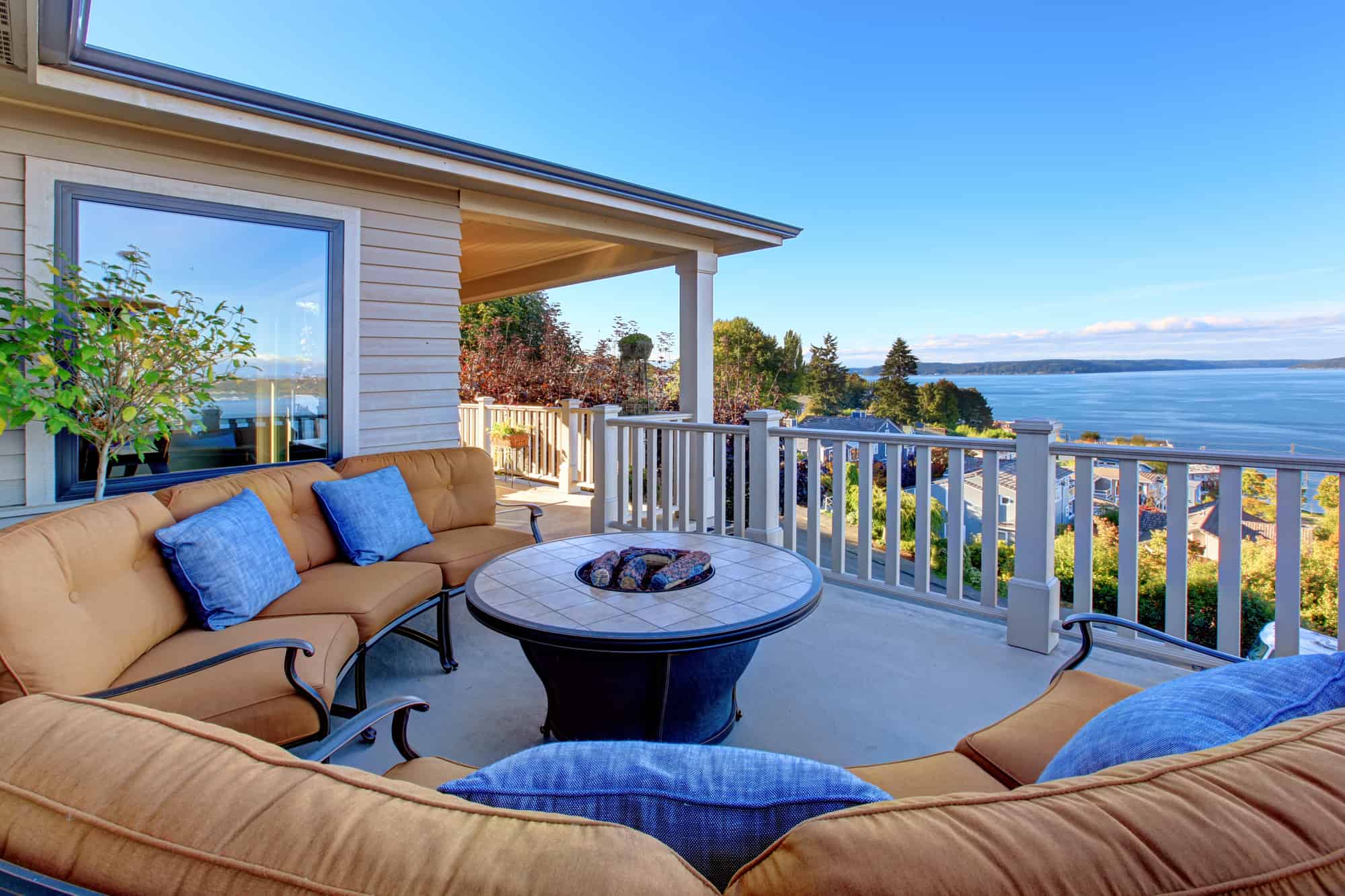 Best Fire Pits That Are Safe for Decks
Below, you'll find a few examples of outdoor fire pits that are reasonably safe for decks.
Following general fire safety guidelines and the manufacturer's directions are essential to avoiding fire pit dangers, but these models go the extra mile in terms of keeping deck flooring and household residents safe.
1. Landmann Big Sky Stars and Moons Firepit, Black
Perhaps the Breeo firepit is a little too minimalist or metal looking for you. Or perhaps it's just a bit too much of the pricey side. That's ok, we all have our preferences and particular tastes.
Last update on 2023-01-15 / Affiliate links / Images from Amazon Product Advertising API
The Landmann is made with sturdy steel and a black finish. I'm not big on any sort of finish for a fire pit, but it seems to hold up well for the Landmann.
But be cautious with using wood as your fuel source as you can never completely eliminate the risk for hot embers or burning debris to fly out and damage yourself or your deck.
We have some more tips later in this post to minimize risks associated with having a firepit on a wooden deck.
The Landmann weighs right around 45 pounds. Its diameter is 29.5″ and its height 20″.
It includes a spark screen which is great for getting close and cozying up to a fire on the deck. Additionally, it comes with a cooking grate and a poker. Unless you were wanting a cover, it's the whole package.
One of the biggest and most common complaints or negative reviews of the fire pit includes wear and tear in the form of rust. People find the metal rotting away after a few years.
While this could be due to a cheaper product and thus cheaper materials, more often than not it's due to improper care.
A fire pit, like anything else, is still susceptible to damage from the elements. And given that they spend their lives outdoors, they encounter the elements constantly.
If you want to get the most out of this fire pit, then spend a bit more to ensure it's adequately protected. A firepit cover and some anti-rust spray for metal can go a long way.
If you did want a cover, which is a great idea if your fire pit will be exposed to the elements when on the deck, then check out the one below. I would also recommend getting some rust-preventive enamel spray for this pit to prolong its durability.
Last update on 2023-01-15 / Affiliate links / Images from Amazon Product Advertising API
And while the star and moon cutouts may seem purely decorative, they did help increase airflow to the fire. It is possible for sparks to get out through them, though it's more common for a spark to fly out from the top.
While it's not mandatory, it may be a good idea to fill the bottom of this pit with an inch or two of sand. This will help protect the bowl from the intense heat.
The only issue with just sand is that it makes cleaning up ash a nuisance and you'll need to replace the sand more often.
Some tips for utilizing fire bricks to make clean up easier include:
My way of improvising is to set FIRE bricks into the sand.
Cover bottom of the pit with sand, 1-2 inches deep
Smooth out sand creating a flat surface
Lay the bricks in place in a tight pattern. Somewhere in the 4″ x 8″ x 1″ (9 or 10 bricks this size covers most of the bottom)
Fill in the voids with sand to the height of the bricks.
Any type of sand will work, so you can grab a large bag from a department store and keep it on hand when you want to add some or rotate it.
The Landmann will require assembly, but it's fairly easy and straightforward.
You may have noticed the stylish holes around the first pit. While these can pose an increased risk of sparks flying out, this is a risk with any fire.
However, I would certainly recommend having a fireproof deck mat for under your fire pit. These mats can withstand high temperatures and are built to handle any flaming sparks or debris that come off the fire.
Last update on 2023-01-25 / Affiliate links / Images from Amazon Product Advertising API
The outer ring around this firepit is a great addition to a deck fire pit. It allows you to safely move the fire pit around if needed.
I would still recommend having some oven mitts on hand just in case, but for those nights when the rain comes on quickly, it's nice to not have to end the fire, just move it undercover!
And you can of course rest your feet on those rings. One of nature's little pleasures, especially during a cooler night. Just ensure you don't fall asleep or have your foot slip.
The Landmann comes in several different designs in case you're prefer something else and they're all very similar.
Last update on 2023-01-15 / Affiliate links / Images from Amazon Product Advertising API
2. AmazonBasics 34-Inch Natural Stone Fire Pit with Copper Accents
The AmazonBasics line has been getting better each year. This model is a great option for an outdoor fire pit as it is significantly raised off the ground.
And despite the name "basics", it's still fairly stylish. It comes with diamond copper accents and a black steel fire bowl. Depending on your deck, it may match really well.
Last update on 2023-01-15 / Affiliate links / Images from Amazon Product Advertising API
This AmazonBasics firepit has the following product dimensions:
33.9 inches diameter
23.6 inches high
Fire Bowl: 22 inches diameter
Weight: 50 pounds
It comes with what you see in the picture and more. It includes a fire tool, a log grate and a fire screen. The tool will help you to keep your hands as far away as possible, but I would still recommend having some sort of protective glove to avoid unnecessary injuries or burns.
3. Outland Firebowl 870 Fire Pit
This lightweight fire pit can be fuelled by natural gas or propane. It's ideal for those who enjoy camping and who'd like to bring an easy-to-use, non-destructive fire pit while out in the great outdoors.
Because of its compact size, it's great for wood decks that are smaller in size, or for those who intend to only have a fire going on their deck every now and then.
It will allow for easy storage and the ability to bring it out when needed, instead of a stationary model that never moves.
Last update on 2023-01-15 / Affiliate links / Images from Amazon Product Advertising API
The Outland Firebowl features a simple design and few heavy components, and it also happens to be one of the most affordable deck-safe outdoor fire pits on the market.
It is definitely recommended to have a fireproof deck mat for this fire pit.
Don't let it's smaller size trick you, it still packs an impressive 58,000 BTUs. A 20 lbs propane tank will last somewhere between 8-12 hours with this model.
Fortunately, the hose is 10 ft and included, as are the lava rocks inside of it.
The Outland Firebowl does not have automatic ignition, but using a BBQ lighter will do the trick. A bonus to this is that you don't have to worry about the ignition breaking down, as this can be common with any outdoor gas firepit on deck.
This firepit is unfortunately very sensitive to wind gusts due to its miniature size. It also doesn't come with a lid, so make sure you pick one up or store it undercover.
And although it's easy to transport, you will have to wait for it to cool down, as it's never advised to move it while it's still hot.
If you're looking for a great way to test out whether you would even enjoy a fire pit on your wood deck, or if you just want the convenience of a smaller model, this is a great pick.
4. Breeo Double Flame Smokeless Outdoor Fire Pit
Maybe you're looking for a firepit for a deck with a little smaller in size and a firepit that burns wood instead of gas.
It's fairly common to have a covering over a deck, or at least a partial covering. Fire pits and covered roofs aren't always the best match.
In order to achieve a smokeless fire, you typically have to go the propane or other gas route. While this is convenient and produces far less smoke, it does leave one without the traditional fire pit experience.
Last update on 2023-01-15 / Affiliate links / Images from Amazon Product Advertising API
Burning wood is almost instinctual. While gas fire pits certainly offer a certain convenience and safety compared to wood fires, it can be a different experience.
The Breeo Double Flame Smokeless Outdoor Fire Pit is built with a smokeless design. It features a high-efficiency reburn system that allows the fire to be fed from the bottom.
Utilizing a double wall to draw in extra air, the smoke gets burned off at the top. This drastically reduces the amount of ash when the fire is done.
Plus, no more moving your chairs every few minutes on the deck to avoid the clouds of smoke!
The dimensions are as follows: top flange is 27" outside 22" inside. Flange thickness 1/8". 15" tall.
And although the picture states it weights 44 pounds, it actually comes in closer to 55 lbs.
The Breeo is also made in the USA. In fact, it's made in Lancaster, Pennsylvania. They're known for their craftsmanship and expertise in fire pits.
And with their craftsmanship comes durability. The Breeo is built to last. It's made with heavy-duty 304 stainless steel that will last for years.
There's almost no moving parts on this fireplace. This means less knobs and handles that can break down due to heat.
And if you're looking to do some cooking with this fire pit it has a built-in accessory post sleeve and locking mechanism. It's compatible with the Breeo Double Flame Grill and Post.
This fire pit does not come with the lid and cover, unfortunately. You can, however, add them to your purchase. They're fairly inexpensive, so it's a shame they don't just make it a package deal.
Last update on 2023-01-15 / Affiliate links / Images from Amazon Product Advertising API
I certainly recommend picking these up if you do indeed plan on putting this fire pit on your deck. It will help you get more life out of it and avoid those annoying nights where you get ready to fire it up and it's still damp and soggy from the rain the night before.
Breeo stands behind their firepits. One reviewer commented on receiving a defective firepit that had a hole in the bottom of it. Unacceptable, clearly.
Breeo and Amazon customer service were able to replace the fire pit with one that meets their standards.
Plenty of reviews are praising this firepit and recommend it with 5 stars.
It's not perfect, however. The smokeless feature is not experienced by all those who use it. The fire pit comes with little to no instructions for proper use which can make trouble shooting any issues difficult and frustrating.
It should be noted, however, that to properly achieve a smokeless burn takes a bit of time and setting up.
You'll need to wait until it gets hot intially. From there, place the burning wood near the edges of the fire pit. As you add fresh wood, logs and or branches, place them near the edges as well.
Once the wall of the firepit is hot you'll notice far less smoke. How hot the fire and firepit get will also depend on the airflow that is available to it.
This is where we get into the more premium, or aesthetic options and models, including tables and gas-powered.
5. Christopher Knight Home Outdoor Square Propane Fire Pit with Stone
If you have the space, you can't go wrong with the Christopher Knight Home fire pit. This firepit is powered by 40,000 BTUs of propane gas. You'll rarely have to worry about burning debris landing on your deck.
Last update on 2023-01-17 / Affiliate links / Images from Amazon Product Advertising API
This fire pit is safe for a deck because it doesn't burn wood, but it also comes with a stable base and is raised high off the ground.
The materials used to build this firepit include:
magnesium oxide
steel
stone finish
A huge perk is that there is no assembly required. You will, however, have to supply the propane tank and just insert the battery into the starter.
And while you may worry about having such a large item shipped to you, they've actually done a great job with packaging. You're more likely to be annoyed at high much time it takes to unpackage it!
Now the firepit does come with lava rocks, a popular choice for gas powered fire pits. The rocks that come with it, however, aren't anything special, so you may want to consider getting your own.
If the lava rocks don't quite meet your aesthetics on the deck then you could opt for something else, like Apricot Glass Beads (just make sure you get enough, about 20lbs for those beads).
One thing new fire pit owners forget to consider is a cover. Covers, when used consistently, can help a firepit on deck last much longer and it will protect them from environmental elements.
The Christopher Knight Home Outdoor Square Propane Fire Pit comes with its own stylish cover, so you can use it as a full table when not using it for fire and heat.
If you want to read more reviews for this fire pit for deck then click to check them out.
Buy the Christopher Knight Home on Amazon
6. Outland Living Propane Fire Pit Table
The Outland Living Propane Fire Pit Table is a great smokeless fire pit for the deck that doubles as a table. One of the many benefits of this outland living propane fire pit table is that it combines elegance with a purpose.
It gives your place a touch of class regardless of where it's put.
Last update on 2023-01-17 / Affiliate links / Images from Amazon Product Advertising API
People go for homes with a patio because it offers them an opportunity to experience their outside life regardless of weather and season. But when the weather is chilly, you are very likely to ditch your patio for a warmer indoor experience.
Unlike some other fire pit tables that only look elegant and functional when putting in specific places, the outland living propane fire pit table brings a touch of class when put in the patio, a deck, poolside, and backyard.
During the day, the glass tabletop will reflect the beautiful rays of the sun. This reflection, combined with the dancing effects of the flame, gives your winter, summer, or spring backyard an awesome experience.
I won't go further before mentioning that the outland living propane fire pit table is made of UV HDPE material that is suitable for outdoor use because of their water-resistant features.
This is the first noticeable feature immediately you purchase this outdoor companion.
The Outland Living propane fire pit table comes with a safe and a CSA-Approved Tag and an extravagant 35K BTU firepower. These are the features that make it unbeatable when it comes to safety and high-end features.
Additionally, the pit can produce a warm and a courteously lit ambiance at 35,000BTUs. The material is heat resistant, which is the reason why the frame offers long-term durability.
The Outland Living propane gas fire pit has an inbuilt igniter. This makes it possible just to push and start it.
The outland fire pit is an average-sized patio heater that can work perfectly fine to all types of homes. This gas fire pit has a height and width of 32 inches and a length of 44 inches.
The design is square-ish making it fit perfectly in most areas. The Outland fire pit is 96 pounds in weight and comes with Glass fire rocks.
This fire pit is fuelled by a 20LB propane tank. Many prior users have praised its heating abilities and low fuel use. The fire pit uses little fuel even at its highest setting.
The tank can run for more than 20 hours, which indicates one can be used for a whole season.
The Outland fire pit table is a great purchase as a fire pit for a deck. It's for people looking for a modern-looking patio, poolside, or backyard companion. It's great and stylish when relaxing outdoors with family and friends.
Some of its accessories, however, are sold separately, and it's more suitable for smaller families with smaller spaces.
7. U-MAX 44in Outdoor Propane Gas Fire Pit
This outdoor fire pit resembles a coffee table and can partially function like one as well. It offers an impressive and smokeless 50,000 BTUs.
The gas-powered coils are protected by a four-walled enclosure of thick tempered glass, helping to reduce burn injuries or debris from falling into it.
Last update on 2023-01-15 / Affiliate links / Images from Amazon Product Advertising API
Thanks to the larger size of this fire pit, it features plenty of interior ventilation and fuel storage space, helping to keep itself safe even after hours of use.
It is built with an all-weather resistant PE rattan to provide longer durability. It also has powder-coated aluminum that is resistant to to rust and heat.
The overall table size is:
It also comes with a waterproof firepit cover and a 2.4ft hose and regulator. The wind guard is tempered glass, and the burn media is 11 lbs of ocean blue decorate glass stones.
Assembly will take anywhere from 30-60 minutes, but it's ideal to have two people putting it together. This firepit also comes with 12 months of warranty and professional after-sales service.
And it's fairly common for the shipment of this firepit to come in several boxes.
And if your tempered glass ever breaks either because of a defect piece or an accident on your part, you can contact the seller to get a replacement.
8. BALI Fire Pit
The BALI outdoor fire pit sits a little over an inch off the floor and is an angular fire pit with a square burn area. It has a cabinet body that can house a propane tank, or gas conversion tools and hoses.
This ensures the maximum distance between deck flooring and the fire pit bottom, helping to reduce heat-related damages. At 70lbs, it's also reasonably portable.
Last update on 2023-02-03 / Affiliate links / Images from Amazon Product Advertising API
Another cool feature about the BALI Outdoors Fire Pit Table is its design. The narrow design means it can be adjusted into tight spaces. So if you plan on using a fire pit for your deck but don't have a lot of space, this is a great option.
Due to its narrow design, it's great for tighter spaces like balaconies or small wood decks. It still provides, however, 50,000 BTUs of firepower and heat.
One of the drawbacks of this firepit is the gas hose connection. It gets to be prone to leakage issues. Additionally, the lighter is likely the first thing to fail, which may require professional servicing.
6 Helpful Tips For Buying A Gas Firepit
If you want the safest firepit for your deck then you'll probably want to go with a gas fuel source.
Of course, the size of your space will play a big role in whether you can use one, but if you do decide to go with a gas firepit here are 6 tips to make sure you get the right one.
1. Gas Supply
Be sure to consult with a local professional that you have an adequately sized gas line for the model you are choosing.
Some factors to consider are your fuel source, the distance it has to run, and the BTU output of the burner.
2. Inside Dimensions
Always base your burner size on the inside dimensions of your finished firepit model.
Once you know the size of the completed model, work backyards to determine the size needed for BTUs, burner and plate.
3. Burner Size
When choosing your actual burner size, you need to also take into consideration the BTU output, and the size of the plate or pan.
4. Ignition
The most common form of ignition for gas powered fire pits is called "match lit". You don't have to use a match, it means you are supplying the initial flame, typically with a bbq lighter.
You can also get models with an electronic ignition or a push spark ignition (similar to a lot of BBQ models).
Take some time to consider what you would be most comfortable using long-term.
5. Burn Media
These are what the flame in the firepit will be coming up through. You'll typically see lava rocks, fireglass, and ceramic log sets.
Take a look into the options available as these play an important role in the fire pits aesthetics.
6. Cover
Always have a cover for your outdoor fire pit or firepit on the deck. Having your firepit unnecessarily exposed to the envionmental elements with no protection is going to cause a lot of wear and tear that could be avoided.
If you want to get the most out of your wood deck firepit then get a cover.
What Materials Are Fire Pits Made From?
Fire pits suitable for a deck are typically going to be made from five different types of material. Knowing what material will work best for your deck fire pit will help you decide on the perfect one.
Cast Iron
Cast iron is useful for firepits because of its low melting temperature. It's a fairly common material used for fire pits since it's not too expensive, easy to work with when moulding shapes and can still be light enough for moving around.
Copper
Copper is one of the most durable materials for fire pits and will last forever. Copper firepits are expensive, but you'll only need to buy one as they won't rust or deteriote.
Tile and Stone
Fire pits made from tile and stone usually fall under the class of contemporary fire pits and often use gas as their fuel source. Due to their heavyweight, they typically stay in one place. Their frames still utilize metals like steel.
Steel
Using steel for firepits allows any shape to be made since it is a very malleable material. Steel firepits should be powder coated since unprotected steel can rust fairly easily, especially if your fire pit is exposed to damper environments.
Stainless Steel
Stainless steel firepits are a great option for those looking for a firepit that won't be susceptible to wear and tear like rust. Stainless steel will keep its look for a long time, but firepits made from stainless steel are rare and expensive.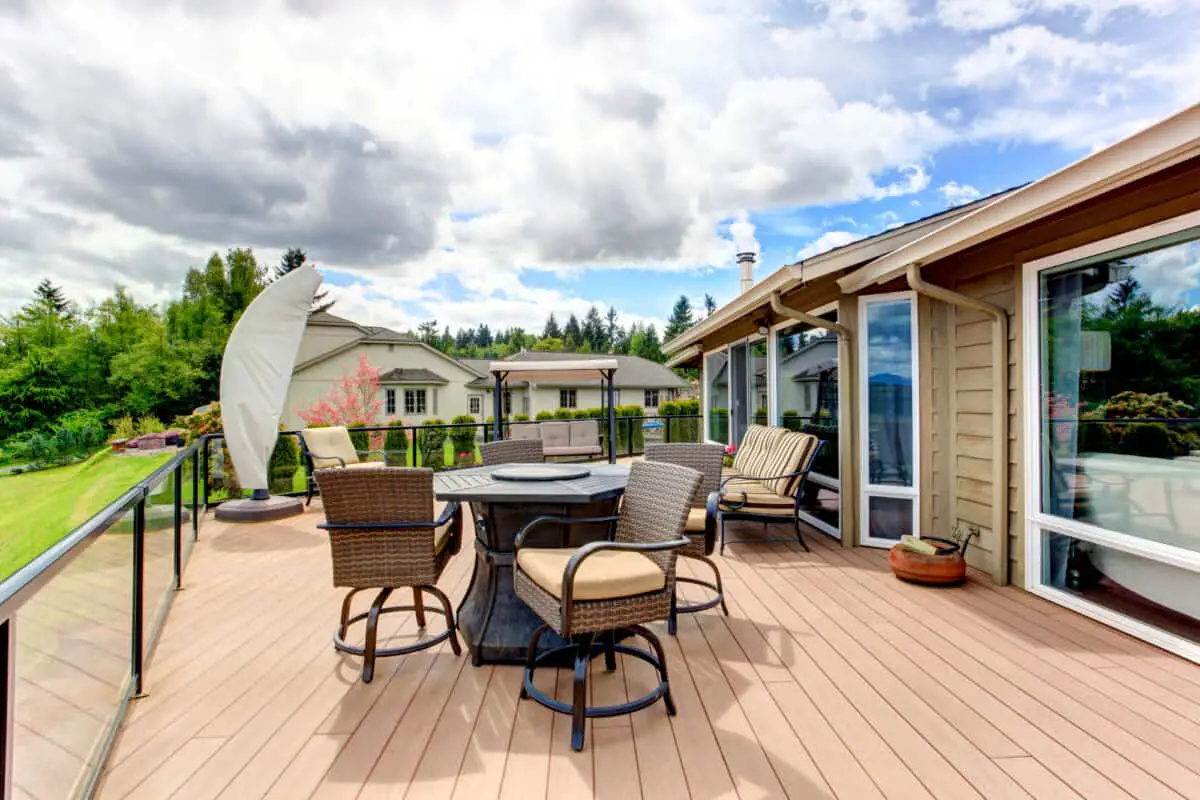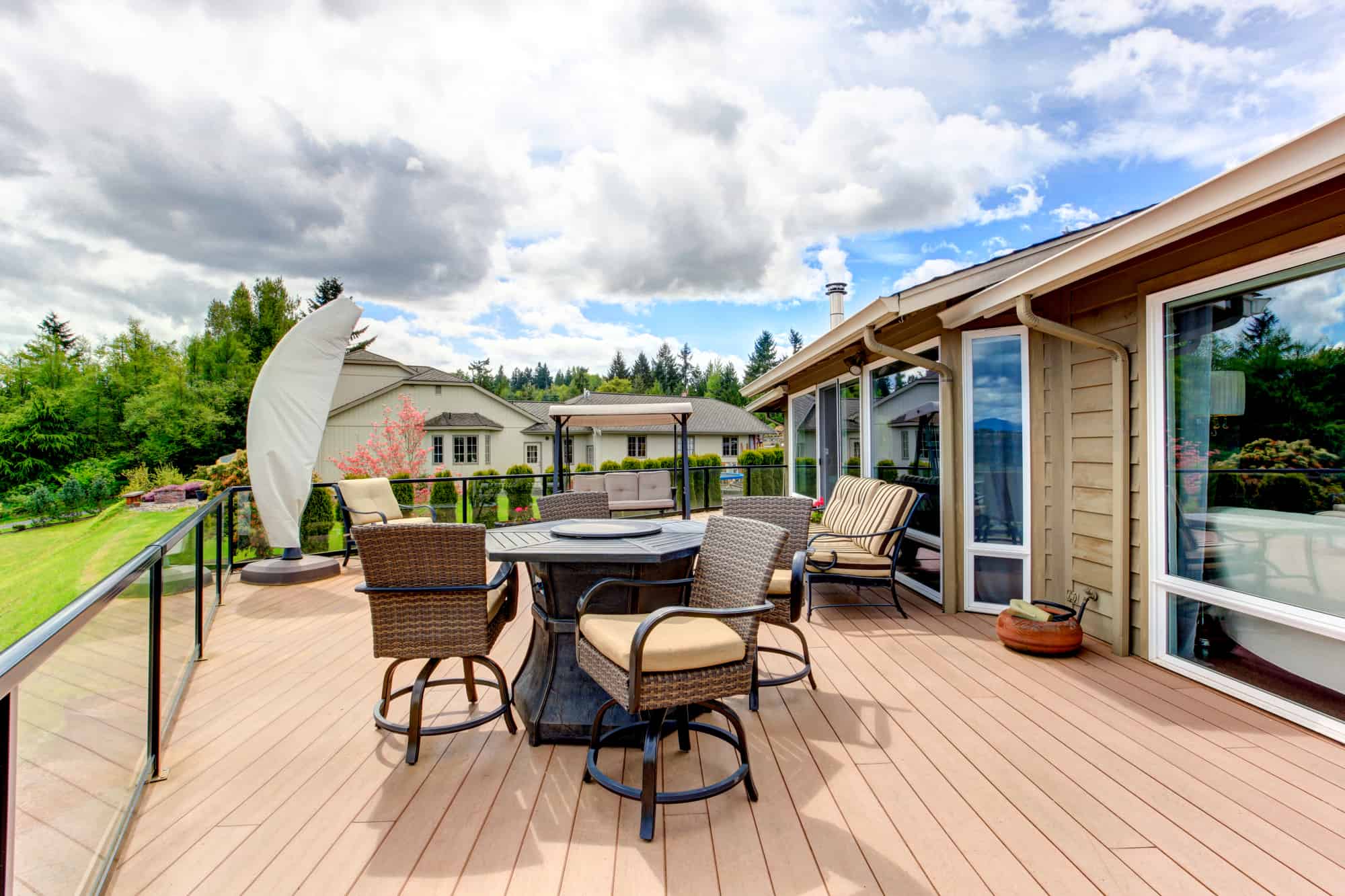 Deck-Safe Outdoor Fire Pit Buyer's Guide
Despite the dangers listed above, most modern fire pits are incredibly safe. This is especially true of fire pits fuelled by gas or gel fuels, as neither type uses combustible wood chips or logs.
Wood-burning fire pits are far more likely to "spit" embers and sparks out into the surrounding environment. 
However, when considering a deck-safe fire pit for a deck, your patio or yard, it's important to keep a few critical factors in mind. Some of the most vital aspects to consider include:
Shape and design
Fuel
Size and weight
It may also be wise to take a moment to think about your outdoor deck. Wood and vinyl decks are most at-risk of catching fire, and an elevated fire pit may be the best way to limit heat transfer from the pit to the deck flooring beneath.
Deck-safe designs offer homeowners and residents a little extra peace of mind when using their fire pit.
Deck-Safe Fire Pit Design
Elevated fire pits tend to be the most forgiving. Their heated undersides don't come into contact with any flooring, preventing unexpected burns or fires.
While most elevated fire pits tend to follow a bowl-like shape and function, others are rectangular or square-shaped. The exact shape is not as important as how much height the pit maintains above your deck flooring.
The more height you can achieve, the safer your deck will be—to a limit. Awkwardly tall fire pits can become a hazard for those prone to clumsiness.
Still, propane-powered or natural gas fire pits tend to be a bit heftier than their gel fuel and wood-burning alternatives, which can help keep taller outdoor pits stable and upright.
Fuel Choice
While wood-burning fire pits are a traditional choice, they can also be a dangerous choice.
Gas alternatives are friendlier to the surrounding environment, and they don't generate ash or carbon monoxide like wood-burning fires.
Keeping your deck both clean and warm may be as simple as investing in a gel fuel or a gas-powered outdoor fire pit.
Size and Weight
Not every deck is built to withstand large groups of people or heavy appliances. Installing an overly large or heavy fire pit can put unnecessary strain on deck flooring while also limiting floor space. 
To keep fire pits safe, they should be placed several feet away from any surrounding flammable materials or objects. This can be difficult to achieve if your preferred fire pit consumes more than 30% of your entire deck's surface area.
If you notice any flooring depression after installing a new fire pit, it may be better to return it for a smaller model. The long-term strain on wood or vinyl blanks can result in warped flooring or an unsafe deck. 
Warranty
Ensuring your fire pit comes with a warranty is crucial. Having the ability to have your fire pit returned or repaired is necessary considering the investment you're making.
BTU – British Thermal Units
Unless it's a wood burning fire pit you're fire pit will have a required amount of heat needed to raise the temperature, which is known as BTU.
Ensuring your fire pit's BTU will handle the space and area you're wanting to heat is an important aspect when deciding which fireplace to get for your deck.
Legality
Depending on where you live you may need a fire pit that meets certain CSA Certifications that some products have.
Can You Put A Fire Pit On Wood Deck?
Yes, you can put a fire pit a deck, but you need to be aware of the potential for danger and damage.
If you stick with a wood-burning fire pit, there will always be potential for sparks and flaming debris to exit the fire onto your deck which can cause damage to your deck.
It doesn't matter how well you try to contain the fire or how high up off the wood deck it is, a wood fire can send sparks flying.
Getting a firepit ember mat can help minimize this possibility, but it will not eliminate the possibility.
If you're worried about potential burns and damages to your wood deck then you should probably consider a fire pit with a different fuel source, such as natural gas or propane.
Either way, it's important to follow some simple safety guidelines when having a fire and firepit on your deck, which we cover next.
Safety Tips For Deck Fire Pits
Here are some general safety tips for deck fire pits and wooden deck fire pits.
Never use flammable fluids to start a fire
Avoid flammable and loose-fitting clothing
Keep children and pets a minimum of 3 feet away
Avoid woods that can "pop" like pine or cedar (softwoods)
Keep a source of water or fire extinguisher close by
Be mindful of wind direction when starting a fire
Ensure the fire is extinguished when finished
Fireproof Mats and Heat Shields For Wood Decks
It's always a good idea to have a fireproof mat under your firepit, especially if that firepit is on a wooden deck. These mats help minimize the dangers associated with burning debris flying out of the firepit or with an accidental tipover.
Fireproof matts and ember mats help reduce the dangersassociate with popping embers or even dripping grase from damaging the surrounding area, like a wood deck.
These can even be handy when using an offground portable fire pit in the outdoors to help reduce the potential for flying sparks to catch fire.
Heat shields, on the other hand, help reflect heat away from the underneath the fire pit. This can help protect wood decks significantly as a direct heat source on a wood deck will cause wear and tear over time.
You do, however, need to be utilizing a firepit that has legs in order to use a heat shield.
Last update on 2023-01-25 / Affiliate links / Images from Amazon Product Advertising API
Different Fuel Sources For Fire Pits On A Deck
There are several different fuel sources to consider for you wood deck fire pit. To significantly reduce the risk of damage to your wood deck, you'll likely want to avoid a firepit that utilizes wood as its fuel source.
Here are the most common fuel sources for firepits:
natural gas
propane
ethanol
wood
Natural gas and propane powered firepits are the most common in backyards and for deck firepits.
Natural gas is mostly methane that has been pressurized into a liquid. Propane is a hydrocarbon and is made from the liquid components saved during the processing of natural gas.
Ethanol is, well, alcohol. The advantages to this fuel source is that it produces no smoke, or soot. They can also produce some impressive flames and a lot of heat.
What Dangers Are Associated With Fire Pits and Decks?
In 2017, over five thousand Americans were hospitalized for injuries associated with fire pits and outdoor heaters. The majority of these injuries were burns.
In 2018, $11.1 billion in property damage occurred in structure fires, including $8 billion in property loss in home fires.
As such, there are two primary dangers associated with outdoor fire pits:
Burns
Property damage
Carbon Monoxide Poisoning
Burns can be mild or severe, as can property damage or exposure to airborne contaminants. Being aware of these dangers before actively using a fire pit can help prevent injuries, costly accidents, and long-term ill-health as a result of smoke inhalation.
Burn Injuries
Burn injuries are classified into varying degrees. First-degree burns are always the least damaging, though that doesn't mean they're painless. Most sunburns are first-degree burns.
The damage done to the body is superficial and only affects the topmost layer of skin. The epidermis, or uppermost layer of skin, may become exceptionally red and sensitive to touch.
Third-degree burns often necessitate surgery, though they can sometimes heal with minimal medical intervention.
Technically, there are fourth-degree burns, but these burns destroy skin, muscle tissue, and bone. Fourth-degree burns are rarely survivable.
Fire and Heat Damage
When a fire spreads from an outdoor fire pit to a house, the result is often thousands of dollars in damages. Not only can fire consume wood, plastic, insulation, and other flammable materials, but the resulting smoke can ruin items unharmed by heat or flame. 
Firefighters may need to chop through the home's roof to prevent flames from spreading through dry attics.
Excess water or fire-retarding chemicals can also do a significant amount of damage to carpets, walls, and personal belongings.
Unfortunately, there's no easy, mess-free way to save a home from a rapidly-spreading fire.
Carbon Monoxide Poisoning
Carbon Monoxide is a colourless, odourless, tasteless, toxic gas. It limits your ability to absorb oxygen by attaching itself to your red blood cells.
When gas-powered firepits malfunction, they can produce incomplete combustion which releases Carbon Monoxide as a byproduct.
Always ensure your fire pit is built, installed and repaired safely and according to the manufacteur's directions.
Continue Reading: Covered Fire Pits – Complete Buyer's Guide & Tips
Conclusion
The safest outdoor fire pits for a deck are ones that make little contact with the deck flooring, utilize controllable fuels, and are light enough to meet deck weight limits.
Of course, no fire pit is perfectly safe, and consistent adult supervision is necessary when operating a fire pit of any type, shape, or size.
It's also important to educate young children about proper fire safety and to limit fire pit access to both children and pets.
There are several deck-safe outdoor fire pits to choose from, but the ideal one for your backyard depends on your preferences, budget, and space restrictions.
Choosing an outdoor fire pit that satisfies these requirements can help ensure your household's safety and keep your deck looking its best.