Features like landscape lighting, a sitting wall or built-in benches and tables, and a seasonal water feature near your covered fire pit can transform your backyard space into an all-year entertainment area. You can even add built-in refrigeration and washing-up facilities for some serious host credentials. With some planning, you can construct or install a permanent fire pit in less than a day, while a portable fire pit just needs a suitable spot and a safe source of fuel.
Since the start of the COVID restrictions, many families have come to value their backyards as an integral part of family life. The relaxed setting around a fire pit is perfect for an informal gathering, delicious Alfresco meals, and making warm family memories.
Are you going to pick a portable fire pit for the deck or a large built-in fire pit that grabs all the attention? Round or square, fire brick or cast iron? Read our guide to make sure you get the basics right. After that, it's fairly simple to get the perfect fire pit for your needs and budget!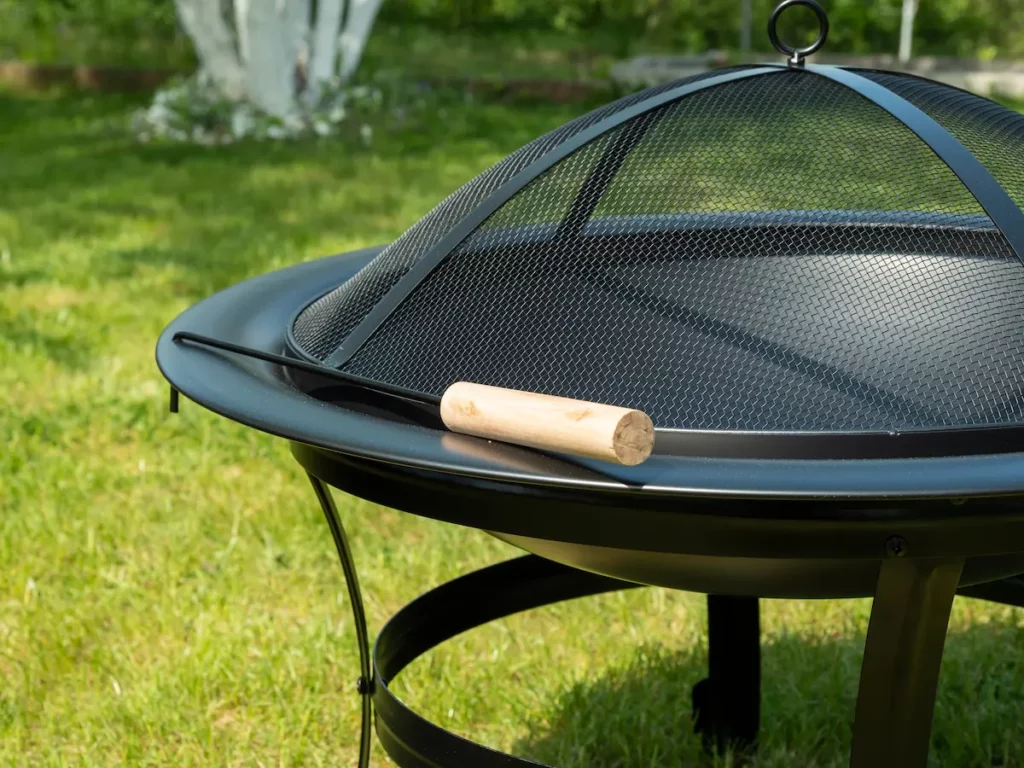 We are reader supported. We may earn a commission when you buy through our links.
Consider Your Needs and the Intended Uses of Your Fire Pit
A fire pit is a potential fire risk, so you should contact your homeowners association or municipal planning office before you start. Find out whether you are allowed to use or build a fire pit on your property, and what restrictions and regulations you must comply with.
Apply for a permit if needed and study any possible restrictions on the size, location, material, and fuel type of home fire pits. If you ignore the rules, you may be fined.
Consider your lifestyle and the reasons why you want a fire pit. Do you see yourself cooking over the fire, or is it more of a prop for your outdoor landscaping? How big is the yard, and what style are you looking for? Is the fire pit meant to be at the center of your weekend activities, or will you only use it on special occasions? Should it be small enough to tuck into the car boot for a camping holiday? If you get a large one, will you get some use out of the structure when you cover up the fire pit?
If you'll be using it often, and especially if you love outdoor entertainment and Alfresco dining, it's well worth committing to a good-sized budget to get it done. If you're a DIY-enthusiast it could cost far less than hiring a professional to do all of the work.
Last update on 2023-01-26 / Affiliate links / Images from Amazon Product Advertising API
The Size of Your Fire Pit
You can go tiny, with a fully collapsible unit, but the most popular width for a covered fire pit is usually between 36 and 44 inches wide, since it can accommodate seats for six or more people around the fire pit without losing the intimacy of the setting.
The most popular height is 12 to 14 inches from the base to the top. This height allows guests to prop their feet up on the covered fire pit while seated on standard-height patio chairs. Increase the pit height to 18 to 20 inches tall if you plan to use the covered fire pit as extra seating.
Positioning the Fire Pit
Whether you choose between a portable or fixed fire pit, keep these common-sense safety rules in mind:
Choose level ground – you'll want to gather around without breaking chair legs or twisting ankles.
Avoid trees and plants that can get singed or catch fire if they are too close. Long, dry grass and dry palm tree branches, in particular, can catch fire in an instant and cause an unstoppable conflagration.
You'll need access for your lawnmower or other gear to do seasonal and routine maintenance and, of course, to provide easy access for your guests.
Stay out of areas with unpredictable wind surges, and check that the prevailing wind won't blow smoke into your home through open doors or windows.
Stay at least 15 feet away from other houses and a minimum of 10 feet from property lines, wooden sheds or dog houses, detached buildings, or garages.
Don't be tempted to light a fire under a pergola or gazebo, as these structures are often highly flammable. Be very cautious if you place a portable fire pit on a deck.
Don't place your fire pit under safety cables or utility lines.
A Portable vs. a Fixed Fire Pit
You'll have different seating requirements for an intimate family dinner versus a party by the pool for your college kids. A portable pit makes it possible to position the fire pit perfectly for each occasion.
A fire pit can make a flamboyant statement and be a highly recognizable feature that creates some visual interest in an otherwise drab garden. If you have limited space or an awkwardly shaped or narrow backyard you can store a portable fire pit in the garage or garden shed to provide more space for playful kids and dogs.
A portable fire pit can be vastly cheaper than a fixed pit. If you are mulling over ideas for a complete backyard makeover, you can start by purchasing a smaller, portable unit to trot out for practice on weekends before you commit to a more permanent or expensive fire pit.
Fire pits can be expensive, but a well-designed and aesthetically pleasing fire pit is a coveted landscaping feature. You can take a portable fire pit with you when you move, but If you do a permanent installation you'll get an excellent return on investment. You can do a DYI installation from $350 to more than $10,000 for the professional installation of a deluxe pre-built fire pit.
Materials For a Fire Pit
Portable fire pits are self-contained, with the only hazard being the possibility of tipping over a smaller model if you place it in a precarious position, or burning your fingers if you're in too much of a hurry to eat that s'more!
They come in cast iron, steel or other lightweight materials, and in sizes ranging from a one-pot cooker to more than 3 feet in width. You get folding fire pits, collapsible fire pits, mountable fire pits, and fire pits that are specifically designed for camping or even patio use.
Permanent fire pits can be pre-built and installed where you want them, or can be constructed from a vast range of materials to get the look you want. The wall must be built from fireproof building materials. The outer section – the paving or finishing – should be heat-resistant.
You can prolong the life of your fire pit by installing a steel or cast-iron lining to protect the inside of the fire pit. Steel fire-proof rings, with or without a matching fire pit cover, can be purchased at most building supplies or large hardware stores and will prevent premature crumbling and excessive wear and tear to your fire pit.
Fireproof materials include fire brick and certain types of stone, while heat-resistant materials for the surrounding paving include most types of brick, stone, and masonry blocks. It's a good idea to get some advice from a landscaper or your local DYI store rather than grabbing a few left-over bricks from your neighbor's yard.
Look out for matched or integrated sets containing the fire ring, fire screen, and fire pit covers.
You can use heat-resilient materials like concrete pavers, outdoor stucco, or certain kinds of tile to cover and decorate the area around the outside base of the firepit.
Don't use flammable materials such as rustic wood or grass, or modern outdoor and camping materials near the fire pit. Also, be careful of materials that can explode, such as compressed concrete blocks and slate tiles.
Fuel And Fuel Emissions
A crackling wood fire is a popular, somewhat nostalgic choice for a campfire feel, but they release a lot of smoke. They also release sparks and embers that might be dangerous, which is why municipal or homeowner entities restrict or prohibit wood fire pits. You'll also have to make provision for the safe storage of wood or coal, and deal with the ashes after every occasion.
Most people don't mind the extra work, but if you choose a pre-built fire pit, you may be able to snag a sleek gas-burning design. Propane, natural gas, or ethanol are great alternative fuel options for fire pits in smaller or built-up neigborhoods.
Ethanol emits no smoke or sparks and burns without odor. It's the cleanest of the available fuel types but it arrives in a special tank, is not great for fireplace cooking, and you'll have to make specific provisions for safe installation.
Propane-fueled pits light very quickly and don't produce embers or ashes to clean up, but will also require a safe and possibly costly installation or connection to a liquid propane tank.
The installation of natural gas-fueled fire pits is a little more complicated, as the gas company would have to install a supply line to your fire pit.
Last update on 2023-01-26 / Affiliate links / Images from Amazon Product Advertising API
Basic Firepit Do's and Don'ts
Never leave a fire unattended. It takes just one ember on a dry, flammable surface to cause a devastating fire. Keep the kids and pets at a safe distance.
Stop adding fuel to your fire about an hour before you anticipate moving indoors. It creates a cozy, lazy atmosphere and will allow the fire to die down. Spread out the remains of the fire and douse them with plenty of water.
Fire accelerants like gasoline, paraffin, or lighter fluid release toxic fumes and can combust explosively, causing injury or damage. Get the kids to help you collect wood shavings or kindling, or buy the much safer commercial fire starters- or sticks.
You should never incinerate garbage at home, so keep it out of the fire!
Buy or chop correctly sized wood to prevent dangerous ends from overhanging the edges of the pit.
It's a good idea to store a fire blanket (fiberglass or Kevlar) or a fire extinguisher within easy reach to help smother the fire in an emergency. Teach the kids how to use it, because accidents have a way of happening just when you step away for a minute!
How to Build or Install a Fire Pit Safely
The details of the construction may vary, but the basic steps remain the same. Put some thought into the positioning and your needs, then start with these first steps to gauge how well you've planned.
Determine the predominant wind direction. If there's a good chance that you'll end up with excessive smoke in the house, you may need to construct an outdoor chimney, a windscreen, or change the type of fuel you aim to use.
Pick out the site, keeping safe distances from buildings, fences, and trees in mind.
Clean up the site. Remove loose stones and grass, and level the entire area. It's much easier to prepare the entire site, including the surrounding pavement area, before you build the fire pit.
Lay it out to get a better idea of the size and footprint. Measure and mark the area where you intend to build.
Start excavating. You'll need to remove about eight inches to make sure the wall construction remains stable. If you are installing a pre-built fire pit, you should consult the installation instructions to check the recommended depth.
Spread some building sand and tamp down well. You'll need about two inches of compacted, leveled sand.
Position the fire pit unit firmly and correctly, or if you are building it yourself, start stacking or building! Construct the walls of your fire pit with the materials of your choice. If you are constructing a round fire pit, you could position the fire pit lining or ring first and use that as a guideline to keep the outside nicely rounded.
Finally, for a self-built pit, add a layer of gravel, sand, lava rocks, fire pit glass, or bricks to form the floor of your fire pit. Make it smooth, because you'll need to remove wood ashes after every use. You could line the bottom with a removable steel sheet (a smaller version of the readily-available steel snuffer covers works well), or even galvanized iron before use, to make cleaning easier.
Add a fire pit cover, not just for safety, but also for practical reasons. An attractive snuffer cover will turn the fire pit from a blackened hole in the ground into an attractive, all-purpose garden bench!
Continue Reading: Best Fire Pit for Wood Decks [REVIEWED]
Fire Pits are a Hot Commodity
Can you see your family and friends making memories around a comforting wood fire, sharing s'mores and barbecued dinners? 
Fire pits have become must-haves in many neighborhoods. There are many advantages and no real disadvantages to incorporating an honest-to-goodness covered fire pit into the entertainment area on your property, so get cracking before the next winter!