So, what size log splitter do I need? Well, it all depends on what you'll be using it for. The size of a log splitter is determined by tonnage. Large logs require a 30-ton log splitter, whereas small logs can be split by a 4-ton splitter. The age, type of wood, and other factors matter as well.
Picking out a brand-new log splitter can be a bit challenging since you have to figure out so many variables.
Not only do you have to decide if you'll need a gas or electric splitter, but you'll also have to pick out the correct size for the job.
It's essential to review and choose the right log splitter because you could potentially break it if you pick out a log that's too big for it.
Let's check out the variables that will determine which size is the best for you so you can find the right type of wood splitter.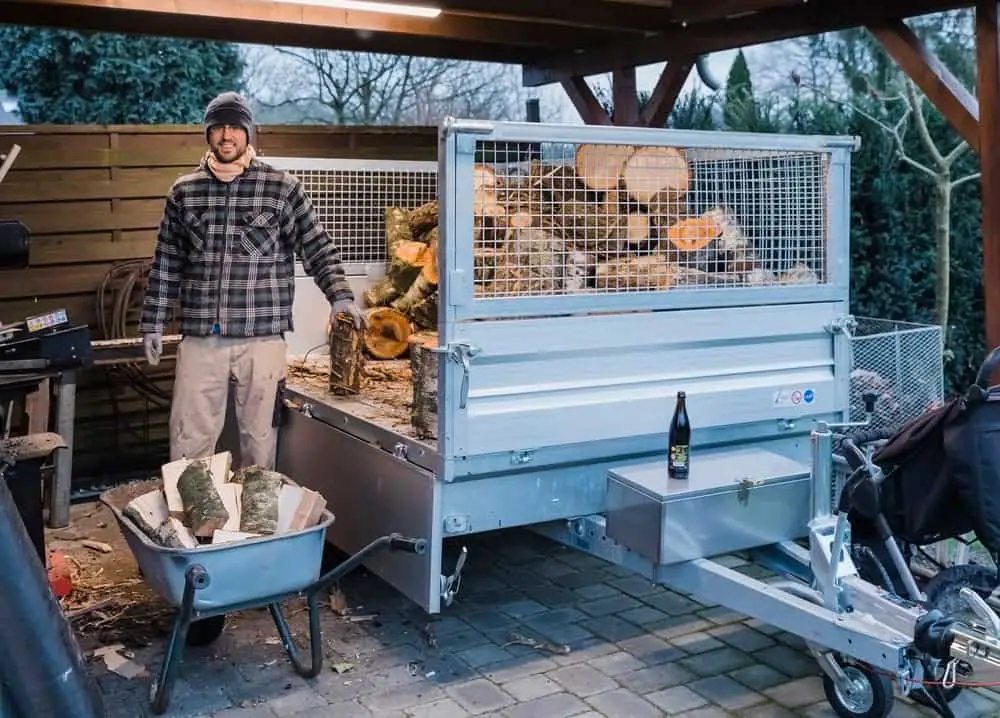 Related Reading: How Often to Change Hydraulic Fluid in Log Splitter?
Choosing a Log Splitter Size
Choosing the size of a log splitter can save you money, and it's definitely easier to move a smaller splitter than it is to move a massive one. 
If you want to save a lot of money, it is possible to make a hydraulic log splitter and there are plenty of DIY options out there, but they require a bit of mechanical and technical background.
To keep the extra cash in your pocket, and prevent an unnecessary investment, review the five key determining factors that will show you which size you should choose.
Here are five key determining factors:
| | |
| --- | --- |
| Size | The size of the log that you're splitting is the first and foremost essential component to consider. Six-inch logs that are season require a 4-ton splitter, 12" seasoned logs need a 7-ton splitter, 12" green logs require a 16-ton splitter, 24" seasoned logs need a 20-ton splitter, and 24" green logs need a splitter that's 30 tons or bigger. |
| Age of Log | As you probably noticed in the first factor, the type of log matters. Seasoned logs are often much more porous than green logs because they're dying and/or old. Green logs are very dense, and they have hardened bark that's harder to chop through. If you're cutting green logs, try a big splitter, as mentioned above. |
| Wood Density | Another issue to consider is whether you're cutting hardwood or softwood. Hardwood is dense, just like greenwood. It's tough, and you won't be able to cut right through it with a 4-ton splitter. Softwood has loose fibres that are easy to slice through. Depending on the size, you might be able to use a small splitter. |
| Fresh Wood | If the wood is fresh, you'll have a difficult time using a splitter to cut it open. New wood is filled with moisture from the water that is consumed. This makes it heavier, thus harder to breakthrough. Try to let your wood cure up to six months before cutting it. If you can't, you'll need a bigger splitter. |
| Type of Wood | Lastly, consider what you'll be splitting. Do you live in a suburban neighbourhood with a small backyard? If so, you'll probably deal with branches and small logs. On the other hand, people who live out in the country or by the woods will likely need a large splitter to cut firewood and clear pathways. |
| | |
Questions to Ask Before You Buy a Log Splitter
Before you buy a log splitter, do yourself a favour and ask a few questions.
You can get a huge log splitter that still doesn't do the job, simply because you didn't do the necessary research. 
There are plenty of questions to ask, but here are the main concerns that you should think about before making a decision:
| | |
| --- | --- |
| Are there readily available parts online or in-store? | If something happens, you should have quick access to the parts that you need to repair the log splitter. Otherwise, the first sign of failure will be the end of your investment. |
| Who made the log splitter? | Brands matter! Well-known brands are much more likely to stick around for the long run, and that means that you'll have parts to purchase and employees to ask questions whenever you need it. |
| How quickly does it cut a piece of wood? | You don't want to be standing around all day waiting for the machine to do its job. These days, most log splitters can cut a large piece of wood in under 20 minutes without a problem. |
| Does the log splitter come with a warranty? | Without a warranty, you'll be paying cash out of your pocket every time something goes wrong. When you're making such a big investment, you should always purchase a warranty plan to save yourself time and money. |
| Do you need a gas splitter or an electric splitter? | There are plenty of differences between the two. For example, gas splitters are louder, more expensive, and much heavier. That being said, they're also more powerful, better for commercial jobs and heavy-usage, and they typically last much longer than electric log splitters. |
| What is the horsepower of the log splitter? | Many consumers think that horsepower supersedes everything, but that's not always the case. A good brand and a reliable warranty are far more essential. However, you should always reach for a high horsepower for large logs. |
We are reader supported. We may earn a commission when you buy through our links.
Last update on 2023-01-17 / Affiliate links / Images from Amazon Product Advertising API
So, what size log splitter do you need?
After looking through all of the questions, determining factors, and other concerns, it's about time that you find the log splitter that you want. 
Once you've figured out the type of wood that you're cutting through (hardwood, softwood, green, cured, and seasoned), and you've chosen the type of splitter (electric or gas), you can select the right one for you.
People who live in a regular neighbourhood with simple wood branches and small trees should get a splitter that's about four to seven tons.
If you have massive green logs often (which is uncommon in most neighbourhoods), then you can get a 16-ton log splitter.
Anything over that is too much, in most cases. If you live in the woods or out by a bunch of trees that grow often, then you could get something a little bit bigger.
Sixteen tons should be the smallest size that you reach for.
Don't be shy about getting a 30-ton splitter. It's nice to know that you'll always have enough power to take on any challenge.
Keep in mind that you can always go loo low, but you can never go too high. Having too much power simply means that you might've been able to save money on the initial transaction.
On the other hand, not having enough power means that you'll have to return it and buy a new one to deal with the logs around your house.
Finally, if you're running a log-cutting business, always pick the biggest splitter.
Even if you're working in small neighbourhoods, there's going to be a customer who has a massive tree that you need all of the power that you can get.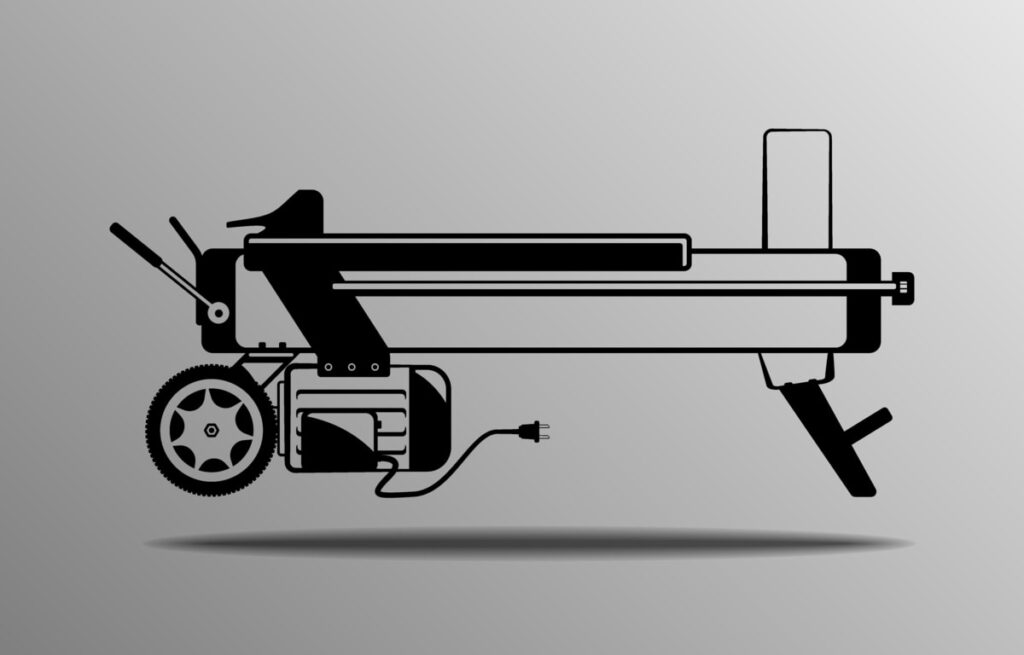 Related Reading: What Is A Kinetic Log Splitter [BETTER THAN HYDRAULIC?]
Conclusion
Log splitters allow you to remove old wood, make firewood, create small wooden pieces for projects, and much more.
Having the right splitter for the job ensures that everything goes as smoothly as possible and that you remain as safe as possible.
Here are a handful of takeaways from the post:
Don't forget to research the brand to see how long they've been in business.
Choose between gas or electric log splitters.
Greenwood is always harder to split than seasoned wood.
Allow your wood at least six months to cure.
The size of a log splitter is determined by tonnage and horsepower.
You don't always need the biggest splitter to cut wood around your house.
Ask questions before you buy your first log splitter. Refer to the
Make sure that your log splitter has a warranty. If not, try to buy one for it.