When you are looking to make investments in your home, you want to consider what type of return that you will get if and when you choose to sell before you add any permanent features. After all, not all home improvement projects are created equal.
Covered patios are a great way to upgrade the look and feel of your backyard and add value to your home while doing so. Keep in mind that many different things can impact just how much value any improvement will add and that is true for patios too. Factors impacting the value will include the type of patio, design, unique features, and more. If you do it wrong, you can actually detract value from your home.
Depending on the size, materials, and features, you will likely get between a 30 percent to 80 percent return on investment (ROI) when you add a covered patio to your home. Let's take a look at how you can make the most of that ROI when adding a covered patio to your home, what you should avoid, and why adding a covered patio is a good investment.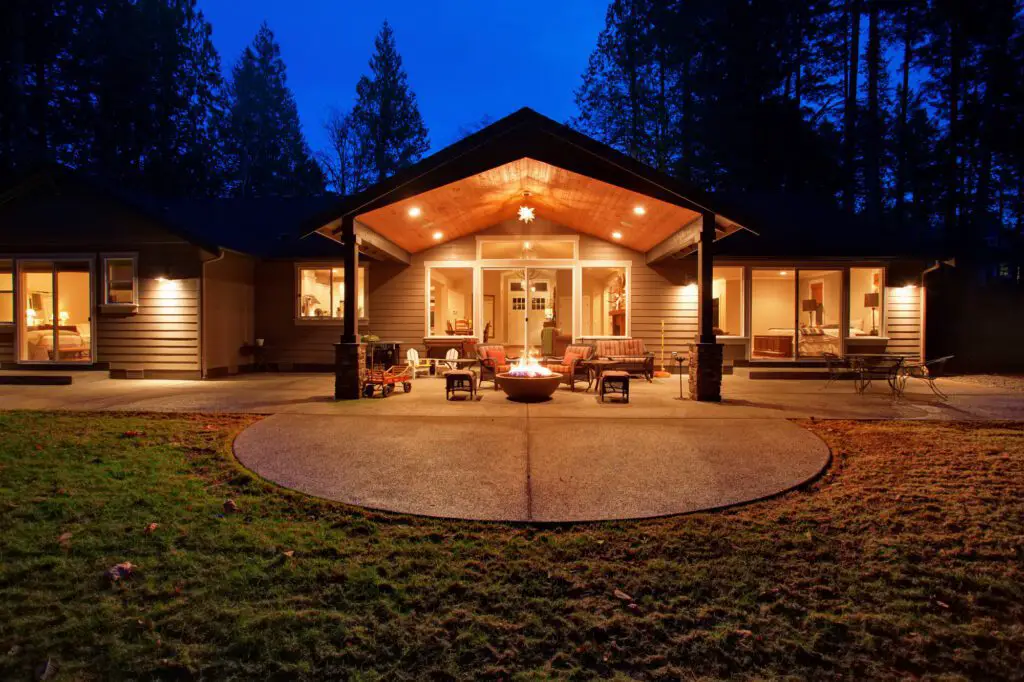 How Much Value Does a Covered Patio Really Add?
The amount of value your covered patio will add to your home's listing price depends on how much it costs to build and the material that it is made of.
If you spent $5,000 to build a covered patio made of wood, you will likely get an ROI of $3,750 or 75 percent.
If you spent $5,000 to build a covered patio made of some other composite material, you will likely get an ROI of $3,500 or 70 percent.
This will, of course, vary based on where you live. A covered patio may have more value in warmer states like Florida or California when compared to Alaska or other colder, rainier, or more temperate states. If you have questions about how much value it will add, reach out to local contractors or realtors. You can also do some research to see what other similar homes with porches are going for on the market.
The price of materials will significantly impact the ROI you will get on your patio and its installation price, especially when working with contractors. You will want to get several quotes to understand how much it may cost to build and determine if it is an investment you are willing to make.
Outdoor Living Space – Covered Patio vs. Deck vs. Porch
When you are looking to add features to your home, there are a lot of things to choose from. If you are looking to add outdoor living spaces, you can choose from a porch, wooden deck, and patio to name a few. They are similar, so it may be hard to choose.
Here are the main differences between the three options.
Porches are typically in the front or wrap around the home. People often sit and hang out in these areas, but they aren't typically used for cooking or eating.
Patios are typically at ground level and can be covered or uncovered. You hang out, cook, and eat on a patio which is furnished.
Decks are often elevated off the ground and rarely covered (unless by an extendable sun shade). They are similar to patios in that people often cook, eat, and sit on decks.
Which is best for you depends on your space, your budget, and what you are looking to accomplish with your outdoor space. Covered patios give you great flexibility in your entertaining and are among the best value for your money with a good ROI.
What to Consider When Building a Covered Patio
Typically, when you are building a covered patio, you will want to make sure that it fits with your home's façade and aesthetic. It should look organic and proportional to your home because covered patios that are too big or complex may actually detract from your home's value. If you have an HOA, you also need to check and make sure they do not have rules or restrictions that may prevent you from building the patio of your dreams.
Try to avoid doing anything too trendy as this can become dated rather quickly. Stone and brick bring a classic look, but if you are on a budget, you can get that look for less with concrete stamping. Wood is always a great traditional choice, just avoid any overwhelming paneling on the sides and roof. You can add personality to any material with a splash of color in the form of furniture, outdoor rugs, or hanging baskets.
The covering can be an extension of your roof, a complementary addition, a retractable shade, and more. The type of covering should also work with your home's design, and the durability of the covering will impact the return on investment on the patio.
Benefits of a Covered Patio
There are many different benefits to adding a covered patio to your home, in addition to boosting your home's overall value.
The covered space lets you enjoy the outdoors regardless of the weather, giving you protection from rain and hail during inclement weather, as well as shade and sun protection during the hot, sunny days of summer.
It can also prolong the lifespan of your patio furniture, protecting it from sun damage, which can cause weakness and deterioration over time. It will also keep your furniture dry, preventing mold and other bacteria from developing on your furniture.
You won't ever have to worry about accidentally sitting on a wet cushion again with your covered patio. Covered patios provide a great outdoor entertainment area during the day and night at any time of the year, temperature permitting. Upgraded backyard spaces have been trending as one of the most popular home and backyard improvement upgrades over the last few years, and a covered patio is a good way to take advantage of this trend.
Bottom Line: Is a Covered Patio Worth It?
If you are looking from a strict value add perspective, yes, covered patios are worth it. In the short term, it will give you a fun, unique space to relax in your backyard or host gatherings. In the long term, it will add value to your home's resale value, and you will see a return on your initial investment.
The amount of return you will see varies on a number of factors, but a great covered patio can help your home stand out from others on the market, giving you a leg up when you are trying to sell it.