A patio heater is a must-have item for the cooler seasons.
It is a great alternative to a fire, allowing you to use the outer living spaces of a house, restaurant, or office (patios, balconies, lawns, etc.) during the months when it would normally be too cold to hang outside.
But one recurring question about patio heaters is if they can be used under a covered patio.
You can use a patio heater under a covered patio as long as you have the right type of heater and the heater fits within the patio's dimensions. While they are safer than fire pits for lighting under a roof, each type of heater needs a different amount of clearance. 
In this article, we will explore this subject in detail as well as share some great tips on how you can get the most out of your patio heater when it is under a covered patio.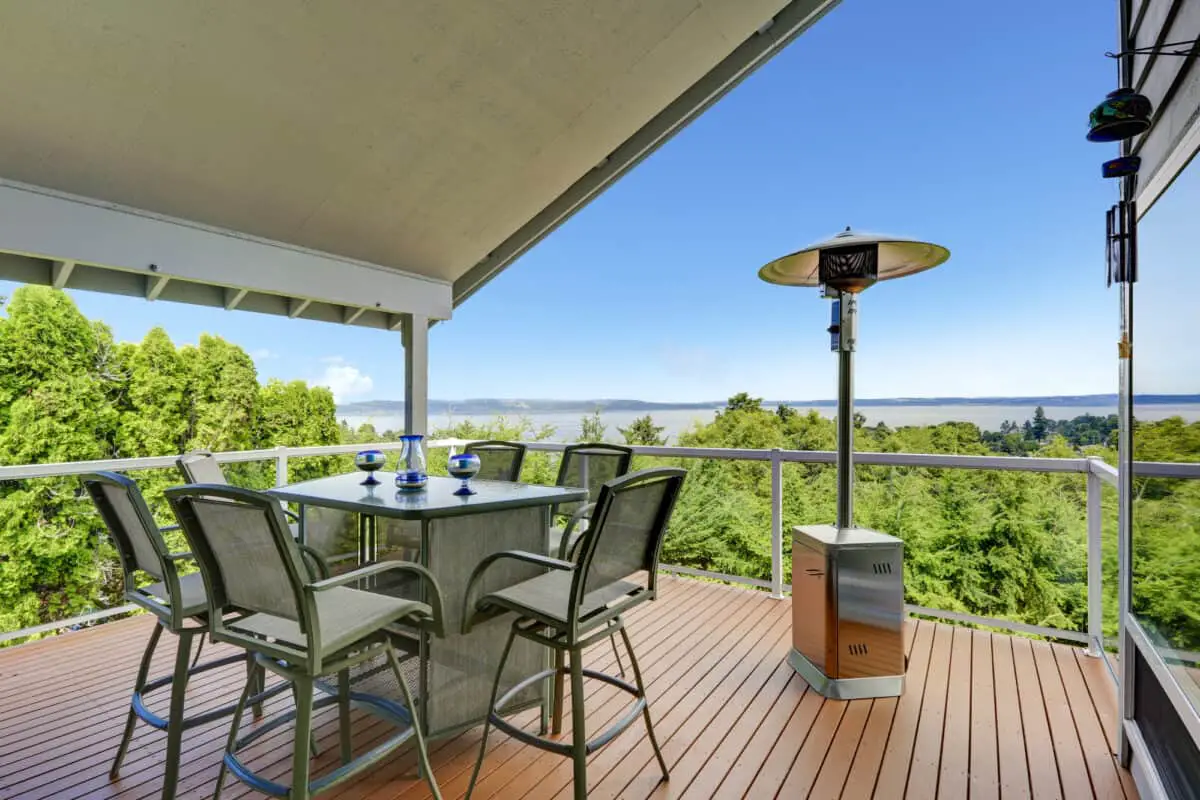 Related Reading: Can I Shorten My Patio Heater? [ANSWERED]
Types of Patio Heaters (and Whether You Can Use Them Under a Covered Patio)
Whether or not you can use your patio heater under a covered patio depends on the type of heater you are using and the actual dimensions of your patio.
Patio heaters typically aren't waterproof as consistent exposure to the elements will speed up wear and tear.
Modern design and engineering have made lots of patio heaters safe to use even under a covered patio.
Let us now look at three different types of patio heaters and how they fare under a covered patio.
Using a cover for your patio heater is an easy and effective way to protect your patio heater from the rain and other elements, without having to worry about moving it around.
We are reader supported. We may earn a commission when you buy through our links.
Last update on 2022-11-27 / Affiliate links / Images from Amazon Product Advertising API
Fixed Outdoor Mushroom Heaters (Natural Gas)
Mushroom style heaters are a very popular choice for outdoor heating. Not only do they have a cool design, but they're also extremely good at evenly distributing heat. There are basically two types of these heaters: portable types and fixed types. Let us first look at the fixed type.
Since mushroom-style heaters use infrared heat technology to distribute heat, there are no dangers of exposure to open flames.
This is why they can safely be used as long as there is a minimum of 2 feet of clearance between them and the roof of the patio.
Considering the average height of these heaters, you would need a roof at least 10 feet high.
One thing about these heaters is that they are permanently connected to your gas lines and cannot be moved around once installed. So, it would be wise to install them around the edge of the patio.
It would also be wise to maintain a distance of at least 6 feet between these heaters and any combustible material like wood or lattice.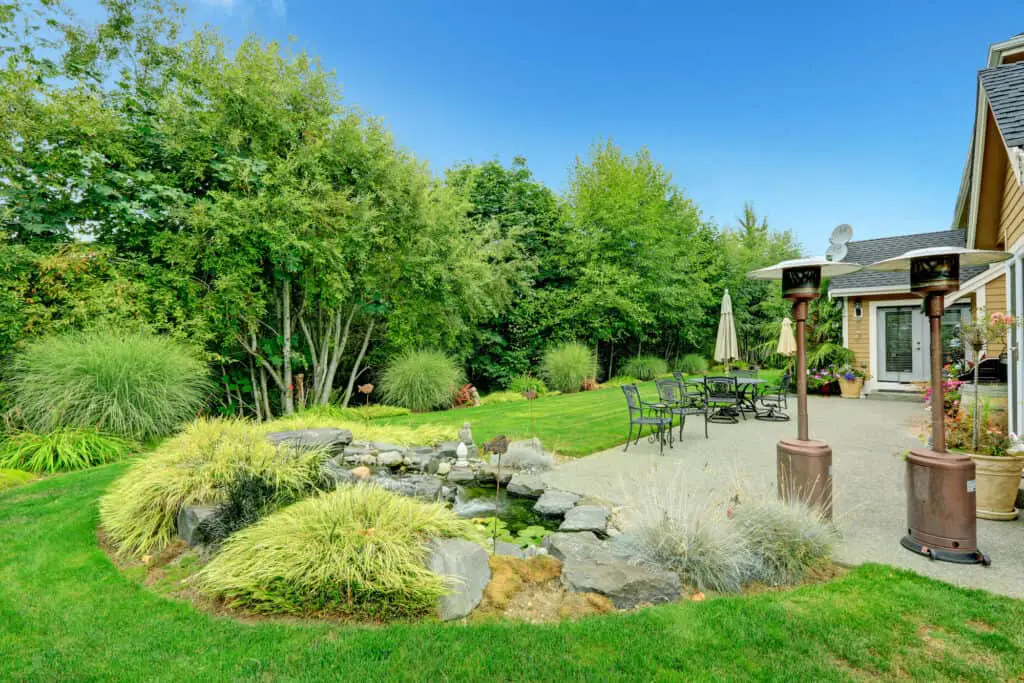 Portable Mushroom Heaters (Propane)
These are perhaps the most ubiquitous of all the patio heater types and rightfully so.
They are very much like the fixed mushroom heaters we discussed above, but also offer the advantage of portability, making them a more popular choice.
Propane tanks for patio heaters can last quite a while as well.
The average portable mushroom heater requires at least a couple of feet of space between itself and the roof of your patio. As with the fixed mushroom heaters, the infrared heat technology removes the dangers of being exposed to open flames.
Since your average mushroom style patio heater is over seven feet tall, you would need your patio roof to be at a height of at least 10 feet from the ground.
This isn't a lot to ask and is a very practical height.
One thing you could try is to slightly angle the heater towards the open side of the patio. This will improve the heat dispersion, and keep the area warmer. We will discuss this further in a later section.
Mushroom style patio heaters are also safe to use in the vicinity of wood, lattice, umbrellas, and other combustible materials, as long as you maintain a distance of 6 feet between the heater and these things.
The portability of these heaters makes it easier to move them around to adjust to these requirements.
The incredible adaptability of the portable mushroom style patio heater is what makes them so popular.
Electric Infrared Heaters
Another popular choice for a patio heater is the electric infrared heater. You might have even seen these heaters being used indoors in a lot of places.
So, it isn't hard to guess that among the types of patio heaters covered in this article, electric infrared heaters are the most compatible for use under a covered patio.
Most electric infrared heaters distribute heat sideways, so they can be hung/positioned with just half a feet of clearance with the roof of the patio.
Angling Heaters For Covered Patios
We've just discussed how it's technically possible to use a patio heater under a covered patio with the right precautions. This can be very useful when trying to keep your patio heater out of the rain.
But despite this, patio heaters are designed to work best in the open, with no roof above them.
So, there is a nice little hack when it comes to using a patio heater under a covered patio. Simply angle the heater slightly towards the open side of the patio.
This will ensure a better distribution of heat. We will explore heat distribution in patio heaters in the next section.
When you're angling a patio heater, be mindful that it is steady and isn't likely to tip over. If that happens, it could potentially start a fire.
How Does a Patio Heater Work?
To help you get a better sense of the problem of using a patio heater under a covered patio, let us now look at the basic workings of a patio heater.
Unlike air heaters that keep us warm by blowing hot air into the space around them, patio heaters work by producing radiant heat.
What this means is that air heating heats the air molecules around the heater while radiant heating heats the objects around the heater.
So a patio heater directly warms you (an object around it) up instead of using the air as an emissary of heat.
This also explains why it is more efficient to use a patio heater under an open roof. As we have discussed above, it is generally safe to use these heaters under a covered patio.
But as you might have guessed, this would involve a large chunk of the heat being distributed to the roof of the patio (another object around the heater).
You can see then why angling the patio heater towards the open side of the patio could slightly improve heat distribution, but this can be difficult to do with certain models, such as pyramid gas heaters.
Safety Measures
Towards the end of the article, it would be a good idea to look at some safety precautions when using a patio heater under a covered patio:
Regularly clean your patio heater to avoid unnecessary wear and tear and random objects being lodged near the flame
Maintain the right amount of clearance between the heater and the roof of the patio.
When angling the heater towards the open space, be careful to keep it set and safe from tipping over.
Keep all combustible materials (such as wood, umbrella, etc.) at least six feet away from the patio heater.
Each heater has a different heating radius around it so, make a note of what the requirements are with your heater before lighting it.  
Last update on 2022-11-16 / Affiliate links / Images from Amazon Product Advertising API
Continue Reading: How Much Ventilation Do You Need for A Propane Heater?
Conclusion
Patio heaters are generally built to be used out in the open, under an open sky. This is because these are radiant heaters that work by warming the objects around them instead of the air.
A covered patio would mean that a lot of the heat is lost to heating the roof of the patio.
But despite all this, it is generally safe to use patio heaters under a covered patio, if the right amount of clearance is left. How many patio heaters needed will depend on a few factors.
When under a covered patio, patio heaters are generally safer and more practical to use compared to firepits.