A fire pit in your backyard is an opportunity to have many experiences all year round. That said, because there is fire involved, there are a number of safety measures that ought to be taken.
Fortunately, I've done the research for you to look into some of the most important questions revolving around fire pits.
One of the biggest ones is how far should a fire pit be from a deck? This depends on the type of fire pit you are building as well as the layout of your backyard as well.
Many people choose to have a fire pit on their deck so they can enjoy the best of both worlds, but this requires additional safety considerations.
Others may want to not have to worry about mixing fire with their deck and want to keep it away, out on their backyard.
Beyond that, there are other fire safety measures that you can take that can determine where a fire pit should be placed.
With that in mind, here are some of my suggestions for getting started with a fire pit and deck so read on.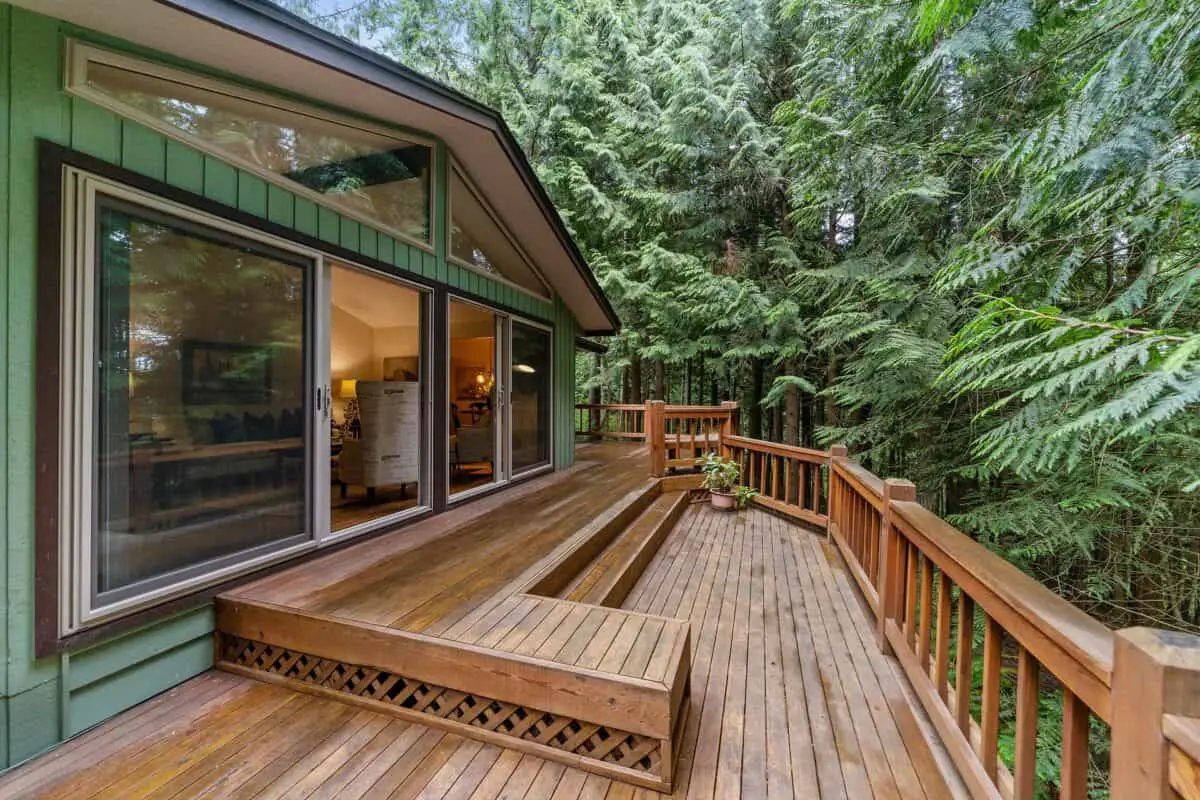 Consider Your City Codes
Before even thinking about a location for a fire pit, and before you even get ready to light it a firepit, one of the big considerations is the rules and regulations that your city has.
These rules and regulations are in place in order to protect individuals from having to deal with fires spreading to areas beyond the fire pit.
As such, cities will have requirements for your fire pit to be placed at a certain point.
That or they may even have a ban on flames, to begin with or that you need to get permission from your city or local fire department. Whatever the case is, check first before anything.
Consider Location
If you're thinking of building your own fire pit on or near your wood deck, location is going to be more important with this.
After all, this is going to take up a portion of your yard. With that in mind, you want to ensure that it's big enough for people to gather around it.
On top of that you want to ensure that there aren't any flammable materials around the area as well.
Things like tall trees, bushes, and fences should be a good ten feet away from the fire pit. This also applies to your house too.
You want to ensure there is no low-hanging vegetation and the area is clear of brush and twigs.
With this in mind, you also want to make sure the surface you're building on is flat and isn't near any tall grass.
When it comes to portable fire pits, you have more flexibility in location, but you still need to keep these things in mind when picking a spot.
Know The Difference Between The Types of Fire Pits
There are two kinds of fire pits: gas burning and wood burning. With gas burning fire pits, there is more flexibility with them as you can even install them into your own home if you like.
Overall, gas fire pits are more for the show since the flames are instant and fueled by propane.
Although you may already be aware, it's still worth stating that you should never burn wood in a gas fire pit.
Traditional wood-burning fire pits will add more authenticity and smell to it. It naturally will require a bit of set up every time to get a fire going, but you are rewarded with that authenticity.
On top of that, which one you decide on can also factor in the location as well.
Wood burning will cause more sparks and embers to fly out, potentially damaging your deck, while gas fire pits don't run into those issues.
It can be a good idea to ensure your firepit has an adequate base and to consider getting a ring for your firepit.
Stone Pit & Surrounding Area Is Ideal
While you can have fire pits on wooden decks or patios, you'll need to take some extra measures regardless of what type you're picking.
The same is true if you're building a permanent one or considering a location for a portable fire pit.
In either situation, having stone involved in some manner is ideal. Stone isn't combustible and so is a great option for your surface.
This also applies to concrete as well.
Some other alternatives to have to surround the area is a fire table. You can also fill up gas-fueled pits with lava rocks or special fire pit glass if you're going for that option.
Ideal Size For Your Fire Pit
What I mean by this tip is that your fire pit should fit into what your life is like on a social level.
The other consideration is the size of your own yard too.
The last thing you want is a gigantic fire pit that fits regulation but disrupts the entire flow of your backyard.
Furthermore, if your fire pit is small, it's not going to be good if you plan to have parties on a regular basis or invite large groups of family and friends.
The last thing you want is for people to feel left out. So be mindful of this when thinking of an ideal spot.
Fire Pits Are Fun When Considered Correctly
If you're being mindful of regulations, and the area that you have to work with, I'm confident you'll be able to have a fantastic fire pit that you and others will enjoy being around.
Still, be sure to exercise safety as well to prevent any burns or potential fire accidents.
Final Notes
No matter what the situation is, safety should always be priority when talking about fire pits.
Fire pits on decks come with the additional risk of being surrounded by a flammable material if anything were to mishappen with the fire.
If you do decide to keep your fire pit off your deck, there are still some important safety considerations to make, but in either scenario, with a bit of planning you will be able to safely enjoy your firepit in your backyard.