Even with summer over, many homeowners and families are adding fire pits to their outdoor space. You can use them all year round, and they are great fun to have as gathering spaces.
But things start to get tricky in the event that you have a patio and are thinking of putting a firepit nearby. Because this is a huge concern, I've done some research on the subject.
So, will a fire pit damage your patio? Well, it depends on a number of things. From the type of patio to the type of fire pit and where it's placed.
It's not so much the firepit that will damage your patio, but any mishaps to do with the fire burning and a lack of safety planning and adequate fire pit design that will cause your patio to become damaged.
There are a number of factors involved to determine whether a fire pit will cause damage to a patio or not.
To prevent fire pits damaging your patio, here are some tips to keep in mind. Do read on to learn more about them.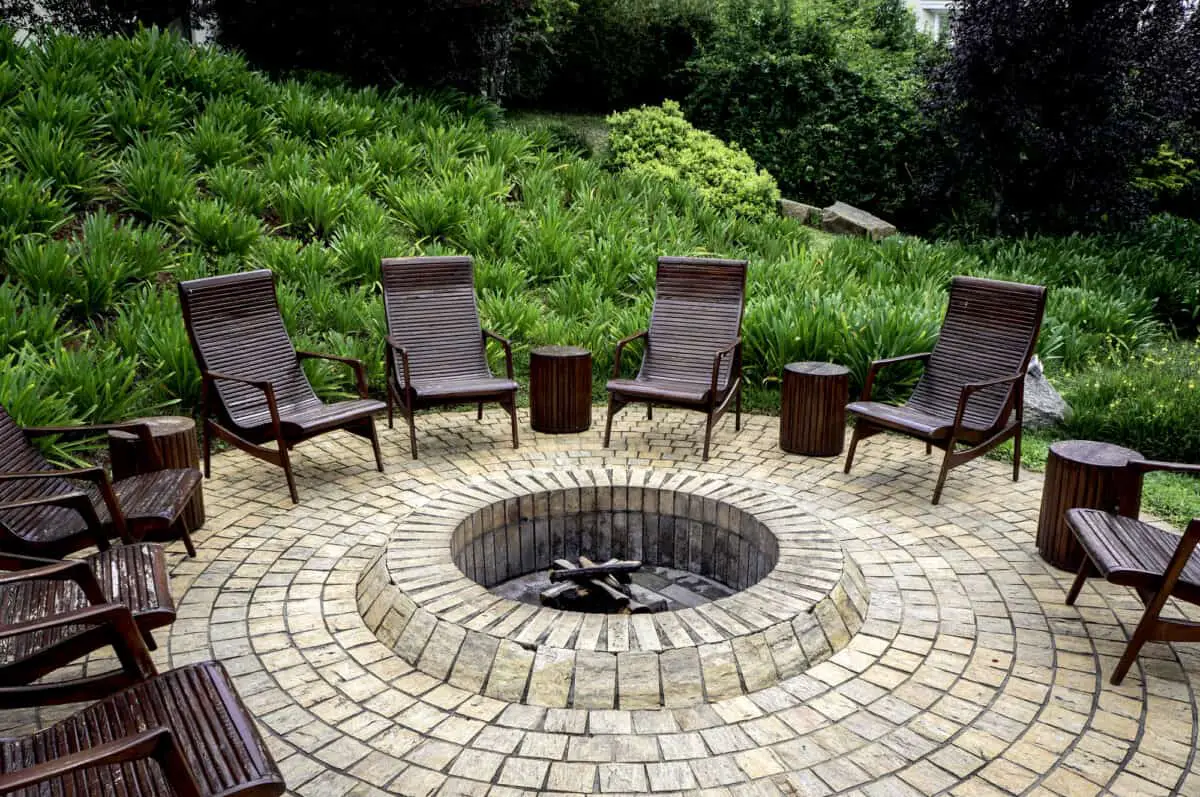 Consider Your Firepit's Location
The biggest factor to whether a fire pit can damage a patio depends on the location of the fire pit itself and what the surrounding area is like.
In order to decide that, it also depends on the type of fire pit you are looking to have.
With a portable fire pit, it's easier for you to move the fire pit to other areas without any issue.
Permanent fire pits require more planning and consideration.
Regardless of which one, the ideal location is one with plenty of airflow to it. This means an ideal spot is an open area or an enclosed area with proper ventilation.
On top of that, the location itself should also be a clear area. You don't want low-hanging trees, plants or other flammable material nearby.
Check Patio Flooring
Another factor to consider is your patio flooring itself. If your patio is a wooden, composite, or vinyl flooring, your patio will potentially catch fire if you're not careful.
All of those materials are combustible and the smart option is to have your fire pit located away from the patio in a more open area if possible.
On the other hand, if your patio is made of stone, brick, or concrete, you shouldn't run into those kinds of issues and as these make excellent bases for firepits.
Getting a firepit ring can also help contain your firepit and protect the surface area.
Check The Fire Pit (And Consider Alternatives)
The other consideration to look at is the types of fire pits you are using as well.
Regardless of the surface of patio flooring or whether you have it in an open or closed off space, you could get away with some of these things depending on the fire pit or alternative options.
First, know that there are two types of fire pits you can get: wood burning or gas.
For wood fires, they'll produce sparks and embers that can fly out around the surrounding area. As mentioned before, you'll want these pits to be located on a patio that won't catch fire or in another open area.
Gas fire pits are generally considered as safer options on and off patios, however, they'll need to be pre-approved by your city first.
Gas fire pits are popular for wood decks as well for the same reasons.
Just always remember to never burn wood in a gas fire pit. I know you probably already know this, but people still ask sometimes.
You'll need to be able to confirm that flooring, location, and ventilation of the outdoor space meet the manufacturer's requirements before installing them.
All that said, there are other alternatives as I mentioned that can provide similar results. Here are some things you can consider:
If you are fixated on having a genuine fire pit, there are pedestals that you can purchase for fire pits. These pedestals can serve as protection even on wooden patios.
Another alternative is patio heaters. If you only care about heat specifically, patio heaters are good options. They're electric and they can be mounted on the wall or ceiling to provide warmth in that area. You can even have them in enclosed spaces or indoors without any issues.
Outdoor masonry fireplaces is another option. As unusual as it is, this is ideal for those who want the same kind of experience that a fire pit brings but are looking for a rustic experience on top of that. Just keep in mind that you'll need a chimney for proper ventilation if you are going for this.
Outdoor gas fireplaces is the last option I'll bring up. It adds ambiance and warmth to the outdoor space. They're more efficient as well in burning styles and provide more heat. Best of all, they don't require a chimney system and can even be installed in combustible walls.
Your Patio Is Safe If You Know The Facts
When considering a fire pit, you want to do the research before having one installed and lighting it for the first time. This article should help you, but there are other things you can consider as well.
When looking at fire pits, you do want to go with ones that you like of course, but be mindful of the codes and regulations in your city and the manufacturer's requirements as well.
In the end, you can create a fire pit – or pretty close to one – when you factor safety and the rules and what you are looking for in a fire pit.