Storing firewood safely and efficiently can be trickier than expected, especially in climates with heavy and consistent rainfall. Keeping wood dry and ready for use requires an outdoor firewood rack, but it can be challenging to find one that fits your needs, preferences, and budget.
When searching for an outdoor firewood rack, there are several factors and features shoppers should keep in mind. The size, weather resistance, and price are the most crucial aspects to consider, though additional features like waterproof covering should also be considered.
We are reader supported. We may earn a commission when you buy through our links.
Portable
With Roof
Last update on 2022-11-24 / Affiliate links / Images from Amazon Product Advertising API
Investing in a high quality outdoor firewood rack helps keep everything enat and organized in and around your home. If you need a lot of firewood throughout the week your home and surrounding area can become cluttered quickly.
Also, brining firewood off the ground helps make sure the wood won't rot. It also helps the wood dry faster, especially if it gets exposed to sun throughout the day.
One of my favourite perks is organizing the wood on the firewood. I can have a separate little area for bark and kindling scraps, I can have another little area for some fire starting pieces and then the bulk of it is divided between varying sizes of logs.
And if you're using a log splitter to prepare your firewood you know how quickly those pieces can add up. Firewood racks are a great way to showcase your product if you have a little side hustle business of selling it.
This guide will discuss outdoor firewood racks and their most crucial features, helping buyers to choose the best model for their home or property. We'll also briefly review a variety of outdoor firewood racks to help shoppers get a head start and make the best choice possible.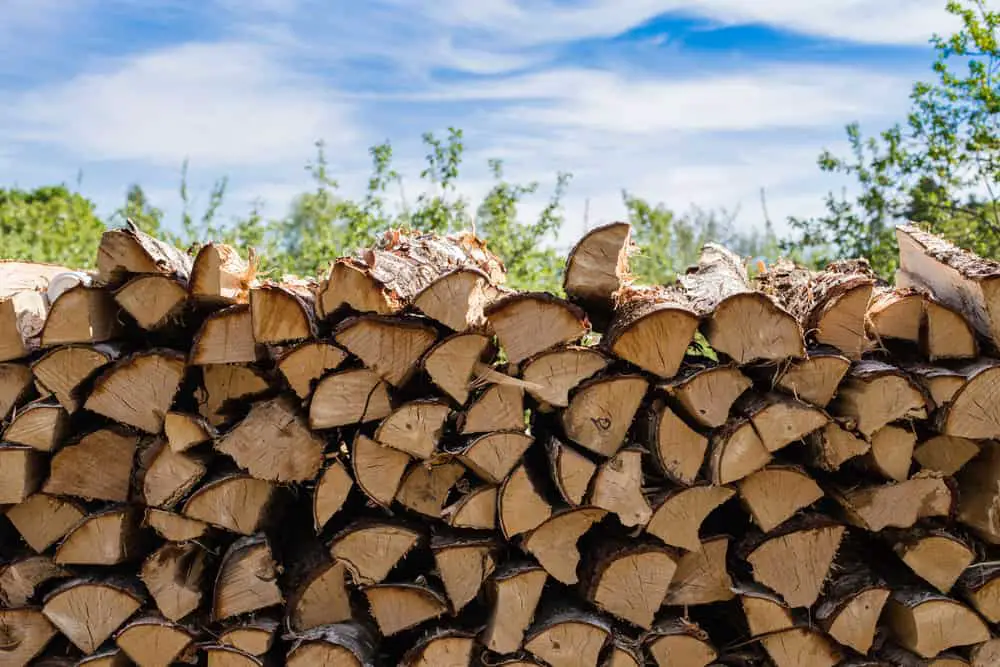 1. Panacea Tubular Steel Log Hoop
Though the Panacea Hoop isn't as easily transportable as the LUCKYERMORE carrier/rack, it is similarly sized and can hold about the same amount of chopped firewood. However, unlike the rollable rack, this one does keep wood off the ground. 
Unfortunately, that separation is a disappointing three inches. Heavy rain or moderate snow could quickly reach the bottommost layer of chopped wood. In addition, this firewood rack doesn't come with any waterproof covering to help keep wood from rotting. 
Still, the steel tubing of this circular rack is coated and weather-resistant, ensuring a longer product lifespan. The design is stylish, and this rack consumes very little floor space, making it ideal for smaller yards or properties with minimal firewood needs.
2. LUCKYERMORE Firewood Log Rack Carrier Cart
While the LUCKYERMORE Firewood Log Rack Carrier isn't a traditional stationary outdoor firewood rack, that doesn't mean that it isn't a perfectly viable option for those seeking a smaller, mobile solution to their outdoor firewood storage needs. 
With two large rubber tires and a lightweight steel frame, this cart doubles as a transportable rack. It can safely hold just over 200lbs of wood, so it's best suited to those working with small bundles of fuel. 
Unfortunately, this rack/carrier does a somewhat lacklustre job at protecting dried wood from wet weather, and the steel frame may rust and dent with time and usage. If you're looking for a rack that keeps tons of firewood elevated, dry, and safe, you may want to choose an alternative outdoor log rack.
Last update on 2022-11-24 / Affiliate links / Images from Amazon Product Advertising API
3. Woodhaven The 8 Foot Firewood Log Rack with Cover
This outdoor firewood rack is truly a haven for wood. It can store wood five inches from the ground, helping prevent damage from rainfall or snowfall. It's also 8ft long, providing plenty of storage area.
Despite its long length, this outdoor firewood rack is surprisingly skinny. It's only 2ft deep. Still, chopped wood can fit into this structure quickly and easily.
But one of the most attractive features of this steel rack is the included waterproof cover. While some covers are unwieldy, full-rack models, others provide a ceiling-like covering to help repel water. This design keeps most firewood dry while also discouraging pests and animals from taking up residence inside the rack. 
However, this high-quality outdoor rack does have one significant disadvantage, and that's its price. Savvy shoppers that can manage to secure this product while on sale may be able to avoid this singular disappointment. 
Last update on 2022-11-21 / Affiliate links / Images from Amazon Product Advertising API
4. KINGSO 8ft Firewood Rack Outdoor
It's a challenge to find an outdoor firewood rack that is both sizable and affordable, but that's exactly what KINGSO provides with their 8ft-long outdoor rack.
Made of tubular steel, this handy storage piece is both durable and budget-friendly. However, it does not include any waterproof covering, which may become an issue for those in humid, rainy, or snow-filled environments.
But this particular outdoor firewood rack works well when placed on concrete or stone surfaces. In addition, each steel tube is covered in an anti-rust powder, allowing this product to last for several years before showing signs of wear. 
Features to Consider When Choosing an Outdoor Firewood Racks
There are a few vital things to consider when browsing for an outdoor firewood rack. Shoppers will want to spend a little time thinking about:
Size
Weather resistance
Price
While all of these factors play into the decision-making process, the first thing that buyers need to consider is size. An outdoor firewood rack that is too small will leave the wood to rot and go to waste. 
Alternatively, an outdoor firewood rack that is overly large may consume excess yard space that could be utilized for other purposes.
Size
Most outdoor firewood racks are rectangular and between 4ft and 8ft long. Some smaller models feature a circular design, but these are slightly less common. The right-sized outdoor firewood rack for you depends on how much firewood you plan to store.
Typical 8ft-long firewood racks can hold 2,000lbs (907kg) of wood, or more. Smaller-sized racks can hold about half that amount, and rounded circular firewood racks can hold several hundred pounds of chopped wood.
If you intend to use a large amount of firewood throughout the winter season, you may want to choose a large firewood rack. However, if you're primarily keeping dried wood for occasional bonfires or house parties, a smaller-sized model should work fine. Of course, size isn't the only determining factor when choosing an outdoor firewood rack.
It's also important to consider your preferred rack's material and weather resistance. Fortunately, most outdoor firewood racks are constructed of hardy, rust-resistant, and mould-resistant materials. However, some are more durable than others.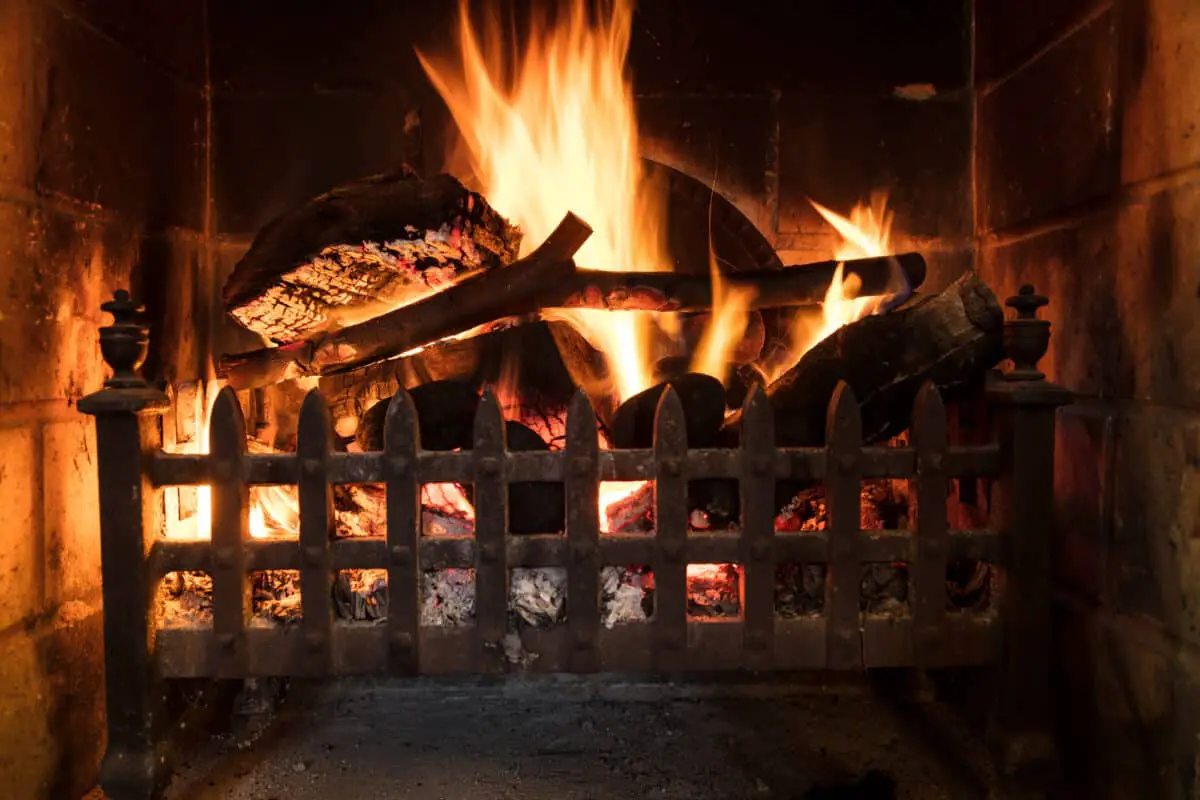 Weather Resistance
In the past, it wasn't strange to see an outdoor firewood rack made of treated wood. However, most modern firewood storage racks are made of metal. 
Steel is particularly popular, though it's possible to find racks made of copper or iron. Still, coated or protected steel can withstand extreme temperatures and humidity for several years before exhibiting rust damage.
When searching for a durable, long-lasting, weather-resistant firewood rack, it's essential to consider the rack's material, coatings, and treatments. Most products that can withstand rain, snow, and harsh sunlight will be specifically labeled as either "weather-resistant" or "for outdoor use."
Many outdoor racks also come with helpful waterproof covers that can help to keep both wood and the rack safe from excess moisture. These covers are exceptionally useful, and shoppers who are serious about keeping firewood dry and safe may want to invest in a model that comes with a cover.
Stainless steel is the best option in terms of weather resistance, as it never rusts. However, this type of steel can be more expensive than coated steel options, and it's not commonly used to build outdoor firewood racks. 
If you're hoping to keep costs low while enjoying the strongest and most capable product, you may want to choose a simple coated steel model.
Price
Outdoor firewood racks and firewood racks with roof vary dramatically in price. Some cost as little as $10, while others can retail for $400 or more. The average shopper can expect to spend between $40 and $100 on an outdoor rack. 
The size of the preferred model, its material, and additional features or items (including a waterproof cover) influence the final price. Typically, the larger and better-equipped an outdoor firewood rack is, the more expensive it is. However, this isn't always the case. 
Conclusion
Buying a new outdoor firewood rack starts with deciding what size rack you need. Choosing a weather-resistant model is also essential, as heavy snow, rainfall, or sunshine can cause some metals to rust. Lastly, shoppers will need to consider their budget when choosing an outdoor firewood rack.
Continue Reading: