Outdoor fire pits are relatively weather-resistant, but that doesn't mean they're immune to water, wind, or UV damage. Many owners have decided to invest in specially made covers to help keep fire pits in optimal condition. 
Firepit covers help keep outdoor fire pits safe from water damage or extreme weather. When purchasing a new fire pit cover, it's essential to consider the size of the cover, how waterproof the material is, and how much the cover costs.
We are reader supported. We may earn a commission when you buy through our links.
Last update on 2023-01-31 / Affiliate links / Images from Amazon Product Advertising API
Not only will fire pit covers protect your fire pit from weather conditions like snow and rain, which can often lead to rusting, cracking or discolouring, it will also help keep your fire pit free from debris like:
And my favourite perk about fire pit covers is that you have a guaranteed dry pit the next time you start a fire. During the summer evenings with nice weather, starting fires can often be a spur of the moment activity. But when you get everything set up, only to find out your pit is damp and needs cleaning, the joy of the evening quickly subsides!
Even portable firepits can benefit from having a cover as people often have them set up for at least a few days in the same spot.
This guide will explore the most crucial features to consider when searching for a fire pit cover and examine a few potential options. It may be a good idea to quickly go measure your fire pit if you don't already know the dimensions, as having a new fire pit cover arrive only to find it it's just shy of covering the whole pit is a huge headache.
Let's begin!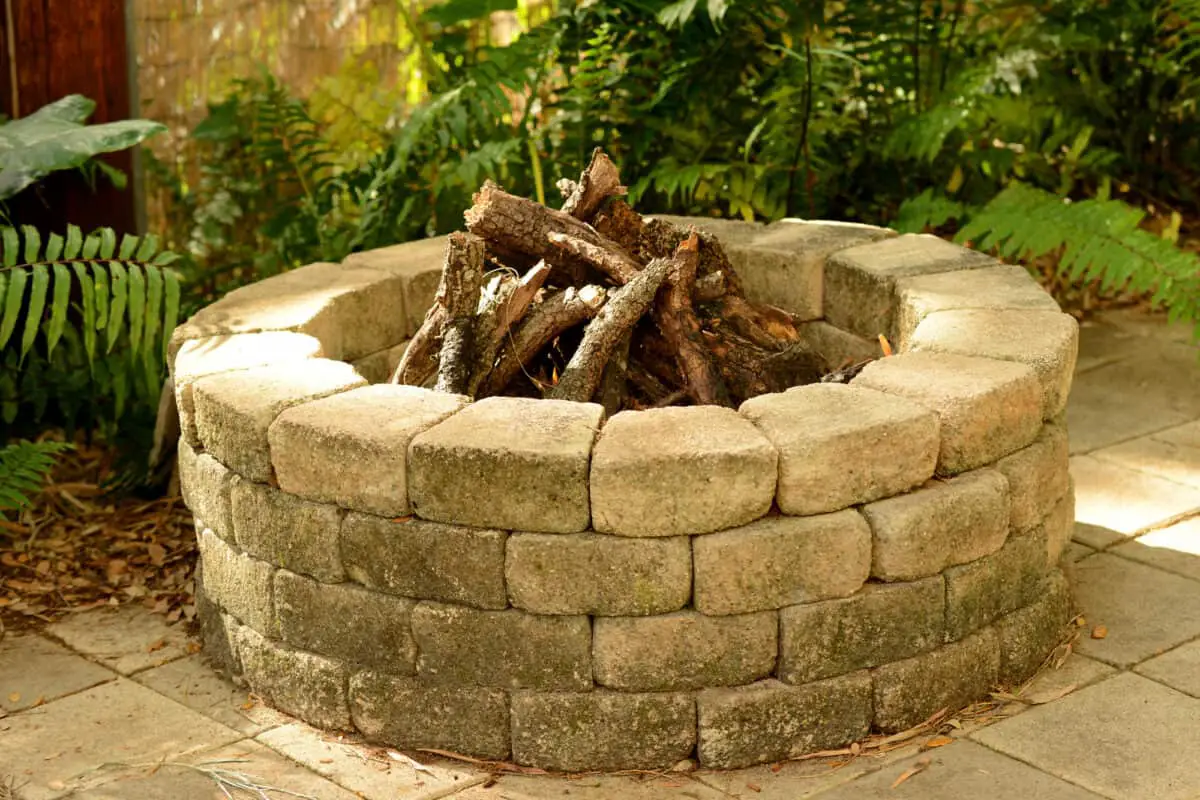 1. Porch Shield Fire Pit Cover
Don't let this cover's low price fool you; It's an incredibly effective waterproof cover. Anyone with a circular 32-inch fire pit can enjoy this particular cover's protective qualities, as it is resistant to UV damage, snow, rain, and heavy thunderstorms. 
With several different ways to secure this cover, it's not difficult to adjust it to pits that are slightly smaller than 32 inches. The 3-year warranty seals the deal. Of course, you may not want to invest in this fire pit cover if your pit is a different shape, or it's too large.
Last update on 2023-01-31 / Affiliate links / Images from Amazon Product Advertising API
2. Classic Accessories Fire Pit Cover
Buying on a budget doesn't mean you can't enjoy high-quality products. This intuitive fire pit cover is made of stretchy, water-resistant material that's sure to repel rain and sunshine. 
It's elastic hems, and loops help this cover conform tightly to fire pits that are up to 30 inches wide, and the built-in vents help reduce built-up condensation. However, this option isn't completely waterproof, and its 1-year warranty is a little disappointing. 
Still, it's an affordable cover that's sure to last for years and years to come.
Last update on 2023-01-18 / Affiliate links / Images from Amazon Product Advertising API
3. SHINESTAR Square Fire Pit Cover
While this fire pit cover may not be quite as attractive as others, it does feature a waterproof PVC coating that makes it an incredibly practical option.
It features a drawstring cord to help it secure to square pits up to 32 inches in width, but it does resemble a trash bag. However, if the utility is more important to you than aesthetics, this cover may be an excellent option.
Last update on 2023-01-31 / Affiliate links / Images from Amazon Product Advertising API
4. ULTCOVER Patio Fire Pit Cover
Larger square fire pits deserve a chic, waterproof, easy-to-secure cover as well, and this model might be the answer.
It can fit over pits that are 36 inches wide. It is fully waterproof, snowproof, and secured by large buckles that don't bend or break to high winds. 
The combination of polyester and canvas results in a gorgeous, spa-like material that's sure to impress. Those with larger fire pits can also choose to upgrade this cover to a larger size.
Last update on 2023-01-31 / Affiliate links / Images from Amazon Product Advertising API
5. BALI OUTDOORS Rectangle Fire Pit Table Cover
Table-like fire pits can be particularly difficult to find covers for. However, this model was specifically designed to fit rectangular pits up to 42 inches in length. While it's not completely waterproof, it is water-resistant and insured by a 1-year limited warranty. 
This cover also features a stylish, pleasant design that's easy on the eyes. However, it also happens to be on the higher end of the price spectrum. And to be slightly more expensive and not waterproof is a dangerous thing indeed.
Last update on 2023-01-31 / Affiliate links / Images from Amazon Product Advertising API
What Are Fire Pit Covers?
Firepit covers are items designed to cover outdoor fire pits. They are often made of polyester, polyurethane, vinyl, or plastic.
The main purpose of any given fire pit cover is to keep water, debris, snow, and excess UV rays away from a home's fire pit. For this reason, most fire pit covers are waterproof and UV-resistant.
While it's easy to assume that only gas-powered fire pits should be covered and protected, this is simply not the case. The only outdoor fire pits that might not benefit from a fire pit cover are homemade stone-and-brick pits that feature a sandy or earthen flooring.
These pits won't rust or become severely damaged after a snowfall or a thunderstorm and air built to drain naturally.
But store-bought fire pits are a different story. They almost always benefit from having a protective covering.
Factors to Consider When Choosing a Fire Pit Cover
Choosing a fire pit cover isn't as simple as you might think. Before you can begin browsing potential covers, you must be familiar with the size of your fire pit.
If you're not, you may end up with a cover that doesn't fit properly. Still, while the size is an incredibly crucial aspect to consider, it's not the only one.
The three most essential factors to consider when choosing a fire pit cover are:
While most fire pit covers are made of waterproof materials, some aren't. If you're not familiar with waterproofing materials and water-resistant clothing, it can be challenging to determine how weatherproof your preferred cover is.
And if that cover happens to be out of your price range, it might be worth moving on to an alternative model.
These features all have their bearing on a shopper's final purchasing decision, but the size is the first and most important thing to discuss and decide.
Size
Fire pits come in many sizes, and so do fire pit covers. However, most pits come in three basic shape types, and they are:
Circular
Square
Rectangular
It's important to match a pre-existing fire pit's shape with a potential cover's shape. A rectangular cover may not provide adequate protection for a circular pit if it fits at all. But it's also important to measure a fire pit's width, height, and depth to determine which cover is the right size.
A lot of contemporary outdoor gas fire pits and gas fire pit tables, for example, are either square or circular but have a lot of height to them. Portable fire pits, on the other hand, are small and compact and just about any cover will do (as long as it's not too big).
And if you're going the "old fashioned" route by burning wood, make sure to double down and get a firewood rack with a roof so you can keep everything fire-related dry and ready to go.
If you cannot find a fire pit cover that is the exact size of your pit, you can choose one that is an inch or two larger and fare reasonably well. Besides size, part of a cover's protective qualities comes from its material.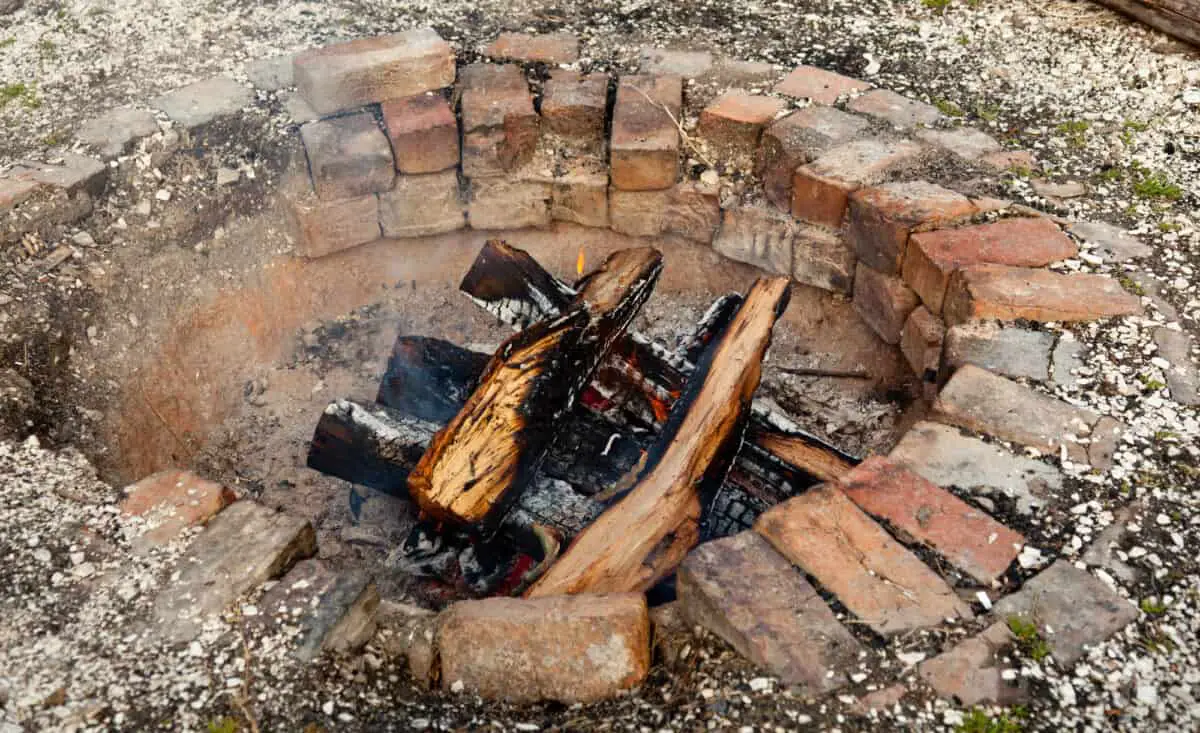 Material
Fire pit covers are often made of at least one of the following three materials:
Canvas and cotton aren't waterproof materials, but they can add heft and an added level of insulation and weather protection. They're often added between layers of water-resistant polyester.
Polyester has some admirable qualities that help make it an excellent fire pit cover. It's waterproof enough to withstand rain and snow, and it helps block UV radiation.
Polyester is also reasonably affordable, making it a popular option for many on a budget.
Price
While the prices for fire pit covers range from $10 to about $100, the average cover costs about $30. Still, larger fire pits require larger covers, and this typically results in a higher price. Uniquely-shaped fire pits may also require specially-made covers that cost a little more than the average model.
Before choosing a final cover for your fire pit, it's important to compare the features, prices, and qualities of the various potential covers you have your eye on. Explore the brief reviews below for a helpful headstart on that process.
Conclusion
There are three primary factors to consider when choosing a fire pit cover. Size is of utmost importance, and an overly large cover won't be able to keep out wind and rain as effectively as a smaller one. That being said, a cover that won't fully stretch across a fire pit is of no use. 
It's also important to choose a fire pit cover that is waterproof. Otherwise, rain, snow, and moisture can damage the fire pit's interior components and cause the pit to rust or rot. Lastly, every buyer should take special care to remain within their budget. 
Fortunately, fire pit covers are far less expensive than the pits themselves. 
Last update on 2023-01-31 / Affiliate links / Images from Amazon Product Advertising API
Continue Reading: