Wondering if it is possible to make snow with a pressure washer? Yes, It is possible to create snow with a pressure washer. All you need is a pressure nozzle, water, the right outdoor temperature, and a nucleating agent. With the water, you can use hot water but cold water is preferred.
You love snow but live in an area where you get little to nothing of the white stuff. Looking at your pressure washer has you wondering if you can use it to make artificial snow.
There are plenty of reasons why you may want to make snow. Maybe you want to create a backyard icy fantasy land. Perhaps you are planning to have a winter party and want some snow to create a wintery atmosphere. Read on to find out how to make snow using a pressure washer.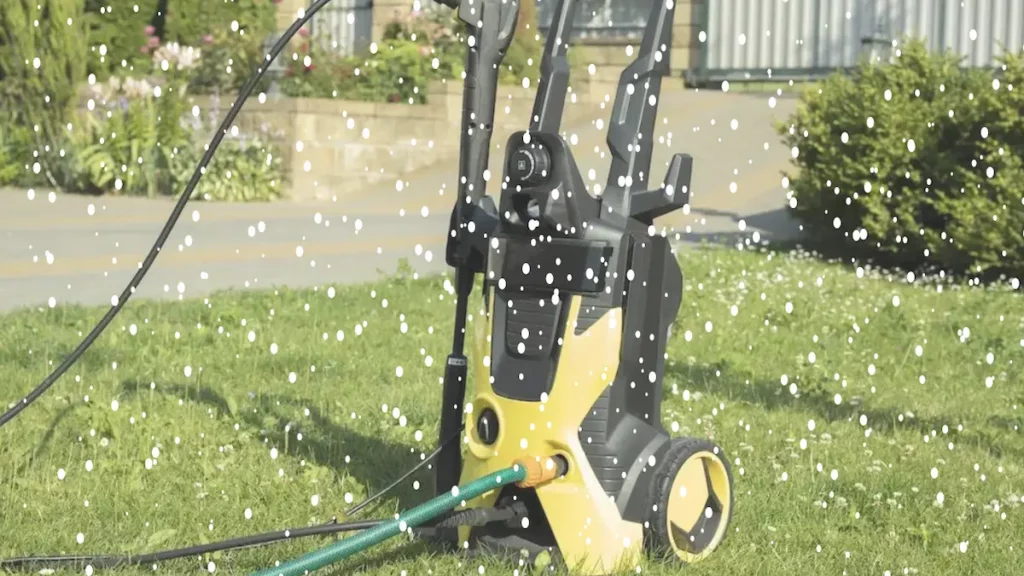 Related Reading: How Far Can Pressure Washers Spray?
How to create snow with your pressure washer
You've got the equipment ready and have wrapped yourself up warm. It's time to get the pressure washer pushing out snow. Here's how to do it.
Give yourself enough time to cover your desired area satisfactorily. The period is all dependent on the surface size. If you're not sure exactly how long it will take, just think back on the time you spent last time you washed the surface down with your pressure washer.
Turn on your pressure washer. Let the water mix with the cooler air drawn in from the outside so that the water's temperature drops. Here you may need to experiment a little and be patient as you discover that "sweet spot".
Have the nozzle set at one of the lower three options. This allows for a fine mist to be created which will become your snow. The smaller droplets of the mist have a smaller surface area which increases the chance of creating snow.
Point your pressure sprayer upward. A 45-degree angle is perfect. It allows the droplets to have greater contact with the cooler air. That means more ice crystals form around the "seed" of the snowflake. 
Watch the snow begin to form!
The amount of snow that you can generate depends on the power of your pressure washer and the nozzle that you are using. Remember, a nozzle with a finer setting will allow you to create more snow. If your pressure washer doesn't have much power, it can struggle to create the quantity of snow that you desire. You could consider hiring a more powerful washer if you think the situation warrants it.
What You Need to Make Snow With A Pressure Washer
As mentioned, making artificial snow requires only three things.
A pressure washer with the correct nozzle
The ideal washer is one that can pump out 2.1 to 3.4 Gallons Per Minute (GPM). On top of that, though it's not a necessity, the pressure washer should have a 1,000 PSI rating.
You can get away with using a machine that produces less than 2.1 GPM, but you will need to swap out the nozzle for a plug fitting.
In respect of the nozzle, it should belong but with a shorter diameter. This increases the pressure of the water flow.
The right temperature
The outside temperature should be as cold as possible. Anything below 32°F is best. However higher temperatures are okay. Water will still turn into snow due to the water's expansive properties.
If the temperature is warmer than 32°F, you will need to use a longer nozzle. If you don't, then you may be disappointed by the result.
A few days before creating your snow, keep an eye on the temperature. At the coldest part of the day, head outside and make your snow.
Coldwater
Water from a natural source such as a stream or pond is recommended. The temperature from these is typically cooler than that of water from a hose. Additionally, natural water contains impurities that turn into nucleating agents, which helps the growth of snowflakes.
The water from your faucet has to be at room temperature.
There is debate about if hot water can also be used to make snow. The majority of opinions is that it is possible to use hot water.
Why would you use hot water instead of cold water? Hot water has a higher water pressure that creates fluffier snowflakes. Flakes made from cold water are sharper and harsher.  The success of creating snow from hot water is dependent on the outside temperature. For boiling water, you will want the temperature to be at least -25⁰F.
Using hot water has one major drawback: You will need to have a constant supply of it. That can be impractical. However, if you are only going to be making a limited amount of snow, then you could give the hot water option some consideration.
A nucleating agent
To give your water a chance of transforming into snowflakes, you will need a nucleating agent. We mentioned how natural sources of water contain these already.
Nucleating agents are compounds that cause the formation of crystals. Natural snow is created when cold drops of water freeze around particles in the atmosphere. Then ice crystals are born out of this process. As the ice crystal descends toward the earth water vapor freezes around the crystal to create a snowflake.
You need to create the same crystallization process when using your pressure washer. Maybe you didn't realize this, but you already have a nucleating agent in your kitchen: table salt.
Add some salt into the cold water that you will use to create your snow. Now you have the "seeds" for your snowflakes.
Continue Reading: How Does a Pressure Washer Pump Work? [ANSWERED]
Conclusion
It is possible to make snow using your pressure washer. The best washer for the process is one that is rated at 1,000 PSI and can pump out at least 2.1 GPM. Use cold water and add a nucleating agent that aids in the formation of the snowflake.
Dress warmly and then head outside when the temperature is around 32°F.
Set the nozzle of your pressure washer to one of the three lower settings and then let mist form. Allow yourself time to cover the area to your desire.