If you spend a lot of time outdoors and live in an area full of trees, you may be spending a lot of time breaking those trees down into usable wood.
Perhaps you rely on that wood for heat and other forms of energy, or perhaps you have a side hustle selling it.
One of the best ways to ensure you have a sufficient supply of chopped wood is to use a log splitter.
With this tool, you can cut even the largest logs of wood into tiny pieces, and store them for future use. 
Log splitters just make sense for people who need to split a lot of wood, but they can be a bit intimidating to someone without any experience with them. This article will discuss, in-depth, how to use a log splitter to split logs. For more information, read on.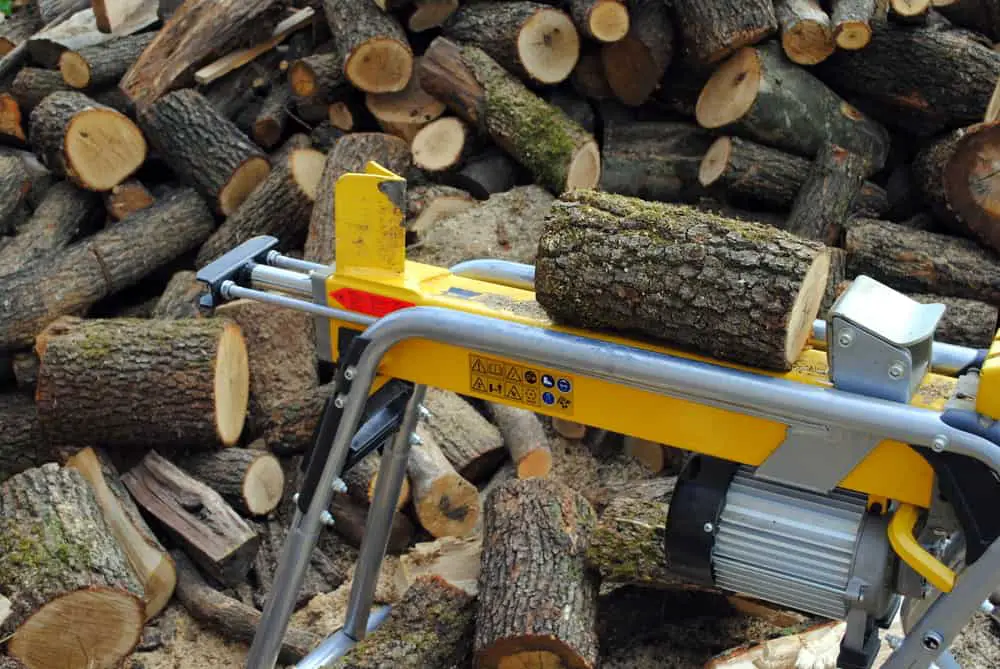 Related Reading: Log Splitter Ram Won't Return? Here's Why.
The different types of log splitters
Before going over how to use a log splitter it's important to understand which type you'll be using. Log splitters come in three different forms:
Manual
Electric
Gas
Choosing which type of log splitter is best for you depends these different on your own needs, your capabilities, how much wood is being chopped and how you need that wood to be chopped,.
Let's take a closer look at the differences between them.
Manual log splitters
Manual splitters are easy to use and store, and can be hand or foot-powered. But, they require more effort to split the wood compared to other forms of splitters.
This log splitter is an excellent option for individuals who have a limited budget but still don't want to use an axe to chop wood. Or for individuals who don't want to completely take away the physical component involved in splitting wood.
Electric log splitters
Electric log splitters are ideal for property owners who want to get the job fast, and will also guarantee your safety. 
They are the most popular type of log splitter. We have one up at our cottage and with a little bit of time for setting up your work area you can start making some serious headway on your wood pile.
Electric log splitters often increase in demand as gas prices increase to keep costs down low. A huge bonus of electric is they can pretty much be used outdoors and indoors.
Gas-powered log splitters
The market also provides gas log cutters that are perfect for heavy-duty tasks like cutting large logs. Although these log splitters have a robust design, they require regular maintenance.
However, getting a log splitter is one thing – you still need to know how to use it to enjoy its benefits. This post will be sharing a step-by-step guide on how to operate your log splitter in order to cut more wood and prevent unnecessary injuries.
How to use your log splitter properly
While log splitters come in different forms, as mentioned above, they share a lot of similarities in how they function. Be sure to follow these simple steps the next time you are using your log splitter.
Step 1: Get the Necessary Equipment
The first thing you should do before turning on the log splitter is to get all the safety equipment you require for the task. They include the following:
Goggles
Boots or closed safety shoes
Long pants
Hand gloves (heavy-duty)
This type of gear can be conveniently purchase on Amazon in case you need some:
Last update on 2022-12-30 / Affiliate links / Images from Amazon Product Advertising API
It's also essential to get rid of items like rings, necklaces, watches, or other jewelry that can get caught in the splitter.
Step 2: Set the log splitter
Once you wear your protective attire, you can now set up your wood cutting machine. Select a location that's free of clutter, but near the wood, you'd like to split.
The area also needs to be flat and free of potholes so you can avoid falling. Then, set up your splitter on a flat surface, so the equipment remains sturdy as you feed the logs into it.
Once the log splitter is set up, consider placing cinder blocks or bricks around the wheels so that the machine doesn't start rolling when the wedge makes movements.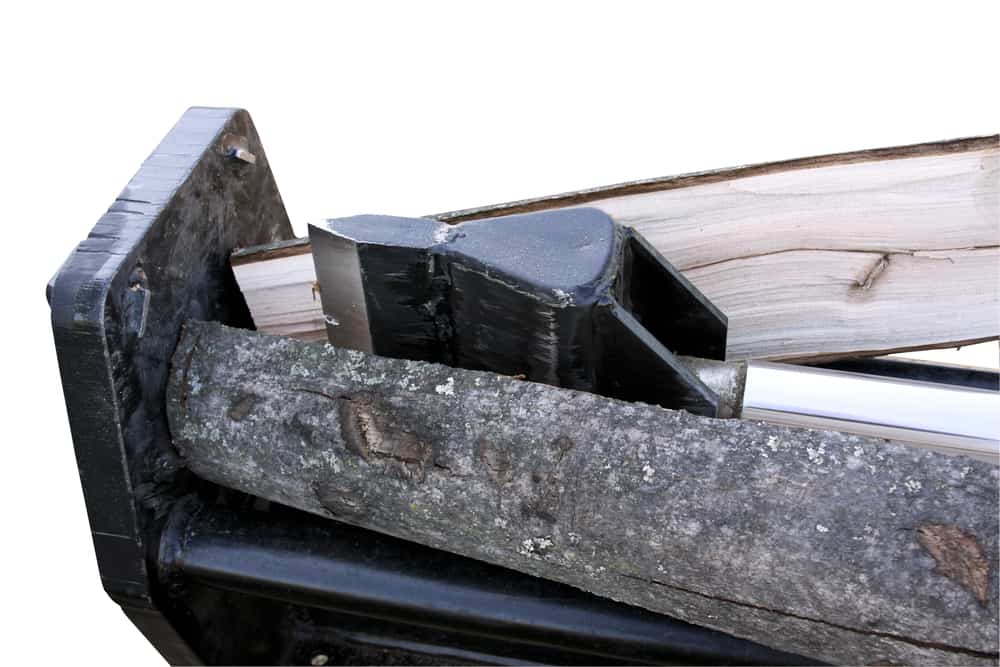 One mistake people make is setting up the log splitter on wet ground. Regardless of the splitter you own, you can be sure it will slip when set up on wet surfaces. Therefore, make sure the area is dry.
Step 3: Start splitting the logs
Since there are various types of log splitters, the instructions in this step will vary depending on the machine you have.
Manual splitter
Manual splitters are very popular today, thanks to their affordability and effectiveness. Here' a step-by-step guide to using them:
Start by tightening the jack.
Place a log in the jack. 
Tighten the screws to ensure the log doesn't move once you set up the cylinder that contains the wedge. If the screws aren't tightened, the log will fall out before its cut or split partially.
Once the log you intend to split is tightly secured, use your hand or the foot pedal to move the wedge into the piece of wood. 
Work the machine until your logs get cut. Don't make a mistake of placing your fingers near the wedge when you begin cutting the wood.
After splitting the log, start pulling the cylinder to its original position and undo the jack screws so the split wood can fall off the machine. 
Repeat the process until you cut all logs.
Powered Splitters
Electric and gas-powered log splitters basically operate similarly. 
If you are using a gas-powered splitter, start by checking if the machine contains enough hydraulic oil and gas for the task. Switch the machine on once you confirm or refill the oil.
Take a log and place it on the wedge, then activate the wedge to cut it. You may use a button or gear to activate the wedge, depending on your machine.
Reverse the handle once you cut the log, so the wedge can be pulled back, and start removing the pieces. Repeat the process.
Follow the same process when you are using an electric log splitter. The only difference is that your machine will be plugged into the power source.
Additional Tips For Using a Log Splitter
Here are some extra tips that will make it easier and safer to use your log splitter. 
Understand your machine
Regardless of the log splitting device you have, it is vital to familiarize yourself with the parts before using it, mainly if it is your first time.
You should know essential parts like the power button or exhaust pipe, so you don't get confused once you start operating the machine.
Split one log at a time
You can only split a log at a time, whether your machine is manual or powered. Trying to cut two or more logs at once can be dangerous and may cause injuries. 
Also, make sure only one person does the task at a time. So, don't be tempted to get someone to load the machine as you operate it. If a slight issue occurs or you don't communicate effectively, one or both of you could get injured.
Know the type of wood
Before you start splitting the logs of wood in your yard, it is essential to know the kind of wood you'll be cutting. 
Different types of wood usually react differently, so make sure you know what to expect from each form of wood. Handling logs of wood that aren't straight-grained or those with markings may not be easy, so be ready to face some challenges since it may split irregularly. 
The key to avoiding issues is to sort the logs before you start cutting them.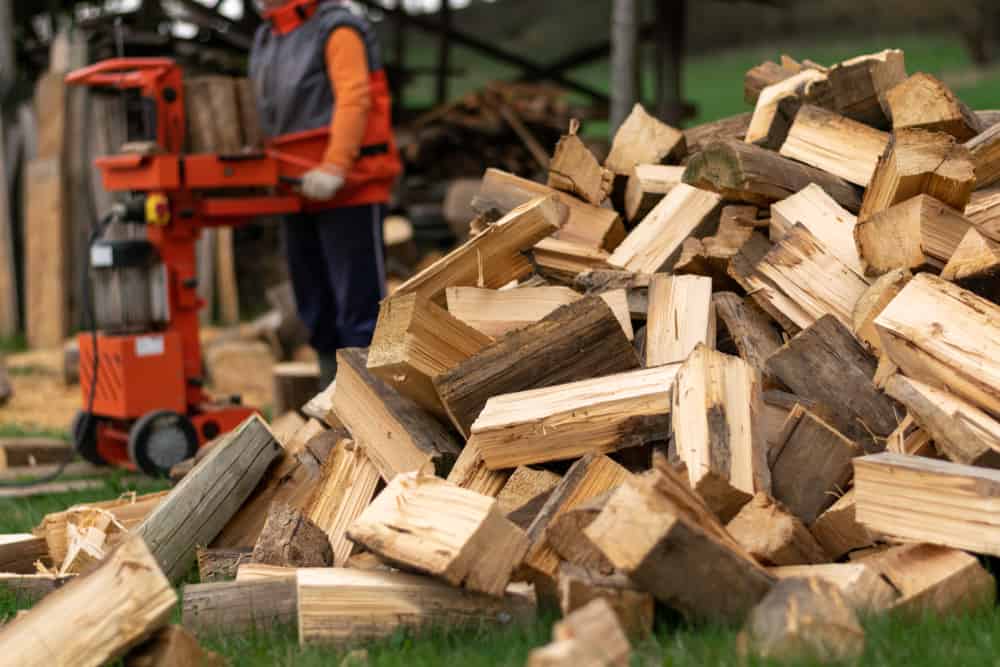 Make sure you wear the right clothing
Although it might be tempting to start splitting wood with your usual casual wear, you must not give in. The last thing you want is for your long t-shirt to get caught up in the machine. 
Experts recommend that you wear comfortable clothes that aren't baggy. Also, it would be best if you didn't forget to wear safety shoes or any other shoes with non-skid soles to protect your legs. 
Don't wear sandals or be barefooted while operating log splitter. Glasses or goggles are required as well to ensure wood pieces don't get to your eyes.
Give it your all
Unlike what most people think, splitting wood isn't an easy task, particularly if you are using a manual splitter. So, rest well the day before so you can be alert when operating the log splitter. 
Do not hesitate to turn off your machine in case you realize that you are too tired or dozing off while working. It is better to stay safe than to risk getting involved in an accident due to tiredness.
It is best practice only used a log splitter when you are completely alert.
Conclusion
The tips outlined in this post will make your work easy the next time you are operating a log splitter. Keep them in mind to stay safe and get the job done effectively.