Does a pressure washer use regular gas? Gas-powered pressure washers will usually be fueled with regular gas such as 10w30. However, pressure washers that use two-stroke engines will require a 2-cycle oil and gas mixture. Pressure washers that specify using regular gas for fuel should not have 2-cycle oil used, and neither type of pressure washer should be given fuel with more than 10% alcohol in it.
We all want or have power washers for one reason: it is so satisfying to see them clean. We have faced the fact long ago that they clean more thoroughly, deeply, and quickly than we do, especially for things like patios and sidewalks, and we love it, but you're not going to be able to enjoy that sweet satisfaction if you fill your pressure washer with the wrong fuel. It might not even power on at all.
But how are you supposed to know what fuel washers need?
Can you use regular gas?
In this article, we'll look at whether pressure washers use regular gas, whether or not you can put mixed gas in them, and make things a little easier by listing some washers that state you can use regular gas to run them.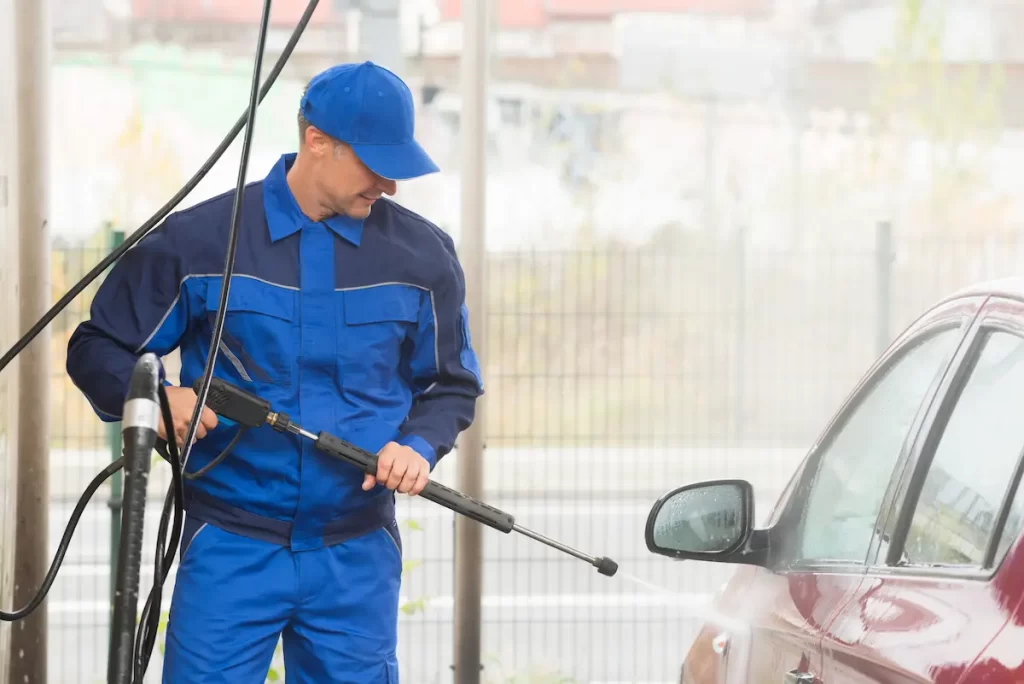 Related Reading: Why Your Pressure Washer Has Low Pressure
Can You Put Gas in a Pressure Washer?
Depending on which kind of pressure washer you buy, yes, you are supposed to put gasoline in it. Pressure washers come in two categories, electric and gas-powered, which makes it easy. What doesn't make it easy is the gas category has subcategories based on precisely what gas that pressure washer takes.
These subcategories are:
Regular gasoline-fueled
Two-cycle mixed gasoline-fueled
Do Pressure Washers Use Mixed Gas?
As one of the subcategories of gasoline-powered pressure washers, there are washers that require mixed gas. Mixed gas, or two-cycle gas, is made specifically for two-stroke engines. It's called mixed gas because it's a combination of gas and oil.
If you're wondering what fuels you might be able to use, here is a shortlist of brands that carry 2-cycle gas:
Husqvarna
Redmax OEM Maxlife
STIHL
Super Tech
Trufuel
And VP Small Engine Fuels
They are typically clearly labeled as mixed gas with the words "fuel + oil," or "2-cycle."
Thankfully, if you accidentally put mixed gas in a pressure washer that only takes regular, you won't do permanent damage to your machine. Worryingly enough, it will at the very least start smoking, and you won't be able to get your washer to work right but to fix it all you have to do is drain the engine of the fuel you were using, take out the spark plug, clean it and the carburetor, and put it back in.
You may have to clean the fuel tank also if the oil gets into the primer pump.
You can drain the old oil effectively just by using the washer as usual and allowing the oil inside to drain. It should work just fine after having been cleaned and putting the right fuel inside afterward. Don't worry if the washer still smokes after you've fixed it, it's just the residual bad oil burning off. So, ultimately, you can't use mixed gas in washers that use regular gas because they just won't work.
Pressure Washers That Use Regular Gas
It would make shopping for a gas-powered pressure washer much easier if you knew which washers use gas. Thankfully this is pretty easy to find out for online shoppers as home improvement stores will usually organize their website so that the gas-powered and electrical-powered washers are on two distinct lists.
As for knowing which washers use regular gas, those websites are not that thorough so here is a shortlist (click to open in a new tab) of five of the highest-rated pressure washers that run on regular gas:
We are reader supported. We may earn a commission when you buy through our links.
If you want to be thorough in your pressure washer shopping, research the type of engine the washer you're looking at uses to make sure it isn't a two-stroke engine, thus requiring 2-cycle mixes.
What Fuel Should You Never Use With Pressure Washers?
Regardless of which pressure washer you get, regular gas-powered or 2-cycle powered, neither will work very well or last very long if you use fuel that has more than 10% alcohol (typically ethanol) in it.
The reason is that ethanol and other alcohols absorb moisture. Typically, the oil will attach itself to the moving metal parts in your engine and lubricate those parts to keep everything running smoothly. When there is too much ethanol, trying to absorb moisture, it's adding water to your fuel that will prevent the oil from sticking to those metal parts, if there's enough water absorbed. This is a problem, especially for 2-cycle fuel. If you shop online, you'll usually find a warning from the manufacturers stating that you should not fuel your washer with fuel that has more than 10% alcohol. 
Now, while I say you should never use fuel with more than 10% ethanol, fuel with 10% or less is getting harder to find. We can only hope that aside from electric pressure washers, manufacturers will create new gas washers with engines that are compatible with 15%-20% ethanol. And soon!
Related Reading: Gas vs. Electric Log Splitters, Which One is Better?
Conclusion
When shopping for a new pressure washer, you don't have to suffer the unpleasant confusion of guessing which fuel your washer needs. If you are shopping online, you have the benefit of having the description of the washer in front of you with at least most of the specifications you need.
For example, if you look for a pressure washer on Lowe's website, like the "CRAFTSMAN 3000 PSI 2.3-Gallon Cold Water Gas Pressure Washer Briggs & Stratton Engine," you would find that the recommended fuel was SAE30 engine oil, which is a non-detergent oil.