Kamado BBQ grills offer a unique way to cook your food. If you just bought one, you are probably wondering what accessories you need to buy in order to make the most of your new grill.
There are plenty of cool accessories you can get for your Kamado BBQ grill.
Some of the best Kamado BBQ Grill accessories are:
Rotisserie
Cover
Kamado chimney cap
Pizza stone
Cast iron grate
Digital thermometer
Starter – either a charcoal starter or an electric starter
In this article, we will discuss the importance of each of these Kamado BBQ accessories, while also sharing our recommendation for the best brand of those accessories available in the market. Let's get started.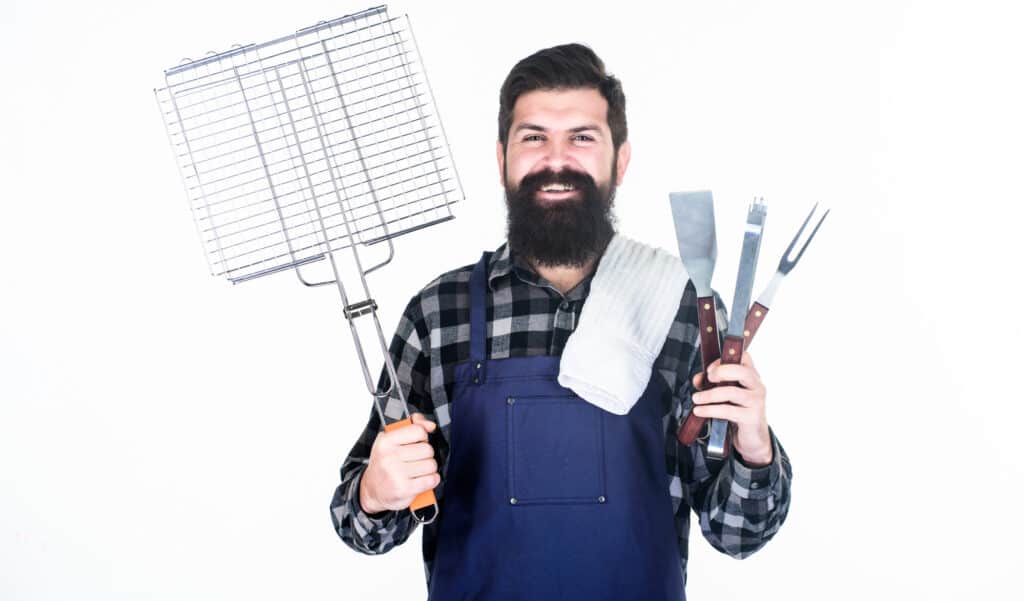 Our Top Recommended Kamado BBQ Accessories
Let's break down each of these Kamado BBQ accessories so you can get an idea of which ones you'll need and which ones you can do without.
1. Rotisserie
First on our list of the most valuable Kamado BBQ accessories is a Rotisserie. You can use this to cook whole chickens or turkeys to perfection without having to use a grill.
We are reader supported. We may earn a commission when you buy through our links.
Last update on 2023-01-19 / Affiliate links / Images from Amazon Product Advertising API
A rotisserie kit worth its salt will be built using a material that can take the heat and also hold on to the meat while it is being cooked.
We recommend the Kamado Joe JoeTisserie as the best Rotisserie you can get for your Kamado BBQ. It will fit into all brands of 18-inch Kamado style grills.
The Kamado Joe JoeTisserie can hold up to 50 pounds of meat at a time and. Its spit is constructed from 304 stainless steel and comes with adjustable forks that can create a tight hold of any meat you wish to cook in it.
---
2. A Cover
Second on our list, a good cover. A Kamado BBQ is a big and heavy cooker that you won't be able to take in and take out each time you want to grill something.
Last update on 2023-01-19 / Affiliate links / Images from Amazon Product Advertising API
Not only does it weigh a lot, but it is also huge, and you will have a tough time storing it.
This is where a cover can come to the rescue. If you invest in a good UV resistant and water repellent cover for your Kamado cooker, you can just roll it to one side of your backyard without having to worry about damaging it from the rain and weather.
For this, we recommend the Classic Accessories Ravenna Water-Resistant Kamado Ceramic BBQ Grill Cover. It comes in two sizes: large and x-large.
---
3. Kamado Chimney Cap
Next on our list of recommended accessories is a Kamado chimney cap. Some Kamado style grills come with one as part of the package, but in case yours didn't, you need to get one.
Last update on 2023-01-19 / Affiliate links / Images from Amazon Product Advertising API
A chimney cap can help improve the airflow to and out of your grill while also protecting the insides from the weather conditions.
We recommend Smokeware's Vented Chimney Cap. This chimney cap has rust and break-proof build that will help regulate the temperature of your grill.
Besides facilitating low-temperature cooking, the Smokeware Vented Chimney Cap can also help shield your exhaust damper from the weather elements.
---
4. Pizza Stone
A pizza stone is a must-have accessory for any grill, including a Kamado BBQ. Given the Kamado's oval oven-like design, you can use a pizza stone for cooking the best smokey pizza emulating those that you would get out of a wood-fired oven.
Last update on 2023-01-19 / Affiliate links / Images from Amazon Product Advertising API
You won't however, just be limited to Pizzas as you can cook pretty much any food in a pizza stone. And one of the best features about them is their heat-retaining capacity.
This helps boost your fuel efficiency as the retained heat will also help with the cooking.
We recommend the Unicook ceramic pizza stone. It is a round pizza stone available in two different sizes: 10.25 inches and 12 inches. It is constructed from cordierite, so you can easily heat this stone up to 1450°F (787°C).
---
5. Cast Iron Half Moon Grate
While your Kamado BBQ did most likely come with a standard grate, if you want to get serious about your grilling game, you will have to invest in a good cast iron half moon grate.
Last update on 2023-01-19 / Affiliate links / Images from Amazon Product Advertising API
Half-moon grates are perfect for Kamado cookers as they make the most of the 2-zone cooking that kamado grills offer. Furthermore, you can stack them up to create a rack and make more room in your cooker.
We recommend the Kamado Joe Big Half Moon. This cast iron grate is durable, and it retains heat, resulting in better fuel efficiency.
The half-moon design is ideal for 2-zone cooking. And of course, it does all this while also offering all the classic benefits of a typical cast iron grill like sear marks.
---
6. Digital Thermometer
One of the most important aspects of cooking is maintaining the necessary temperature. While Kamado grills are particularly good at this, a digital thermometer can really help you seal the deal.
Last update on 2023-01-19 / Affiliate links / Images from Amazon Product Advertising API
A good digital thermometer will recognize the various spikes in the temperature and regulate the operations of the grill accordingly.
For instance, it could turn off the fan when the temperature suddenly drops due to the lid being opened.
We recommend the Flame Boss WiFi Kamado Grill & Smoker Temperature Controller. This thermometer helps you monitor and control the temperature of your Kamado cooker. And the best part is, it can be connected to your smartphone via WiFi.
So you could conveniently control your cooker using your phone.
7. Starter
Last on our list is some kind of a starter. You will need a starter so that you can light up the charcoal and get your Kamado grill going. There are basically two types of starters you could use.
Let us look at each of them so you can decide for yourself what you want.
a. Charcoal Starter
One of the main reasons to choose a charcoal starter over an electric starter is that they are organic. They light the charcoal up in a natural way with no chemicals or odours brought into the equation.
Last update on 2023-01-19 / Affiliate links / Images from Amazon Product Advertising API
In order to use a charcoal starter, you have to place two or three units into your pile of charcoal and then light them up. It's that simple.
This charcoal starter comes in a box of 24 units and is perfect for all brands of Kamado burners. They are clean, odorless, and safe, and they burn even when they are wet.
With this charcoal starter, you won't have to use any sort of lighter fluid.
b. Electric Starter
While charcoal starters are organic and the more natural way of starting a fire, electric starts are useful in certain scenarios.
Especially when the starters fail to get the charcoal going for whatever reason, you might have to consider.
To operate an electric starter, all you have to do is plug it up and then place it on top of the lump of charcoal. In a matter of minutes, the charcoals will start to heat up. You can remove then remove the electric starter.
It has a three-loop design for more points of contact. It can generate up to 600 watts of power.
Conclusion
If you want to make the most out of your Kamado BBQ grill, you will need some extra accessories. We listed eight different accessories in this article, also sharing our recommendation of the best brand for each accessory.
To summarize, these are the most useful accessories you can get for your kamado BBQ grill: a rotisserie, a Kamado chimney cap, a pizza stone, a cover, a cast iron half moon grade, a digital thermometer and a starter (either a charcoal starter or an electric one).
Continue Reading: