If you're in the market for a kamado-style grill, you will find there are several popular choices. If you're having a hard time deciding, we are here to review one of the best among them.
Now you've probably heard about the Primo Kamado Grill. They are
The Primo Kamado Grill is a ceramic style cooker manufactured by Primo. It is easy to assemble, has a premium ceramic build, and features a large cooking space.
It also comes with a number of handy accessories and tools like an inbuilt thermometer. Also, it is American-built.
We are reader supported. We may earn a commission when you buy through our links.
Last update on 2023-01-19 / Affiliate links / Images from Amazon Product Advertising API
| | |
| --- | --- |
| Overall Rating | 85/100 |
| Ease of Use | 80/100 |
| Ease of Assembly | 95/100 |
| Affordability | 70/100 |
| Portability | 70/100 |
| Versatility | 95/100 |
| Energy Efficiency | 90/100 |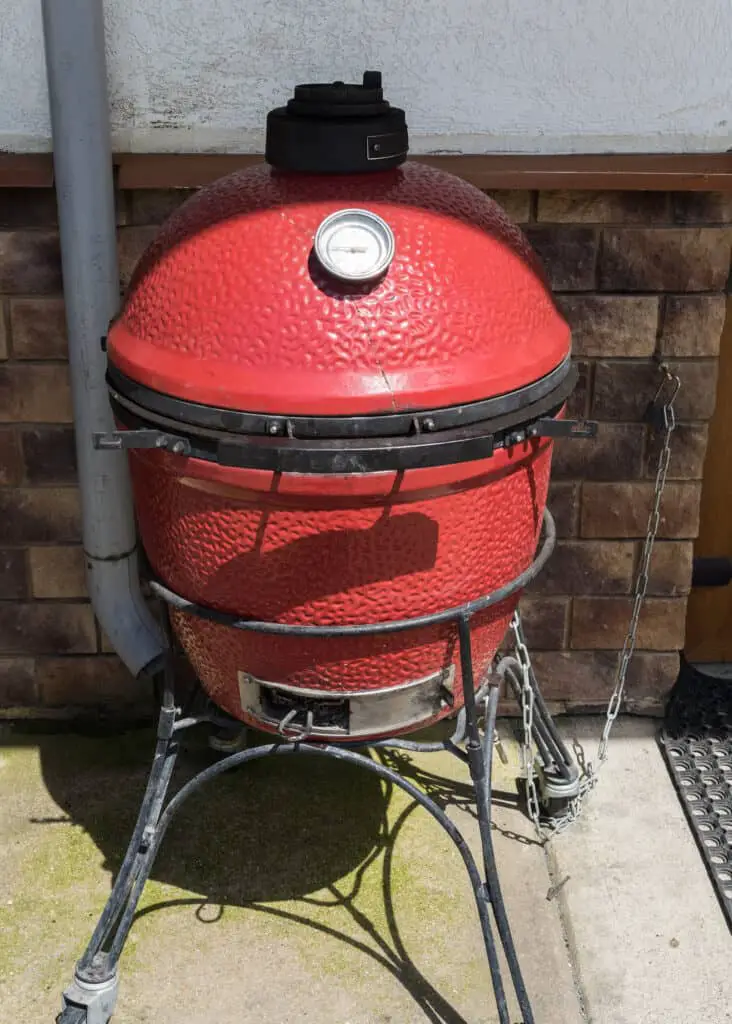 Primo Kamado Grill Design
Let us start by looking at the design of the Primo Kamado Grill. It features a high-quality ceramic body with a porcelain-coated cooking grate. It also features long-lasting side shelves that can be used to place any additional plates or bowls.
These shelves can be folded down when they're not being used. On the bottom, this grill comes with mobility wheels, which makes it easier to move around. The wheels can be locked in to prevent movement.
The grate that comes with the Primo Kamado grill is made from high-grade stainless steel.
It requires low maintenance and will not succumb to rusting.
It is also easy to clean and is excellent at retaining heat, hence improving the kamado grill's overall fuel efficiency. All of the hardware in the Primo Kamado Grill is powder coated so as to prevent scratching and rusting.
The oval shape of the Primo Kamado Grill is perfect for several different cooking styles.
Different Primo Kamado Grill Uses
One of the great things about a Primo Kamada Grill is that it can be used for almost any recipe with any food. The sky really is the limit.
Well, this should be obvious given its name. But you can grill a mean ribeye steak with the Primo Kamado or opt for juicy chicken thighs.
Grilling
Bake
Roast
Smoke
Sear
Braise
Barbecue
Saute
Flambe
Fricassee
Broil
Pan-fry
Baste
Boil
Parboil
Poach
Stir Fry
Simmer
Stew
If you have everything prepared, you could throw an apple pie on the Primo Kamado just before starting to eat dinner and have a fresh dessert in about 30-45 minutes.
Check out Primogrill.com for more Kamado recipes and cooking instructions.
Primo Kamado Grill Specifications
The Primo Kamado grill is a big BBQ grill. It weighs a whopping 240 pounds (108.86 kg). It features a cooking grid that is 18.5 inches in diameter with a cooking area of 280 square inches.
To put this into perspective, this is enough space for grilling between 10 and 12 steaks.
The temperature range in this heater is between 150°F (or 66°C) and 850°F (or 454°C). So you can expect your food to cook really well.
The Primo Kamado grill features a 2-zone cooking capacity, meaning you can operate two different zones inside the grill at different temperatures, and cook different food at once.
The Primo Kamado grill also comes with a built-in thermometer that can monitor the slightest change in the temperature of the Kamado grill.
It will also regulate the temperature in cases of sudden spikes due to actions like taking the lid off. This can be really helpful.
Primo Kamado Grill Is American Made
Primo's Kamado grill comes with a made in the USA tag. As such, the product is highly dependable and is guaranteed to last you many years.
All Kamado grills from Primo come with a 5-year warranty on the metal and a 20-year guarantee plus a limited lifetime warranty on the ceramics.   
Pros of the Primo Kamado Grill
For something this complex, the Primo Kamado Grill is relatively easy to assemble and operate. Just follow the given instructions.
The ceramic build is pretty solid, and it should last you a long time.
This grill is self-cleaning, which means you won't have to wipe the interiors yourself. Simply heat the unit to 600°F (or 315°C).
The 280 square inch cooking area is plenty to cook a nice meal for your friends and family. You will have enough space to cook between 10 – 12 steaks.
It comes with a number of cool features such as a built-in thermometer and always cool handle, among other things.
You can get tons of cool accessories for this grill in the market. These can help you take more advantage of your grill.
Cons of the Primo Kamado Grill
Kamado grills, in general, tend to be very heavy. Primo's Kamado grill is a whopping 240 pounds (108.86 kg). This could discourage some buyers.
The Primo Kamado Grill is a very expensive grill, and the price tag could be a discouraging factor for a lot of potential buyers.
Frequently Asked Questions
Primo vs. Big Green Egg: Which Should I Pick?
One of the other very popular Kamado style grills in the market is the Big Green Egg. If you're in the market for one, you are bound to ask the question of which of these two is the better choice.
Both are American made grills, and they both offer their own advantages. But we believe Primo's Kamado grill is the better option between the two. Here are the reasons why we think you should pick it over a Big Green Egg:
Primo's Kamado grill offers true 2-zone cooking. The Big Green Egg can't do this.
Primo's Kamado grill has an oval shape. This allows for much better convection and an overall greater versatility than the Big Green Egg.
Primo's Kamado grill has a much better fuel efficiency compared to The Big Green Egg.
Primo offers a 20-year ceramic warranty on its Kamado grill.
While this might be subjective, we think Primo's Kamado grill simply looks much better than the Big Green Egg.  
What Kind of Charcoal Should I Use in My Primo Kamado Grill?
Primo recommends that you should refrain from using anything other than natural lump charcoal on their Kamado grill. Natural lump charcoals offer several benefits compared to the other kinds.
They burn much cleaner, burn much longer than briquettes, and they can be relit and reused again and again for multiple different cooks.
Furthermore, natural lump charcoals also add a nice natural wood fire flavour to your cooking.
You can use any brand of natural lump charcoal available in the market. Primo, however, sells its brand as well. It claims its brand uses whole stock hardwood to produce the charcoal.
While not as efficient as natural lump charcoal, you can use briquette charcoal. But you should absolutely avoid "Instant Light" type charcoal as their fumes will be absorbed by the cooker, later imparting fuel taste on the food.
What Do I Do to Clean the Grill?
One of the coolest things about the Primo Kamado grill is that it is self-cleaning. You won't have to wipe off the accumulated carbon or anything like that.
Simply, with all your grill, main grate, heat deflecting racks and plates inside the Kamado grill, turn up the temperature to 600°F (or 315°C). Keep it at this level for at least 30 minutes.
Your Kamado grill will be squeaky clean.
In order to clean the outside of the Kamado grill, you can simply use soap or detergent like you would on any dish.
What Accessories Will I Need to Get for My Primo Kamado Grill?
If you want to make the most out of your Kamado grill, there are seven different accessories that we recommend:
A rotisserie to cook a whole chicken/turkey or any big piece of meat.  
A cover in order to protect your grill from the weather elements.
A Kamado chimney cap to improve the airflow and protect the insides from the elements.
A pizza stone to make the most of the kamado's oven-like shape and get smoked pizzas.
A Cast Iron Half Moon Grate so that you can make the most out of your Kamado grill's 2-zone cooking.
A digital thermometer so that you can monitor the inner temperatures of your cooker, and cook your food to perfection.
Either a charcoal starter or an electric starter to get the charcoal burning.
Final Thoughts
Primo's Kamado Grill is one of the best Kamado style grills available in the market today. It has a lot of unique features that help it stand out among the other brands.
With the right accessories, you will be happy using Primo's Kamado grill for many years.
Related Reading: