Whether you like to hunt or fish, it is worthy to think about purchasing one of the best quality outdoor smokers available in the market.
Or maybe you just like to impress your guests and neighbors, that's fine too!
Outdoor smokers will provide you with the chance to smoke meat for long periods of time to enhance their flavours. You will love the process and experience of smoking meat in your own garden but you'll love getting the unique flavour out of your meat even more.
However, you must ensure that you stick to some of the best outdoor smokers that are available to buy for beginners. That's where we thought of sharing some recommendations for you to consider.
We are reader supported. We may earn a commission when you buy through our links.
Last update on 2023-01-18 / Affiliate links / Images from Amazon Product Advertising API
Depending on your needs and preferences will be the biggest factor in deciding which outdoor smoker is best for you.
In this article, we have two fuel sources, propane and charcoal. Charcoal smokers offer a unique flavour and cooking experience, but propane offers a lot of conveniences.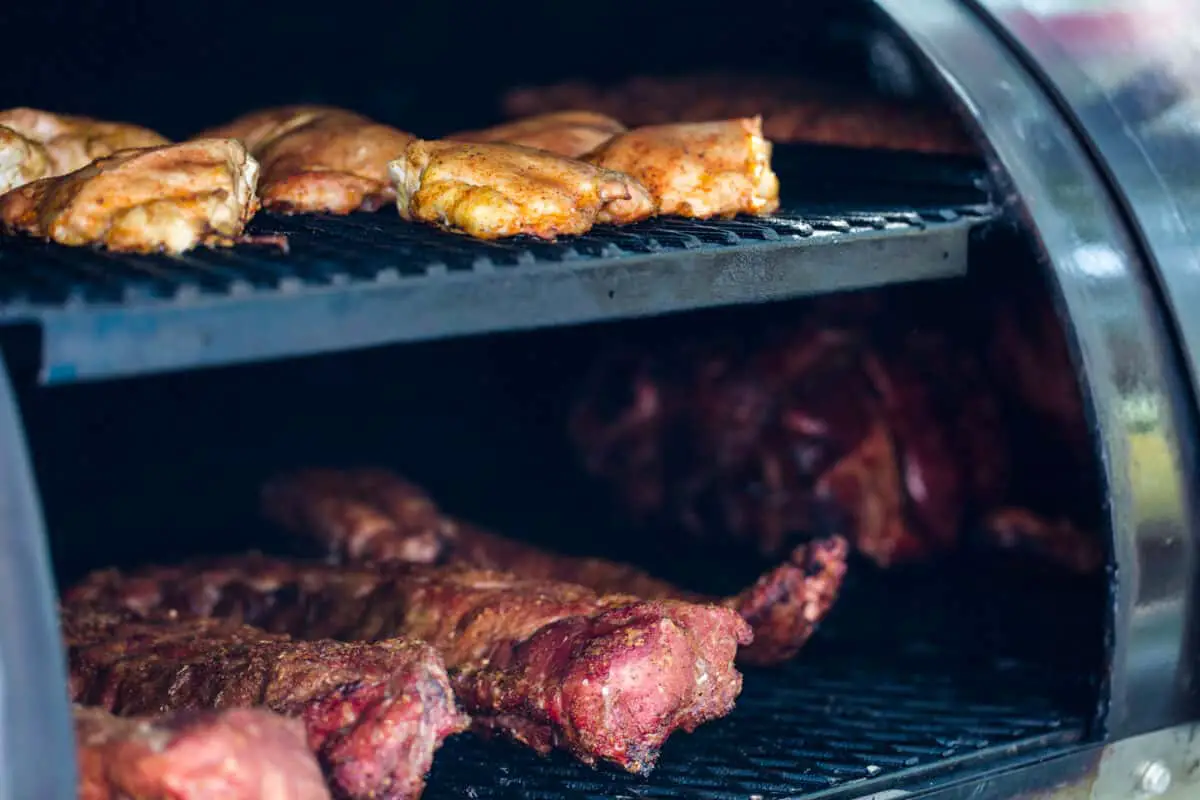 Best Outdoor Smokers – Beginner's Guide
Alright, lets take a closer look some great outdoor smokers for beginners. There are two charcaol options on the list, along with a propane fueled smoker and a pellet fueld smoker.
Different fuel types offer different advantages and drawbacks, but they all can cook delicious smoked meat and vegetables.
1. Dyna-Glo DGO1176BDC-D Vertical Outdoor Smoker
Dyna-Glo DGO1176BDC-D Vertical Outdoor Smoker is a premium quality outdoor smoker available for you to purchase. It can provide you with the chance to smoke meat according to your preferences.
Last update on 2023-01-18 / Affiliate links / Images from Amazon Product Advertising API
Six different cooking grates are available with this smoker as well.
You are provided with the chance to smoke up to 25 pounds of meat at any given time. This will help you to throw a small party for your friends and family members in your own backyard.
The total cooking area you can get out of this Dyna-Glo outdoor smoker is around 1,890 square inches. It will ensure that you will never run out of space.
Apart from the massive cooking area, you can find numerous other features available in this smoker to get excited about. For example, it offers an excellent ash management system.
It will be able to provide assistance to you with removing all the ash without disrupting wood or charcoal that burns within the offset box. This can deliver a continuous and uninterrupted cooking experience to you.
You can receive adjustable dampers out of this outdoor smoker as well. In fact, there are two dampers. The first damper is located at the top of the chimney, whereas the other is located on the side.
These two dampers will be able to provide assistance that you need with custom smoke controlling. You can discover some helpful rib racks and sausage hooks offered out of the smoker as well.
There is a conveniently located thermometer at the front of the smoker as well. It can help you to take a quick look at your cooking temperature. Moreover, you can get a perfect smoke zone indicator as well.
This will assist you with controlling heat so that you can go for a perfect slow cooking temperature. You can smoke your meat perfectly well without any guesswork.
2. Cuisinart COS-244 Vertical Outdoor Smoker 
Lots of people prefer to purchase Cuisinart COS-244 Vertical Outdoor Smoker as there is no need to add pellets or charcoal. This will help you to get rid of the messy experiences offered on your way.
In other words, you can proceed to smoke your meat while getting a cleaner experience. Additionally, this outdoor smoker is extremely easy to use.
Last update on 2023-01-18 / Affiliate links / Images from Amazon Product Advertising API
You can receive a high level of reliability out of it as well.
Cuisinart COS-244 Vertical Outdoor Smoker is a propane-powered smoker. It offers an efficient smoking experience for you at all times. You will appreciate the cleaning support that propane can offer to you by removing wood and charcoal from the equation.
Inside this outdoor smoker, you can discover a decent smoking space. In fact, the overall smoking space that you have inside the smoker is around 5.45 square feet.
It offers more than enough room for you to go ahead and smoke many different types of meat. Along with meat, you can also use this space to smoke different vegetables as well. It offers the perfect dimensions to your patio.
There are four different shelves in this Cuisinart COS-244 Vertical Outdoor Smoker, which are made out of stainless steel. Each shelf has a dimension of 14 x 14 inches.
They come along with a removable design. If you are smoking something big, you just need to remove the shelves and proceed with smoking. All these racks are dishwasher safe.
You can receive extra support with cleaning them as well.
You are provided with complete smoke and temperature control out of this smoker. You will have the freedom to adjust the supply of gas to it according to your preferences as well.
Moreover, you can find numerous doors, which will help you with controlling the smoke inside. This is a durable outdoor smoker that you can use for a long time.
3. Realcook Charcoal BBQ Smoker
The very first thing you will notice about Realcook Charcoal BBQ Smoker is its unique multi-layered design. It is supported by the latch locking system.
This design will enhance the functionality and you will even be able to use this as a fire pit during colder times of the year. 
Last update on 2023-01-18 / Affiliate links / Images from Amazon Product Advertising API
Along with Realcook Charcoal BBQ Smoker, you will be able to get an adjustable barrel grill.
It will provide a versatile operation for you. In other words, you can use it for roasting, braising, baking, grilling and steaming. You will have two heights in the smoker, which you can use based on your preferences to get an ideal smoking experience.
If you are a person who loves to go ahead with camping, Realcook Charcoal BBQ Smoker will be a great option available to purchase. That's because it will come along with a portable design.
You can easily assemble this product as well. Even though the external dimensions of this smoker look compact, you can find a large capacity inside.
In fact, the smoker offers a cooking surface of 636 square inches. There are two different cooking racks available as well.
You can also get two different access doors with the smoker, which can provide a convenient experience to you by checking the status of your food.
4. Camp Chef PG24MZG SmokePro
If you're looking for a pellet smoker instead that the Camp Chef offers a great smoker.
Sometimes, a pellete fueled smoker has the drawback of needing to be consistently fed pellets, but this smoker has a built automatic pellet feeder so you can focus on what's important, smoking delicious meat.
Last update on 2023-01-18 / Affiliate links / Images from Amazon Product Advertising API
This smoker is great for beginner's because it's compact and easy to use. Outdoor smokers can often be heavy and difficult to move, usually requiring two people.
It also comes with a digital control to make gauging the temperature easy. You'll just need to get acquainted with the digital controls.
The Camp chef also resembles your typical bbq and grill as it has a shelf on the side. The shelf helps to keep all the tools you need closeby for fewer smoking errors.
And while dealing with ash can be a drawback with pellet smoker, this model comes with an easy ash tray that just requires pulling a lever to empty.
Frequently Asked Questions
Can you smoke meat at home
Yes! Absolutely. The outdoor smokers on this list are all for home use. Smoking meat does take a bit of knowledge and skill compared to straight bbq grilling, but it does not take long to become well aquainted with a smoker.
What's the difference between a smoker and a bbq?
The two big differences between smokers and bbqs are the temperatures and cooking time.
Grilling will typically use high heat, like a steak for instance that can be grilled in as little as a few minutes.
Smokers use a much lower heat for cooking temperature and require longer times for the meat to cook.
Smoking meat will usually require planning ahead, whereas bbqing can be much more spur of the moment.
Is smoked meat bad for you?
Lately, there has been media attention focused on smoked meat being bad for human health, particular with an increased risk of colon cancer.
Like many things in life, however, moderation is often the key. Here are some tips to keep eating smoked meat as healthy as possible:
Keep that grill surface clean and use aluminum foil to avoid smoky flare-ups
Choose thinner cuts of meat that will cook faster
Trim any fat that can drip and produce more smoke
Pass on the "burnt ends" – discard any charred, blackened areas
When it comes to red meat, don't cook until it's "well-done"
Final words 
Many people love to enjoy smoked meat offered out of an outdoor smoker. If you want to get that experience, you just need to take a look at these smokers and purchase the best one out of them. 
Knowing which type of fuel source you want to go with is key to purchasing the right smoker for your needs.
You can, of course, collect different types of smokers if you're regularly serving a large crowd!