If you are creating an outdoor oasis, you likely are trying to include an outdoor kitchen area for the sake of having a place to entertain family and friends when the weather is nice.
The thing is, you need to make sure that you get a fridge that can meet your needs while you are outside. This article will take a closer look at outdoor fridges, including showing you the difference between an indoor and outdoor fridge.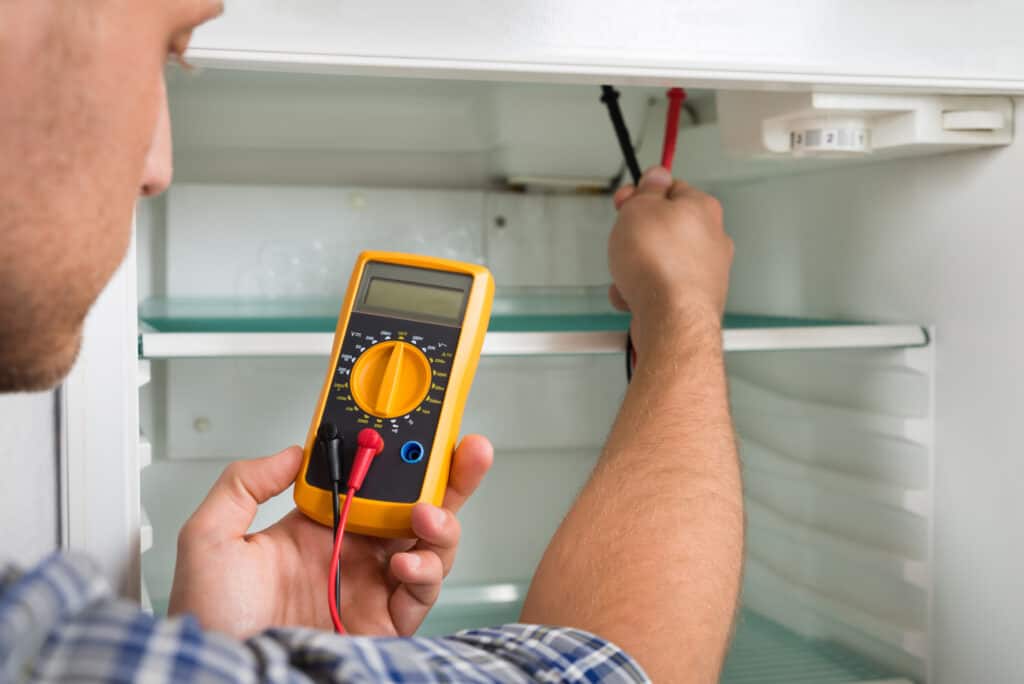 Related Reading: Do You Actually Need an Outdoor Fridge?
What is the Difference Between an Outdoor Fridge and an Indoor Fridge?
There are really 2 key differences that you need to be aware of between an outdoor fridge and an indoor fridge. One major difference is the ambient temperature range. A fridge needs to work pretty hard to ensure that everything is cold and safe inside, no matter what the temperature is around it. Within a home, it's typically pretty standard temperatures and easy to keep the temperature consistent.
However, the outdoor temperatures can fluctuate a lot more and can even get a lot hotter or colder than controlled indoor temperatures. Even in unstable environments, an outdoor fridge can maintain the proper cooling temperature to keep items safe inside.
Another major difference is the materials used for an outdoor fridge. First of all, as previously mentioned, the outdoor fridge is constructed with a higher grade of stainless steel, which can prevent corrosion on the outside of the fridge. But this isn't the only difference when it comes to the construction of an outdoor fridge.
The outdoor fridge has their various electrical components are weatherproofed. Being outdoors, the various components of the fridge are exposed to extreme weather conditions and even splashing of the pool if it's too close to the pool area. This can not only destroy your fridge, but this could also be potentially dangerous for you and your family as this can leave you susceptible to electrocution.
It's important to remember that just because the outdoor fridge is weatherproofed, it doesn't mean that it's safe to leave outdoors during extreme cold or severe storms. It just means that it will be better protected in various types of moderate weather conditions.
What is an Outdoor Fridge?
An outdoor fridge is one that is made specifically for being outdoors. You need to carefully read the label on your fridge to make sure that you can put it outside. Not all fridges can be used safely outside.
An outdoor fridge is typically made from at least 304 food-grade stainless steel (or higher) in order to resist corrosion caused by outdoor weather. There are also other weatherproofing features that can be found on outdoor fridges that you wouldn't get with an indoor fridge. Be sure to check out the various certifications as well, to make sure that you are getting something that can withstand being outside.
Important Things to Know about Outdoor Fridges
There are some things that you should know when it comes to outdoor fridges. The first thing to talk about is that outdoor fridges does not mean "all-weather" fridges. The weatherproofing on these fridges is primarily for keeping the metal from corrosion and to protect the electrical components from wet weather conditions.
These fridges are also not meant to be in conditions that are colder than 40 degrees. If you choose to keep your fridge outside in weather that is less than this temperature threshold, you should empty the fridge and unplug it.
It's also important to remember to get a fridge that is certified to store food. There is a difference between a beverage cooler and a fridge. If you only want to store beverages in this cooler, there's no real need for you to get an outdoor fridge as a beverage cooler will be more than enough for your needs. A beverage cooler is significantly less expensive than an outdoor fridge, so keep that in mind when you are deciding on the best option for your needs.
Lastly, you do have the option between freestanding and built-in options. The difference between the two options is the ventilation needs required to keep the components safe. Do you have an outdoor kitchen space with countertops and cabinetry, where you will incorporate the fridge?
If so, you will want a built-in fridge. This is because the ventilation is in the front of the fridge, so it won't be obstructed when you place the fridge within the cabinetry. If you have a freestanding fridge, you will want to make sure that you don't have it built-in to your setup, as the fridge won't get the ventilation that it needs to function properly.
Why are Outdoor Fridges so Expensive?
You may notice that the price of the fridges can be pretty pricy. This may give you some hesitation when it comes to purchasing one. However, you need to remember that there is more to consider than just the price. You will get exactly what you pay for when it comes to an outdoor fridge. There are a few reasons why outdoor fridges are so expensive. This includes:
Weatherproofing
One reason why these fridges are so expensive is because of the fact that the materials used are for weatherproofing purposes. This prevents the fridge from breaking due to the weather conditions.
Rust and Corrosion Resistance
You also get the benefit of rust and corrosion resistance when you use an outdoor fridge. Outdoor fridges are made with a high-quality and durable stainless steel, which is made to be rust-resistant.
Insulation
Since the temperature outside is more unstable than the controlled climate of the indoors, outdoor fridges require a lot more insulation than indoor fridges to keep items cold inside.
Advanced Compressors
When the fridge spends so much time outdoors, the fridge needs to work overtime to keep everything cold. This means that it uses advanced compressors in addition to quality insulation.
UV Protection
As fridges spend more time outdoors, this means that the sun's rays are beating down on the fridge. This can lead to damage to the surface of the fridge, as well as raise the temperature of the fridge so it might not cool your items, as well as you, need it to.
Ventilation
You need to especially watch out when you pick a built-in outdoor fridge because it will require a higher quality ventilation system to work properly. This can also be pretty pricey.
These are just some of the reasons why an outdoor fridge is significantly more expensive than an indoor fridge. This is also why you should consider whether or not you actually need an outdoor fridge or if an outdoor beverage cooler will meet your specific needs.
Are Outdoor Fridges Waterproof?
Outdoor fridges are weatherproof, not necessarily entirely waterproof. It can withstand some inclement weather, but you should bring it inside when you are expecting severe weather to come.
This is because they are meant to protect against some weather, not necessarily for the fridge to be soaked or even potentially submerged in water.
Continue Reading: The Best Outdoor Fridges for BBQ'ing
Conclusion
To complete your outdoor entertaining space, an outdoor fridge can be a great investment. The information in this article should give you everything that you need before you go out and buy an outdoor fridge.
When you do get the right outdoor fridge for your needs, you can better enjoy the outdoor experience, whether you are by yourself or enjoying it with friends and family. Consider the advice here to help you make the best decision for your needs.