All homeowners have heard the advice that simply owning a trampoline will cause your insurance costs to go up. While your insurance company might not necessarily boost your rates the second you purchase a trampoline, there are some extra policies they might suggest you purchase in case of injury. Trampolines can be dangerous, but there are ways to significantly reduce the danger they possess!
One of the most common questions regarding trampoline safety involves where to place them in your yard. Many backyards have limited grassy areas, requiring the homeowner to place the trampoline on concrete. Is this safe? Will your kids be placed in added danger by jumping on the trampoline on concrete?
Short answer: yes. But luckily, there are ways to keep a trampoline on concrete safe for users! If your yard is mainly concrete or asphalt, do not fret – you can childproof that patch so that your kids can still have fun outside on the trampoline. Here are a few tips and tricks to make your backyard a safe place for trampoline fun.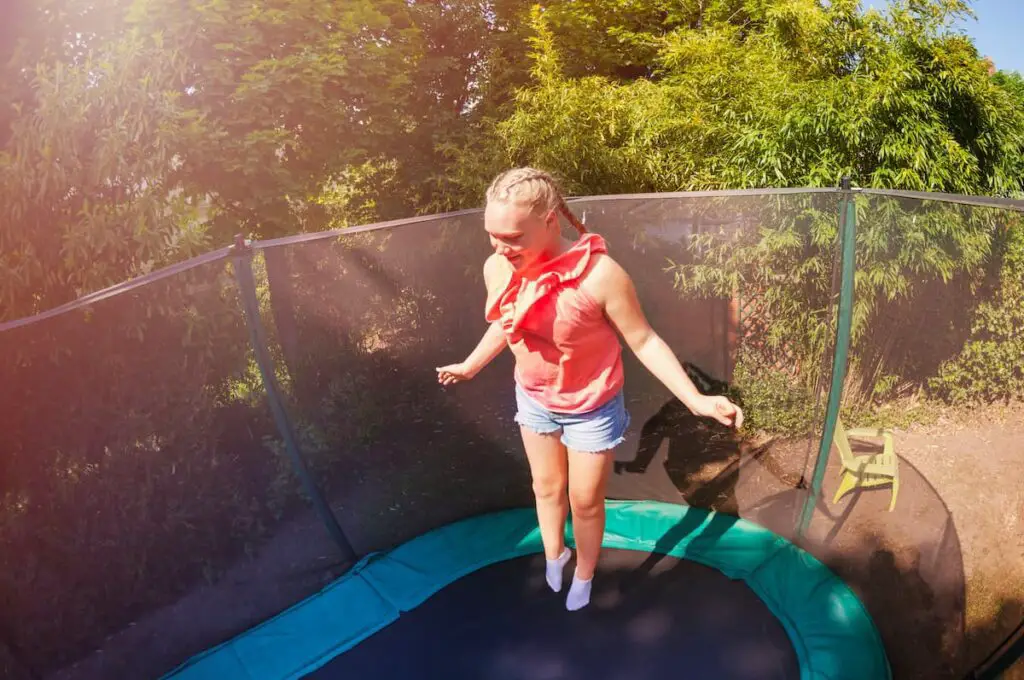 Related Reading: Can You Use a Trampoline in the Winter? & Can You Put a Trampoline on Decking?
Safety Tips For Trampolines On Concrete
Inherently, a trampoline on a concrete surface is not a safe idea. With the number of injuries a trampoline can cause on its own, you'll want to limit the risk of injury, in case of a fall from the trampoline, as much as possible. That's why most people suggest placing your trampoline on a soft surface like grass or surrounding the trampoline with a net to prevent falling off altogether.
But what if you have no choice and concrete is the only surface space you have available? Some experts might say to get rid of the trampoline and find a new fun backyard activity. While there is some merit to that statement, there are alternatives that allow you to keep your trampoline, you and your children's safety, and your yard!
1. Provide a Soft Base
One of the best ways to limit the risk of injury on concrete is with rubber padding (opens new Amazon tab). With the right rubber padding, you provide the same amount of soft cushioning that grass offers. While it's not entirely kid-proof, rubber padding is much better than simply leaving the concrete untouched. Gym floor mats are a fantastic option when it comes to cushioning the concrete fall.
A great alternative that isn't as expensive is interlocking exercise tiles. They're much cheaper than gym mats and can easily be moved and shaped to fit the size of your trampolines. With either of these types of rubber mat in place, the risk of severe injury from a fall drops drastically.
There are companies out there that specialize in placing rubber mats underneath trampolines for added safety. While the cost of installation might get quite high, it's certainly less than the cost of medical bills after a broken leg or the increase in insurance if there is an accident on your property.
2. Anchor a Trampoline on Concrete
Why should you anchor your trampoline on concrete? It's rarely suggested for grass, so why here? Well, the chances of your trampoline moving around and becoming compromised are far greater on concrete than on grass. While on grass, a trampoline sinks into the mud/dirt and has far greater friction than on concrete. Without proper anchoring, the trampoline is likely to move which could lead to injury.
Unfortunately, this need for proper anchoring becomes much more difficult as there are no concrete anchoring kits. This leaves you with two options – drill into the ground or weigh it down with heavy objects. For drilling, this would be the more secure option but could be much more labor-intensive. You'll have to drill into concrete and create pegs that can easily hold the trampoline down while in use.
The easier and less expensive option is to use heavy objects such as sandbags. These bags can be draped over the legs of the trampoline and will hold it down while in use. They're not as secure as drilling into the concrete, but the process is much simpler and can be done by anyone. You are sacrificing some level of security, but not much.
3. Get a Trampoline Net
One of the best ways to prevent people from falling off of a trampoline and onto the surface below is with a trampoline net. This is true for any surface on which your trampoline is going to be placed. By encasing the jumping area, you're providing a safety measure that protects kids (or adults) from falling off.
This won't completely secure your kids from the concrete below, so I highly recommend utilizing the rubber mats in tandem with the net.
The safety net doesn't account for the space between the jumping surface and the spring which is a commonplace for kids to fall through and hurt themselves. Nonetheless, having a net in place will drastically decrease the chances of injury and is a fantastic addition to your trampoline. If you're placing your trampoline on concrete, then a net in addition to both a rubber mat and some anchoring is the best and most safe practice.
Last update on 2023-01-14 / Affiliate links / Images from Amazon Product Advertising API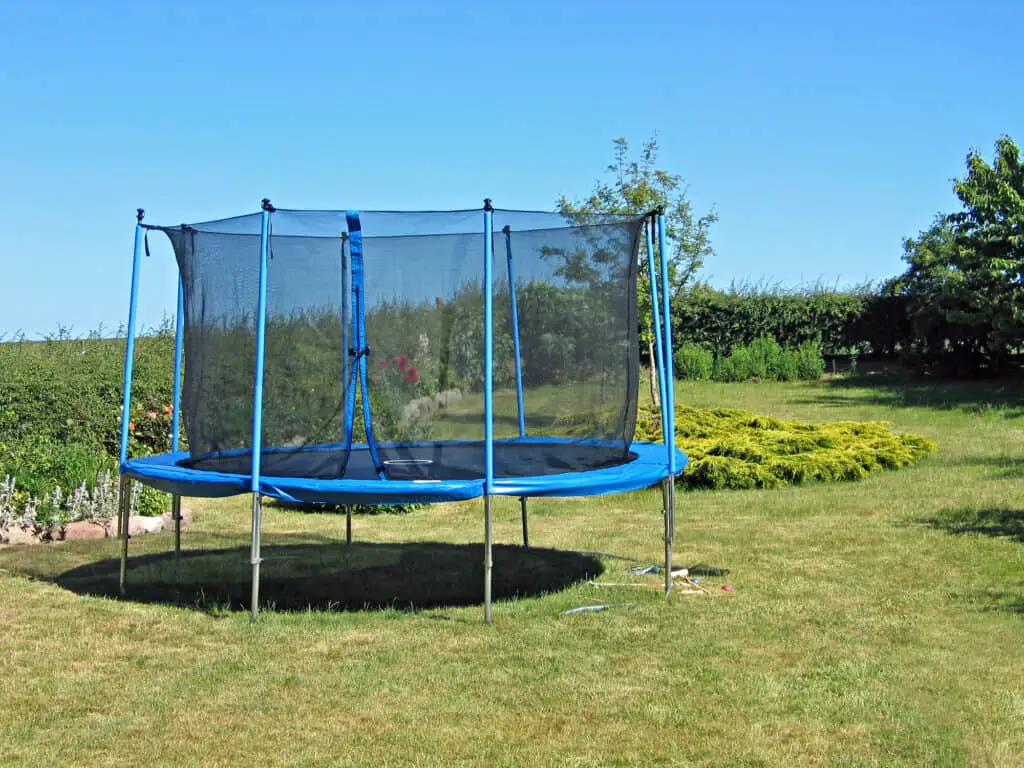 Best Places for a Trampoline Outside
While I would not recommend concrete, I understand that in some cases you have no choice. As long as the proper safety measures are in place, and everything is done to make the concrete safe to jump on, then it should be okay. Here are the best places for a trampoline to be placed outside.
I am listing outdoor locations as it is typically not safe nor recommended to have your trampoline indoors. These options take safety and installation into account. The easier it is to keep your kids safe without having to spend too much money, the better the place for your trampoline.
Grass
If you have a grassy area in your yard with enough horizontal and vertical space for your trampoline, place it there. No matter how much safety-proofing you do, nothing can beat the natural give of a grassy surface. Placing your trampoline on your lawn will offer your kids a soft fall – should they fall – and is the easiest place to install your trampoline as it will not need additional anchoring.
Finding a flat grassy surface can be difficult, but, if you've got it, then you were meant to have a trampoline there! If your grassy surface isn't flat, then you might need to do some terraforming to make it safe for your kids.
Dirt
The next best place for your trampoline is an area with dirt. The issue with dirt that makes it not quite as safe as the grass is that there's no natural anchor. The grassroots act as a hold for the dirt which makes it secure and safe to jump on. Without the grass, the dirt is free to move, which can compromise the structure of the trampoline.
As long as you have a secure area where the dirt is unlikely to move, you should be good to place a trampoline there. Dirt provides give and a natural cushion should your kids fall off the trampoline. However, when the dirt gets too dry or too cold/froze , it can become pretty tough. Be careful when placing your trampoline on a mound of dirt as it is likely to shift; especially in heavy rain or wind.
Padding
The final recommended placement for your trampoline is on padding. Whether you're keeping your concrete area safe to use, or added extra security on a grassy spot, padding is a fantastic addition to any arsenal of trampoline safety. It provides an added cushion that could prevent injury to your kids. Having any sort of rubber padding in place is much better than not.
Trampoline & Concrete – Final Thoughts
When getting a trampoline, it's important to note that safety is a necessary and important consideration. It's impossible to remove all chances of injury, especially from a trampoline, but having as many safety nets in place as possible will be priceless.
Trampolines are a blast to use, but the dangers they offer can be intimidating. If you're limited to where you can put your trampoline and concrete is all you have, just make sure to take those extra steps to keep your kids safe while using it.