People are often surprised when they find out about the potential for injury from pressure washing. They pick up a brand new pressure washer from a local hardware store or get given one as a present only to find out that they can actually cause injury if mishandled or used carelessly.
Power washing is, however, still considered as one of the best methods available ways to power clean your house, driveway, deck, and more.
Yes, you should wear a mask while pressure washing, especially if you're new to pressure washing. There are some other safety tips that you might want to consider following as well.
If you're new to power washing or never really considered the possible dangers associated with it, then it is important for you to learn how to go ahead with pressure washing while adhering to some basic safety tips.
This will help ensure you avoid any possible dangers or injuries. 
Out of the safety measures that you can adhere to while you engage with pressure washing, wearing a mask hold is high on the list.
Think of wearing a mask while pressure washing like wearing a helmet while biking. It doesn't look cool, but you'll be glad you did when things go a little (or terribly) wrong.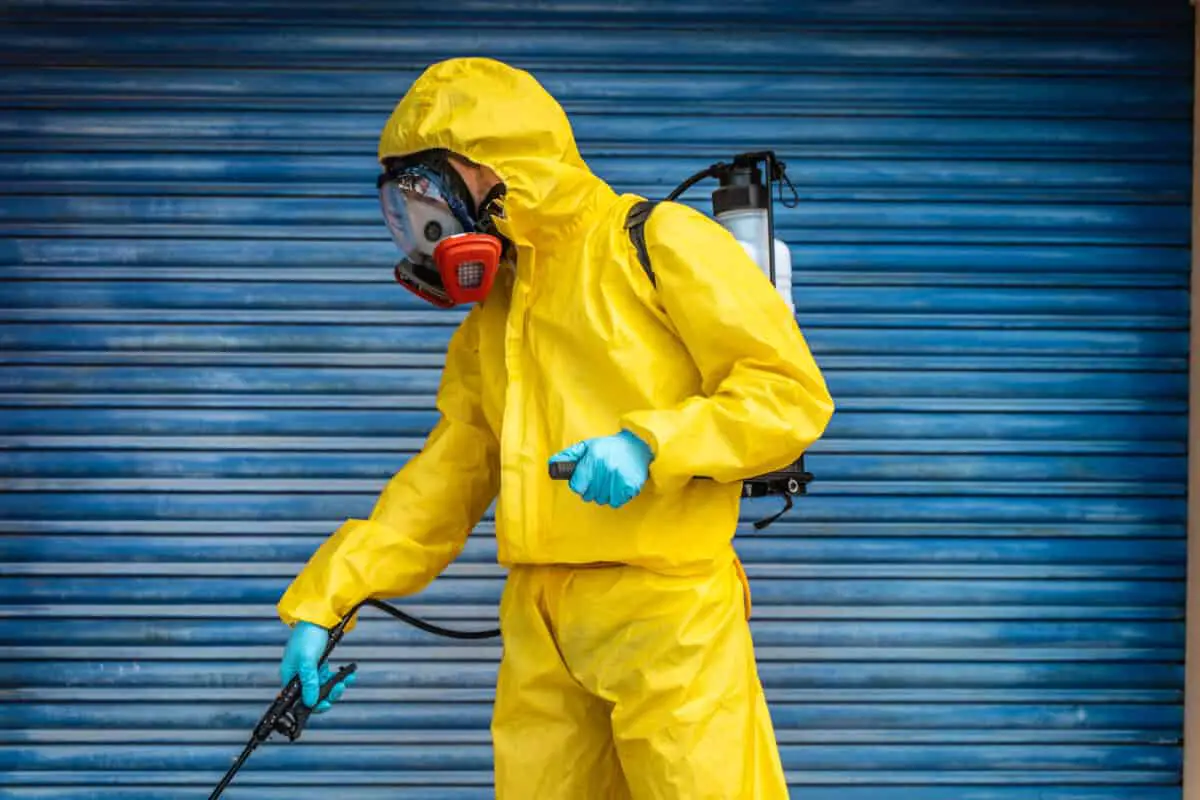 Related Reading: 3 Tips to Remove Paint from Metal With a Pressure Washer
Why should you wear a mask while pressure washing?
Masks are one of the very first things that you need to wear while you spend time with pressure washing. They will be able to provide you with the protection needed for the face against different elements.
You'll often be using a chemical solution to get the cleaning job done with your pressure washing. This cleaning solution will get exposed into the air while you are engaged with the cleaning process.
You can find the chemicals in the air you breathe. If you breathe in those chemicals, you will have may face numerous negative health consequences. That's because those chemicals should never be ingested.
The mask you wear will be able to deliver the protection you need from such chemicals.
There's also the possibility for mold spores to get released into the air while you are pressure washing. If you are not wearing a proper mask, they can get into your respiratory tract.
Mold spores can cause fungal infections within the lungs. This is where a mask can offer some serious protection. The mask will trap all the mold spores and keep them away from getting into the respiratory tract.
You don't have to spend a lot of money to purchase a mask. A simple mask will be able to deliver much-needed protection to you and you will not have to worry about anything. It will help you with your overall protection.
Last update on 2023-01-23 / Affiliate links / Images from Amazon Product Advertising API
Safety tips for power washing safety 
Masks are not the only items available for you to wear while pressure washing to enhance your safety. There is other safety gear that you may want to consider using.
Let's take a look at some of the most prominent safety gear options available for pressure washing. It's ultimately up to you to decide what's needed for the type of job you're doing.
Pants and long sleeves
You should be mindful of the outfit that you wear while you are engaged with pressure washing. This is where you should think about wearing pants and long sleeves.
They will be able to provide protection needed by your skin at all times.
Even if you are pressure washing during the hot summer season, you should still consider wearing pants and long sleeves. Sure you'll get hot a sweaty, but the protection is worth it for big jobs.
The pressure washing machines emit a strong flow of air. This strong airflow can cause various particles and elements to become airborne.
A little pebble may not hurt when thrown, but when thrown into the air from the force of a pressure washer, they can cause injury to your skin.
They also help prevent mold, build-up and grime from landing on the surface of your skin.
Shoes with closed toes 
Another important safety gear that you should consider wearing while engaging with pressure washing will be shoes.
You should double-check and make sure that your shoes are in a position to deliver protection to your toes. In other words, your toes should remain covered at all times.
Just because it's a hot summer day doesn't mean you can pressure wash with sandals or flip flops. Closed-toe shoes will deliver much-needed protection to your feet at all times.
If you can wear proper shoes or boots, you will also receive assistance with keeping the feet dry at all times. You never want to expose your feet to a chemical solution.
This chemical solution is strong and it has the ability to remove layers of debris so it's best to avoid getting any on your skin.
This is why it is essential to invest your money in purchasing a high-quality pair of work shoes. Depending on how frequently you plan on using your pressure washer, you may want to get safety work boots.
The pressure washing machine is quite heavy as well. You can accidentally drop that on your feet.
If you are wearing appropriate shoes, you will be able to keep your feet and toes away from getting damaged.
Protective eyewear 
Last but not least, you will need to think about wearing protective eyewear. This is another important part of pressure washing attire, which you should not ignore.
The pressure beam given out by the pressure washing will be able to remove layers of debris with an intense force.
It's best not to let that force come into contact with your eyes.
Last update on 2023-01-23 / Affiliate links / Images from Amazon Product Advertising API
You need to protect your eyesight at all times and that's where protective eyewear will be able to help you with.
You should purchase glasses, which are designed to withstand the high pressure given out by a pressure washing.
Then you will be able to keep the peace of mind while you are engaged with pressure washing.
Final words
Now you are aware of how to take good care of your safety while you are engaged with pressure washing.
It may seem overkill to "suit up" when pressure washing around the home. Keep in mind, however, there are safety risk with pressure washing, and being proactive can keep you safer.
Continue Reading: Can You Make Snow with a Pressure Washer? [FIND OUT!]