The best way to transport a patio heater is to disassemble them first. When it is disassembled, it will be easier to transport it freely without damaging it. When moving the disassembled patio heater, be sure to inspect it well enough to avoid missing items. However, only experts should dismantle the patio heater for easy and effective installation.
There is a lot that patio heaters can do to your outdoor space than making it warm. It can uplift the yard a little more. Along with their beautiful design, patio heaters are quite delicate. When relocating or redecorating, you may lose your efficient patio heater to reckless movement. You want to be very careful when transporting. Here are some tips on how to transport your patio heater.
There are different things to note when transporting a patio heater. In this article we will be answering most of these questions, so keep reading to understand what you need to do during and after transport.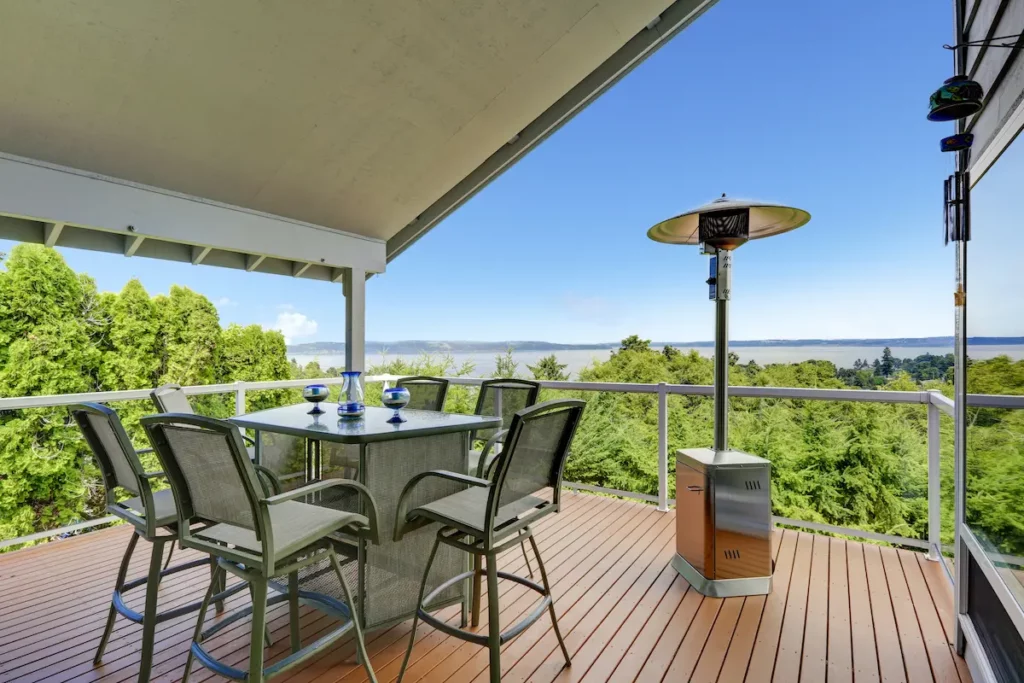 Related Reading: The Best Patio Heaters With Wheels [BUYER'S GUIDE]
Is Transporting a Portable Patio Heater Safe?
A portable patio heater is great for an outdoor space and offers tremendous versatility by enabling you to engage outdoors all through the year. But when transporting the patio heaters, it is vital to take specific care of the heater, to avoid injuring yourself and damaging your heater.
Make sure you don't transport the patio heater while the flame is open.  When you move the patio heater while it's open, it disrupts the flow of gas and opens you to a risk of damaging the valves of hoses. This can expose leaking gas to any ignition,  and cause a fire hazard.
Additionally, do not move the patio heater on your own. Though portable, it still has some heavy appliances. If you do not apply some technical knowledge to transporting the heater, you can risk injury to your back.
Disassembling A Patio Heater
If you have a patio heater, there must have been an attempt to move it or transport it to either a safe spot or a new location. Most patio heaters can be disassembled into tiny bits.
Basically, the hard labor you need to do is unscrew the bolts in the heater, and it comes down in pieces.
But, if you are not sure of the steps to take to disassemble your patio heater, then you should leave it. Especially when you don't know how to fix it back up, it increases the chances of your patio heater not working again.
So it is best to leave disassembling the patio heater alone, and hand it to an expert to handle it. These experts will certainly know how to disassemble and put it up back.
Related Reading: Patio Heater Replacement Parts – What You Need to Know
Can You Use A Truck To Transport A Patio Heater
Yes, you can use a truck to transport a patio heater. Virtually, it is the safest way to move a patio heater between different locations. After using your truck to bring the patio heater to its new location, you can use a hand truck or dolly to move it out of the vehicle to the place you want to install the patio heater.
But firstly, you can't transport a patio heater without disassembling it to pieces. It can be damaging and might not fit into your truck. And it has to be done carefully, so as not to damage parts of the patio heater.
Maintenance of Your Patio Heater
When the patio heater you are transporting is a used one, it is advisable to clean the patio heater, and also repair and replace some parts that are worn out or not functional.
Cleaning your patio heater can be very easy and simple, especially after you have done the technical part of disassembling the patio heater.
You can clean the patio heater by using warm water, a damp cloth, and a small soap. You should however be careful not to rough the surfaces with abrasive cleaners, it could damage your patio heater. Consult your patio heater operating manual for specific instructions regarding maintenance.
Aside from cleaning the patio heater, you should also inspect the heater for missing parts or areas that need repairs or replacement.
Assembling A Patio Heater
Assembling a patio heater is relatively simple. Especially if you have some knowledge of using a hammer or driving a screw-in. Then you can follow the assembly instructions stated in your owner's manual for a step-by-step guide.
However, most patio heaters require at least 2 people to assemble them, because of their heavy features. Most times, the tools you will need to assemble the patio heater are an open wrench for bolts and nuts, a screwdriver, and a crescent wrench.
But if you are not certain what to do, you should call a professional to handle it. Make sure to consult your operating manual to know the type of patio heater you have, as different kinds of heaters require different assembling techniques.
Where Is The Best Place To Put A Patio Heater?
The technological feature of a patio heater makes it fit to be positioned almost anywhere and nonetheless generates sufficient levels of warmth. This is due to the object surrounding it, such as furniture, floor, and wall and people absorb the energy the heaters create, which then spread as warm heat waves.
But most patio heaters work best when horizontally positioned on the wall or other surface high beyond children's reach. This gives people the luxury benefit of having a pleasant heat.
If you have a garden that has an overhead trellis, that would be a good place to position your patio heater. You also need to make sure the structure is sturdy and strong enough to support the heater's weight, though it's not more than 5kg.
Concerns, as regards rain or snow damaging your patio heater, are not needed. Patio heaters are made of the highest quality material which makes them extremely durable.
Safety Tips for Patio Heater
Because of the dangers involved with using patio heaters, you must know how to safely operate them and transport them, without any incident. Here are a few safety tips:
Patio heaters are designed for outdoor usage. Never attempt to use it indoors or in a closed structure like a tent. This is to avoid the risk of carbon monoxide poisoning.
Your propane cylinders should be stored outdoor, and not indoors. The cylinders must be safeguarded with vehicle-proof and tamper-proof protection with either a built fence or a locked cage. It must also be stored uprightly. If for security reasons you need to transport your patio heater indoors, kindly remove the propane cylinders before moving them.
Before disassembling, transporting, and installing, kindly heed the manufacturer's instructions on distancing the heater from any fire hazard, and building mechanical air intakes.
Do not transport the patio heater while the flame is on. Make sure to shut off the fuel supply and let the unit cool before moving them. Endeavor to use CAUTION when transporting the propane cylinder to avoid impact and falling off.
Do not leave the patio heaters unattended. Always keep an eye on them. And restrict children from getting close to the heater.
Continue Reading: How Much Ventilation Do Propane Heaters Need?
Conclusion
A patio heater is a perfect appliance for your outdoor area, that helps you host friends and family year in and year out, and it goes as far as giving you a spa experience in the winter season. Positioning your patio heater can be instrumental to having these benefits, hence the need for transporting it to an entertaining area. With this article, you should know how to transport your patio heater without injuries or damaging the heater.