Are you looking forward to purchasing a new patio heater? Then it won't hurt to learn more about them. should learn more about them.
If you don't want to keep yourself trapped into the home during colder months of the year, purchasing a new patio heater is a great way to continue living the outdoor life.
You can transform your outdoor space on the patio or deck into a comfortable and relaxing environment, no matter what season it is.
This will help you to get the most out of your outdoor spaces throughout the year and in the evenings.
Here's a list of the most common patio heater parts:
Heater Regulator
Glass Tube
THP-Burner
Thermocouple
Pilot Assembly
Thermostat
Failure Safety Control Valve Kit
Quick Disconnect Hose Set
Head Assembly
Spark Ignition
Learning more about patio heaters and patio heater parts can help you make a more informed decision when you purchase your first or next patio heater.
Parts that come along with a patio heater will vary based on the type and model.
In this post, we will analyze the different types of patio heater and focus on the specific parts that are available for them, and some of the common problems with patio heaters.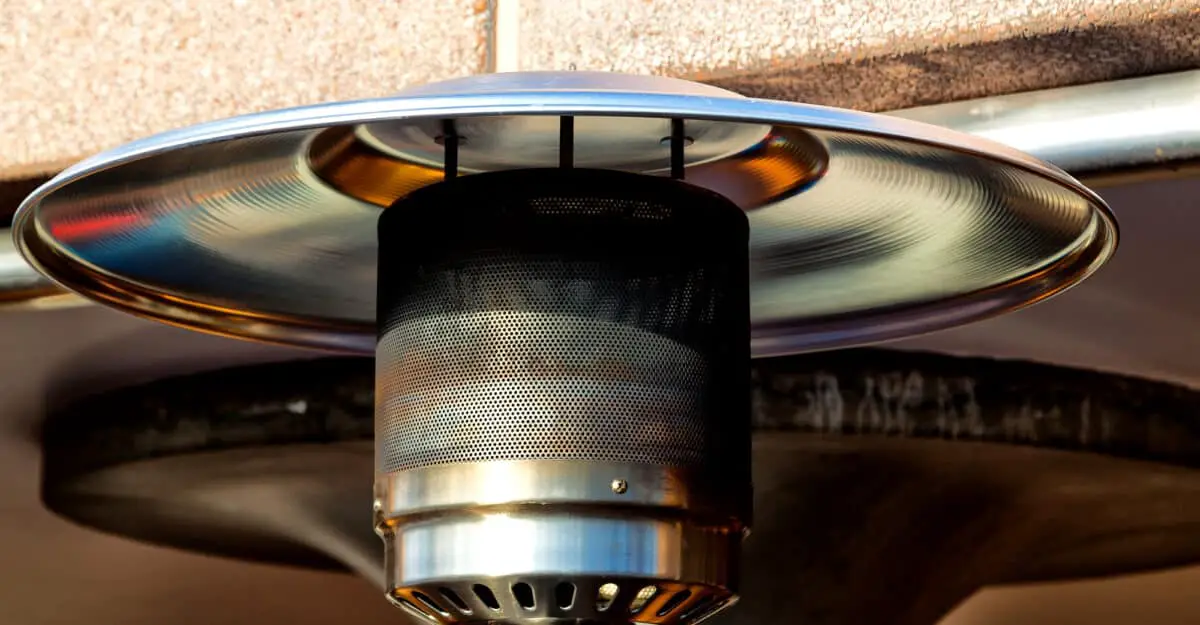 Different Types of Patio Heaters
The different types of patio parts that are most common for needing to be replaced will ultimately depend on the make and model of the patio heater.
This list is meant to be a general breakdown, especially for those new to patio heaters and are checking out what they should be expecting from owning a patio heater.
Here is an example of a patio heater and the seventen parts that comprise it: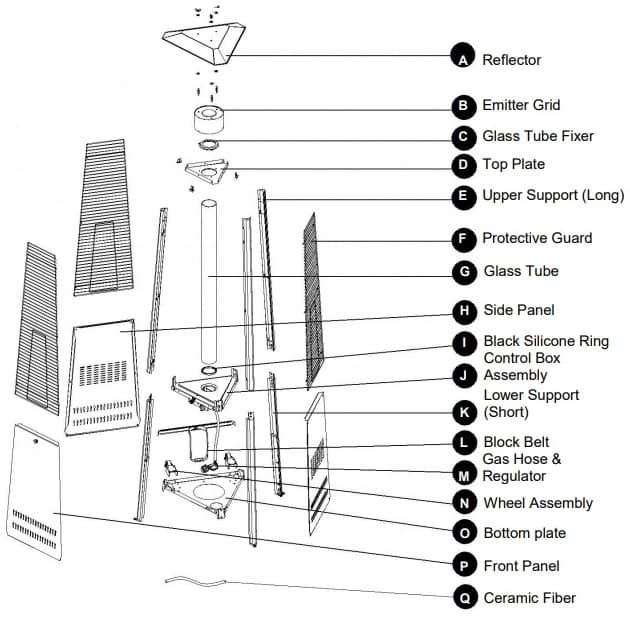 Let's take a closer look at the ten most common patio heater parts that can need replacing.
Heater Regulator
These are what keep your patio heaters temperatures at a constant and consistance temperature.
Since many patio heater models are tall, heat regulators for patio heaters need to have longer hoses.
The hose goes from the heater element to the propane tank where the regulator is attached.
Last update on 2023-01-31 / Affiliate links / Images from Amazon Product Advertising API
Glass Tube
If your patio heater ever gets blown over in a wind storm this will be the most likely piece to get damaged.
Glass tubes on patio heaters all popular on modern models and contain the gas-fueled flame to give it a straight-up vertical appearance.
Burner
Burners on patio heaters are what burn the fuel source, which is typically propane or natural gas.
The burner also helps to direct the flames into a perforated metal screen and then readiate that heat from the surface of the screen.
The heat is radiated in a circular pattern around the patio heater to deliver surround heating.
Thermocouple
Thermocouples signal to the gas valve to open up and deliver gas to the burner.
When patio heaters fail to turn on, often it is an issue with the thermocouple which is causing the pilot to be weak or not work at all.
Last update on 2023-01-24 / Affiliate links / Images from Amazon Product Advertising API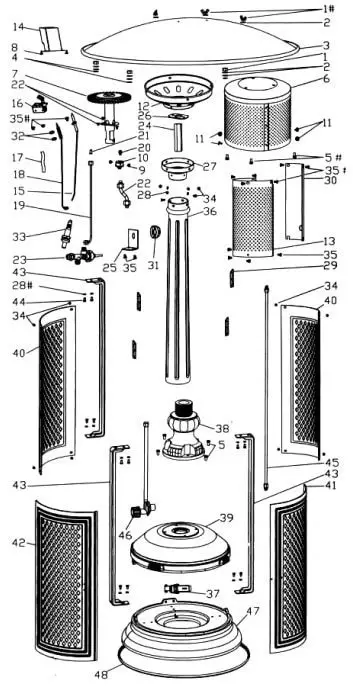 Pilot Assembly
The pilot assembly's job is to keep the patio heater lit. The gas valve on the patio heater receives an electrical current from a the sensor on the pilot assembly.
It signals to the valve to stay open.
Thermostat
A thermostat on a patio heater controls whether the heating is on or off.
It also regulates the flow of the fuel source, propane or natural gas, which in turn helps maintain the overall temperature.
Failure Safety Control Valve Kit
These control how patio heaters will operate when there is a loss of power or signal. This helps protect the patio heater typically in emergency situations.
If the fuel source is lost during your patio heaters operation, the safety control valve will turn off the pilot light.
When issues arrive with safety control valves you'll notice your patio heater turning off even with a steady flame.
Last update on 2023-01-31 / Affiliate links / Images from Amazon Product Advertising API
Regulator Hose Set
These are the hoses that connect your propane tank to the patio heater.
While they are typically made to last, outdoor critters can cause damage or they can become damaged accidentally.
Wear and tear over time can also cause these hoses to lose their airtight connection cause the fuel source to leak.
Pilot Feed Tube
Pilot feed tubes connect your pilot flame to the main control valve. Issues with these will cause issues with the pilot light, which can lead to an inability to get the patio heater started.
These tubes can become clogged or broken over time but are fairly easy to repair or replace.
Spark Ignition
These are what ignite the pilot light to allow the fuel to catch and begin burning at the desired intensity.
Issues with spark ignitions will cause difficulty in getting your patio heater started.
Depending on the model, there may be manual ways around this, such as using a bbq lighter, but sometimes the model depends on the spark ignition solely.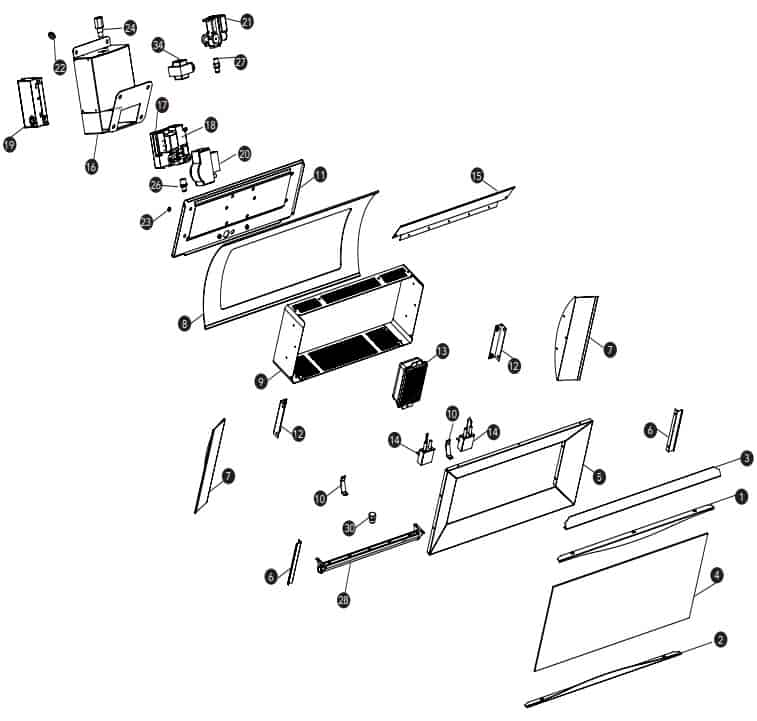 The Different Types of Patio Heater
Freestanding patio heater parts
When you take a look at patio heaters available for purchase, it won't take long until you see that freestanding patio heaters are quite popular. They deliver a great experience and are fairly straightforward to use.
In most of the instances, we don't want to install a patio heater permanently. It's great to be able to move a patio heater around depending on the wind and weather. And in case we feel like upgrading them in overtime, it won't be a big hassle.
Instead, we prefer to receive added versatility out of them.
For these reasons, you may want to think about purchasing a freestanding patio heater. You won't need to use any mounting brackets to mount the patio heater and start using it.
They come along with portable propane tanks to deliver the functionality you want.
The freestanding patio heaters you purchase will contain their own controls. You will be able to take better control over the heater according to your preferences. Here are the four different types of outdoor freestanding patio heaters available for purchase.
Quartz tube type patio heaters parts
If you wish to get a pleasing appearance out of your patio heater, this is the ideal option available to consider. These patio heaters can offer the ambience that you need.
They are a great option available for smaller spaces.
However, these patio heaters are not the most efficient. They don't provide much resistance to strong winds.
Mushroom type patio heater parts
The mushroom type patio heaters can deliver a pleasing appearance to you as well. You will be able to purchase them in many different sizes.
These are a perfect option available for any small space.
However, the mushroom type patio heaters are not the most efficient and they only provide little resistance against wind.
Bromic tungsten smart heat patio heater parts
These patio heaters come along with some advanced features and parts. You can get a modern and chi appearance out of them.
They are capable of delivering excellent wind resistance. On the other hand, these patio heaters are the most efficient option available for you to consider.
You can get directional heating out of them with minimum trouble.
But to purchase this kind of a patio heater, you will have to spend a considerable amount of money out of your pocket.
Table style patio heater parts
If there is enough space available to accommodate a table, you may think about purchasing a table style patio heater.
They have a modern and chic design. You can also get a safety cutoff functionality out of these patio heaters. These patio heaters are designed to function as a table when you turn them off.
This can provide you with some useful table space. The biggest drawback associated with these patio heaters is that they are not in a position to heat upper air.
They are not the most wind-resistant and efficient patio heater that you can buy.
Wall mounted patio heaters 
Apart from freestanding patio heaters, you will be able to get a wall-mounted patio heater. These patio heaters are ideal for saving space.
That's because you can mount the patio heater out from the way of traffic. You will have more space in your outdoor space.
They come along with better control options as well. On top of everything, wall mounted patio heaters are the most efficient. You can get a less obtrusive experience out of them.
You must also keep in mind that wall mounted patio heaters are not the cheapest. You will have to spend more money on purchasing a patio heater.
However, the amount you spend would be worth it when compared to the returns sent on your way. You will not be able to get any portability out of them.
If you don't have any plans to move the patio heater, you can go ahead with this option. 
Different materials used for the manufacturing of patio heaters
Here are some of the most prominent materials that are used for the manufacturing of patio heater.
Coated Stainless steel 
Stainless steel patio heater are weather resistant and durable. You can get them in different color options. However, the coating of these patio heaters can be scratched or damaged.
Stainless steel 
If you want to buy professional and sleek looking patio heaters, you need to take a look at these patio heaters.
They are professional and sleek. On the other hand, you can get a weather-resistant design out of them as well.
But you should be using this kind of a patio heater only if you are not living in a coastal environment 
Aluminum patio heaters 
The aluminum patio heaters can deliver additional corrosion resistance when compared to other patio heaters that you can purchase. However, these are less durable.
You can take a look at all these different options and purchase the best patio heater with correct parts to match with your needs. 
Final Notes
There are of course other patio heater parts that could need replacing that didn't make it to the list. This is a list of some of the most common patio heater parts that need to be replaced.
Whether it's an accident or just wear and tear, appliances don't last forever.
If there is a porfessional in your area, it can be worth being a bit proactive every now and then and having them give your patio heater an inspection.
You can also keep some of these parts on hand, like the glass tube, to ensure that you can recover quickly from a broken patio heater part.
Continue Reading: