Wondering if it's worth getting an electric pressure washer? Electric pressure washers are the most popular option. The main reason is that they are more affordable than gas washers. They are lighter in weight, too. Yet, electric washers aren't as durable as the gas alternatives.
Pressure washers can make cleaning around your property so much easier. You are thinking about getting an electric one, but wonder if it's a good option. After all, there are gas-powered versions.
Buying a pressure washer is a great investment. You get a professional level result as well as cut down the amount of cleaning time around your property.
Read on to find out why you should get an electric washer and if gas washers might be the better choice.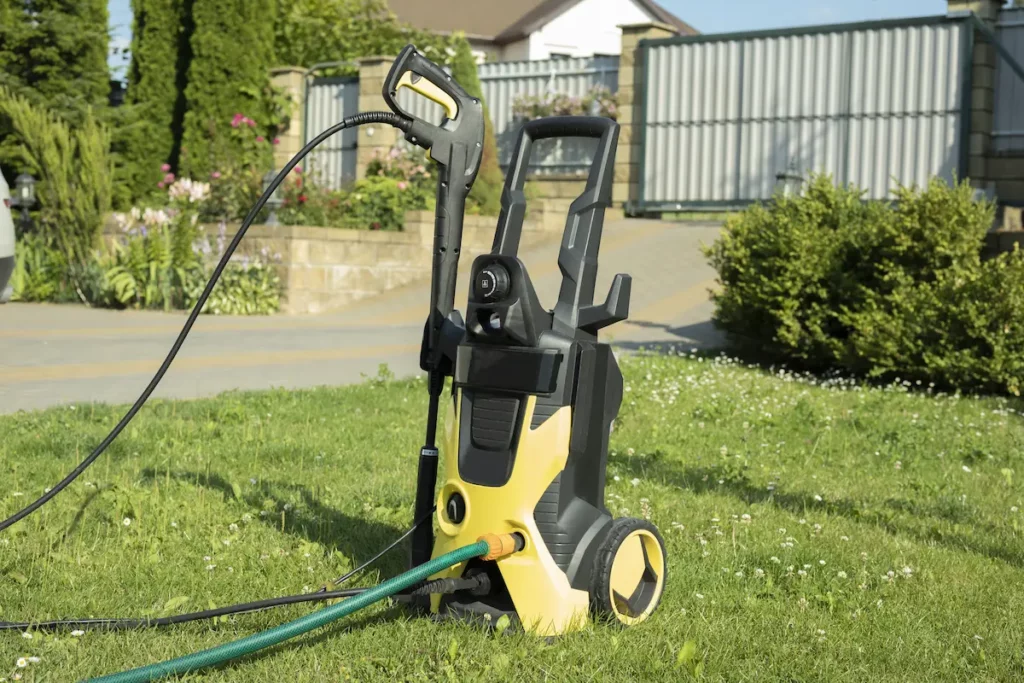 Related Reading: Best Pressure Washers Under $300
Why you should buy an electric washer
When shopping for a pressure washer you will find that DIY and hardware stores have more electric versions than gas. The two main reasons for this are: electric washers are cheaper to buy and they don't require much maintenance.
Let's run you through the benefits of having an electric washer.
They do a great job around the house
Electric washers do a more than a capable job with those clean up tasks around your property such as:
taking care of your house sidings
washing down your patio/deck
cleaning the car
They offer a decent level of pressure while still being quiet. Usually, these washers produce 1,300 to 1,700 PSI. Some models can provide up to 2,000 PSI.
The gentle flow of water provides a thorough clean without damaging your surfaces.
The attachments can add even more pressure to the water.
Yet, electric washers aren't as powerful as their gas counterparts.
Related Reading: How Much PSI Do I Actually Need In My Pressure Washer?
Convenience
Because they are light, electric washers are easy to carry around with you.  The size of the unit makes them easy to store away in your garage or shed.
One drawback of electric washers is the length of the cord. You will find some people saying using an extension cord is not an option. The reason is that it will reduce the life of your machine.
However, others will tell you that using an extension cord is fine. For cords over 25 feet in length, use either a 12- or 14-gauge wire. Anything lighter than that will struggle to provide power to your washer.
A word of caution needs to be made: Be careful with extension cords around water.
Environmentally friendly
You aren't using gas to run your electric washer. So, your machine isn't emitting anything environmentally damaging.
Yet, they aren't as durable as gas washers so you'll be disposing of your unit sooner. That doesn't mean you have to dump them. Take your machine to a recycling center.
By doing so you are saving the environment even more.
No ongoing costs
There is just a one-off cost with electric washers. Purchase it and you are done. No more expenses.
With gas-powered equivalents, you have the continued cost of fuel.
There is a hidden cost with electric washers though. The reason why most are cheap is that the components are of low quality. You may find you will be having to get a new unit sooner than if you had gone gas powered.
Electric washers are hard to fix, so the cost of repairing your machine is high. Therefore it's more economical to get rid of it and purchase a new one.
We are reader supported. We may earn a commission when you buy through our links.
Last update on 2022-11-20 / Affiliate links / Images from Amazon Product Advertising API
Are electric washers any good?
If you are wanting a washer that can take care of domestic tasks around your property, electric washers will serve you well.
They are cheap. You can usually pick up a unit for around $150 to $200.
Aside from the affordability, these washers can give you a decent amount it pressures. You can adjust the pressure with the nozzle.
These two factors are what make electric washers a popular choice.
There are no ongoing costs. It's simply a matter of plugging in your washer and you're ready to go.
Yet, when electric washers break down you are facing a hefty repair bill. It's more economical to purchase a new machine.
Electric washers will let you down if you do heavy-duty cleaning. 
A look at gas pressure washers
If you are wanting to buy a machine that is more heavy-duty, then gas washers are the way to go.
They are the best option if you have more inground stains and growths to remove.
Versatile cleaning options
Gas washers produce a higher level of pressure. You can expect to get anywhere between 2,100 to 4,000 PSI.
That makes these machines more universal when it comes to cleaning. They can take care of the domestic tasks around your house while offering a more commercial level of cleaning.
However, you don't want to ruin those more delicate surfaces when you're washing. Use care and match the pressure level with the task.
Quicker to clean with
The higher-level pressure available with gas machines allows you to clean faster.
The washing time can be reduced to a third of that compared with electric washers.
More portable
As these washers are powered by fuel, you can take them to places where electric washers could never reach.
They are made more for the commercial end of the market, so they are typically heavier than their electrical equivalent. However, the framing of gas machines has wheels for easy maneuverability.
They are longer lasting
Gas washers are designed to take care of the bigger, more demanding jobs. As such, they are built to be sturdier machines than electric washers.  That means that you won't have to replace your machine as often as you would have if you went electric.
Also, repairs are easier to carry out with gas washers. This allows you to extend the life of your unit for as long as possible.
Fuel costs
To keep your machine running requires gas. The ongoing cost can get a bit overwhelming if the price of fuel increases.  On top of the fuel costs, you may have the added expense of buying cleaning detergent to wash with.
You need to be careful using gas washers
Because you are using fuel with the gas washer, you want to ensure that you are safe from harmful emissions.
Additionally, the power produced by your machine can be a little overwhelming at first. You will need to approach your initial tasks with caution. A damaged surface or ruined car paintwork can be an expensive mistake to fix
When washing there is a chance of blowback. Be careful of any debris being pushed back towards you from the water pressure.
As gas washers are heavier machines to move around, you want to use the correct posture when transporting them. Keep your back straight and take care when lifting the machine.
They can be noisy
Gas washers are bigger machines with more pressure behind them. All that contributes to them being noisier than electric washers.
If you want to minimize the noise, then go electric.
Last update on 2022-11-20 / Affiliate links / Images from Amazon Product Advertising API
Related Reading: Here's How to Clean Your Deck With a Pressure Washer
Conclusion
When deciding what type of washer to buy, people weigh up the cost-benefits of electric and gas washers. One also needs to determine how demanding the cleaning jobs will be.
Gas washers are the more expensive choice and have ongoing costs (fuel purchases).  In the wintertime, you have to add antifreeze to the equation.
These types of washers are more durable and offer greater power than electric ones. Though the initial outlay may be higher for a gas machine, you won't be needing to replace it for a while.
Electric machines are great for the smaller jobs around your home.  Yet, when they break down, the cost of repairing the unit is high. Most people decide to dump the unit and purchase a new one.