Trampolines are some of the best toys that bring countless hours of fun for children, and even adults depending on the size of the thing – but what do you do when it's bounced its final bounce? Well, there are many ways to recycle the different parts of the trampolines to make a broken-down trampoline into a beautiful addition to your home and garden.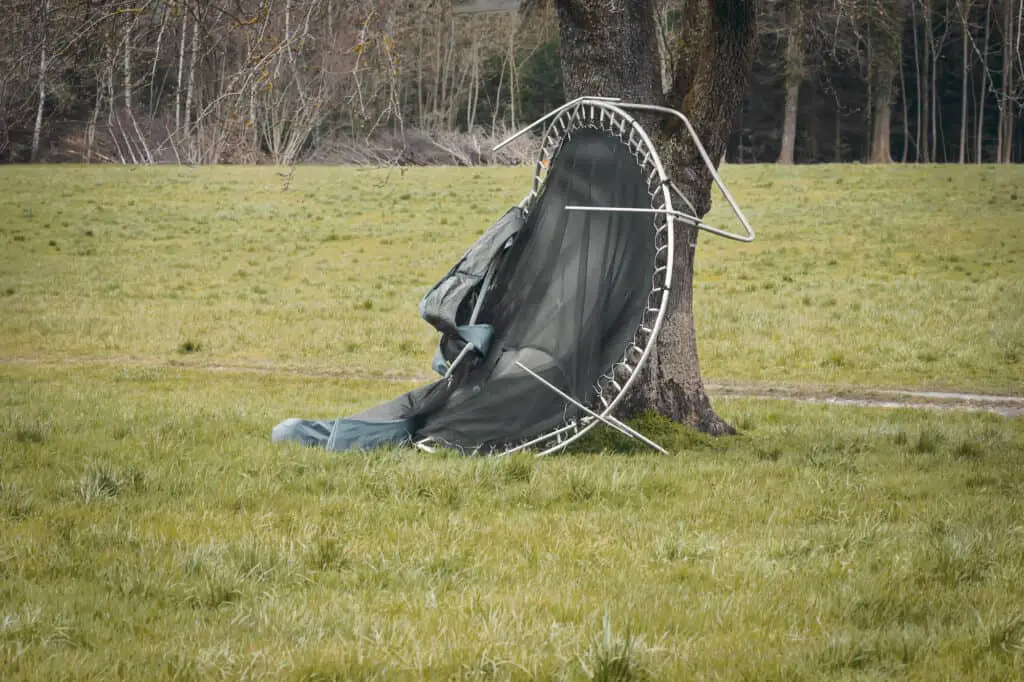 Related Reading: What's The Weight of A Trampoline?
1.)  Turn It into A Garden
One of the simplest ways to recycle a trampoline is to take advantage of that netting and make that into a garden. The material used for the bouncing is brilliant for allowing water to drain through and making sure the soil is nice and moist without becoming waterlogged.
How to turn it into a garden is simple; flip the trampoline over and create a barrier around the perimeter. You may or may not want to keep the legs on, as they may be good for structure. Then fill your new garden with soil and plant what you like in it.
2.)  Turn It Into A Frame For Climbing Plants
If you're willing to do a bit more work to recycle your trampoline, then the large circle on a trampoline can become a lovely frame for climbing flowers, and once covered in roses, it could be a wonderful addition to any garden.
To do this, cut the springs and the bounce material from the trampoline and pull the legs loose from it. Once you only have the circle frame, put up some pole supports and tie the circle frame to it vertically. Once it's secure, then you can begin the task of growing climbing plants on them.
3.)  Make It Into A Tent For Backyard Camping
If the trampoline has bounced its last bounce but the structure of the trampoline itself is secure, then perhaps you could make it into a tent for a little stay-cation. Being above the ground means that the cold of the earth won't chill you at the night.
All you need to do for this recycled trampoline project is to either create your own tent from some polythene, or buy a tent, and use some zip ties to bind the tent to the trampoline frame.
4.)   Make It Into A Pergola
The trampoline mat works well as a shaded roof, so if you ever fancied a pergola for the summer evenings, then using the old recycled trampoline for that could be perfect!
To do this, remove the legs and attach the trampoline mat to longer poles – enough to allow people to stand underneath it comfortably – and once it's secure, you can add lights and curtains and anything else you would like to add to make the pergola more beautiful.
5.)  Recycle It Into A Chicken Coop/Rabbit Hutch
If you're very handy, then a trampoline frame is the perfect shape and size for a nice cage for some small animals.
For this little project, you will want to fit a waterproof material over the top of the trampoline mat for rainy days and keep it off for sunny days. Fix some chicken wire around the legs, making a door in one of their segments. We also suggest you place some blocks of wood around the bottoms as the bottom of a recycled trampoline's legs tends to bow.
6.)  Turn The Trampoline Into An Elevated Garden
It may add some dynamic depth to your garden to have different levels in it. If you would like a different level to your garden, then the old trampoline could be a perfect addition.
You may choose to remove the trampoline mat and build the remainder of the frame into a structure specifically to hold potted plants, or you could just place another piece of material over the trampoline mat and place your potted plants atop it.
7.)  Make It Into A Netted Vegetable Garden
If you're constantly finding your vegetables and fruit nibbled away by bugs, then you could take advantage of not only the frame but the safety netting of the trampoline if you have it.
For the best results, like other pieces of advice in this list, it begins by dismantling the trampoline, removing the trampoline mat and springs, and attaching it to a few poles for structure.
Once you have made it tall enough for people to comfortably walk underneath, you can add either the trampoline's own safety netting or specially bought mosquito netting and hang this from the frame of the trampoline.
8.)  Make It Into A Sports Goal
A simple way to repurpose a trampoline would be to make it into a goal for your soccer, hockey, or any other sports you would like to play in your garden.
In this case, cutting the trampoline in half to make it into a semi-circle and adding some stands to make sure it is secure is enough to transform it. Just make sure the trampoline mat is stretched tight when you place it down.
9.)  Turn It Into A Swinging Bed
A little more difficult, but so worth it, in the end, is to recycle your trampoline into a swinging bed! This will need some extra materials, but the trampoline mat and frame are perfect to make one by yourself.
What you need to do in this case is remove the legs from the trampoline, then add some extra netting to the trampoline mat and frame. You will need to bury the poles and make sure they are secure before attaching firm cables to the netted trampoline and frame underneath, so it is suspended. Add some lovely pillows and maybe a curtain to complete the project.
10.) Turn It Into A Holiday Wreath
A novel idea of what to do with an old trampoline is to turn it into a large holiday decoration you can use each year as a celebration for the winter holidays.
For this recycled trampoline DIY, remove the trampoline mat, springs, and legs. After that, you can place the trampoline frame against the wall or around the door of your house and adorn it with plastic plants, tinsel, or fairy lights to make it into a fantastic holiday decoration.
11.) Make It Into A Pool
Pools are expensive, but you might be able to make one for cheaper in your back garden by recycling your trampoline.
In this example, you'll need to take off the trampoline mat and ensure there is nothing sharp to puncture any tarp. Next, wrap a thick plastic around the legs and the framing before folding plastic around the inside of the framing. Make sure to bind it tightly, and make sure there are no holes in it. Finally, fill with water and enjoy.
12.) Make Into A Playground Spider Web
If you have kids which you'd like to entertain now that the trampoline has bit the dust and the frame is still secure, then you could make it into a spider web.
How you do this is simple; remove the trampoline mat, and tie thick ropes to the edges of the frame, from one side to the other. Once you have many ropes from one side of the frame to the other, you can begin using other ropes to loop them together into a spider web shape.
13.) Cut An Exercise Mat Out Of The Trampoline Mat
If you want to use the trampoline mat in some way, you can replace an old exercise mat with a section of trampoline mat.
Measure out as much as you need, then cut out the size desired. Alternatively, if you need a floor mat, you could use the trampoline mat as one of those. This is such an easy way to recycle your trampoline.
14.) Use As A Window Net
If the safety net of a trampoline can work as a mosquito net for your garden, then you can also use it as a mosquito net for your homes as well.
For this one, remove the safety net (or you could use the trampoline mat if you wanted) and cut out the shape you need for the window. After that, you can then pin the makeshift mosquito net to the window and keep bugs from your home.
15.) Make A Movie Screen
If you are willing to pay the money for a movie projector, you could use the frame to make some amazing outside gatherings for your family or friends.
This only needs the removal of the legs and trampoline mat and stretch white canvas where it used to be. If you don't want to pay for canvas, you can attempt to paint the trampoline mat white, but paint may flake off eventually, so we suggest the canvas.
You may be also interested in: Best Trampolines with Basketball Hoops [REVIEWED]
Final Thoughts on Recycled Trampolines
So, if you have an old trampoline that doesn't work anymore, and the thought of simply throwing it away pains you, there are many things you could do with an old trampoline if you're willing to put a little elbow grease into it.
You could turn it into an elevated or buried garden, some other furniture like swinging beds, pools, other playground structures.