Families, businesses and friends have been finding creative ways to stay warm while getting together outdoors and selecting the right heater for the job can be daunting.
The table below shows a comparison between patio heaters and propane fire pits which could help you make a decision on which heater to buy.
| | | |
| --- | --- | --- |
| Propane Fire Pit | vs. | Patio Heater |
| Multiple design options | Versatility | Limited designs |
| 70,000-150,000 BTU | Heat Output | Approx. 40,000 BTU |
| Outdoors/Can be made into an in-ground fire pit | Indoor or Outdoor | Indoors and outdoors |
| 3 – 6 hours on avg. | Run time | 10 hours on avg. |
Keep reading on to see why both heaters are considered solid choices and how they are different from one another in a side-by-side comparison.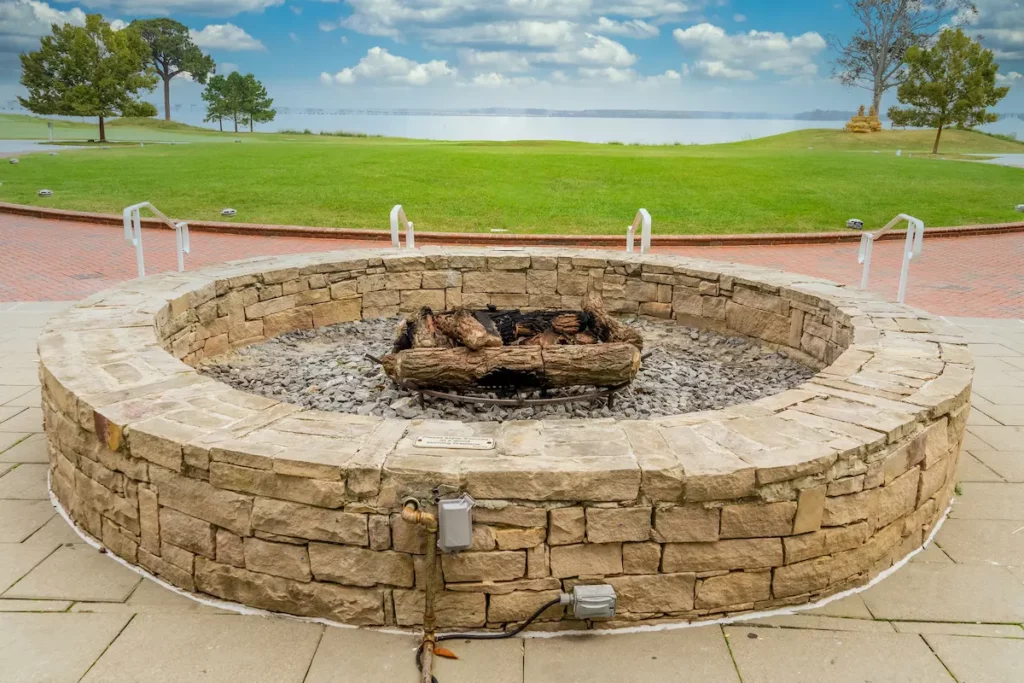 Related Reading: Are Gas Patio Heaters Better Than Electric?
What Makes a Propane Fire Pit Worth The Money?
The big draw to purchase a propane fire pit will be the amount of heat that it emits from its unit. The high BTUs (British Thermal Unit, how heat is measured as it comes out of the heating unit) and wide ranging styles make propane fire pits ideal choices if you want to enjoy an evening outside in a garden or on a patio and be exceptionally warm while doing it.
There is a resurgence in demand for propane fire pits, much like the demand for patio heaters, in the last two years due to families, businesses and friends finding ways to still gather outside year round and still be comfortable and warm.
If you keep reading on, the list below points out a few of the desirable features of a propane patio heater that might make you run out and buy one today!
More stylish due to the availability of a wide range of designs
Can roast food items over the flame from the fire pit
The propane fire pit can be converted to an in-ground fire pit if you wanted
Not as fussy as if you had a campfire and needed to be mindful of embers
Great views for entertaining at parties with guests enjoying the flames
There are a lot of potentials in owning a propane fire pit such as the ability to roast s'mores over the open fire and create new and lasting memories or by making it the centerpiece for your outside area and impressing your guests with dancing flames.
If you are like most customers looking to purchase a heater, you are now probably wanting to ask, what's the catch? If you keep reading, a few cons of owning a propane fire pit are discussed.
What Are the Cons Of A Propane Fire Pit?
Propane fire pits can be a beautiful way to light up any outside area as they are usually able to produce impressive flames that will delight anyone watching. But, once the flame dancing is done and you are left with just an empty and flameless fire pit, what good is it? What are the actual cons of having a propane fire pit?
With a quick look at the list below, you will see that propane fire pits, like most fire pits, come with a set of cons that could make the difference in your decision making.
There are measurable limitations in how far the heat will go beyond the unit
Can not be used indoors, there is a very big safety hazard if you do
Not as much control over how hot the fire pit can be
Open flames can be a safety issue if you kids and pets around
Potential for embers to bounce out of the fire pit and cause a fire
Although not worrisome cons with the propane fire pit, there are some strong considerations to be made if you have children around or pets because a propane fire pit can be a safety hazard due to the open flame. Overall, a propane fire pit is balanced in its pros and cons.
What Makes a Patio Heater Worth The Money?
Generally, patio heaters are going to be more or less multifunctional and when you are deciding on if this is the right heater for you, considering how you want to use the patio heater is key.
Most will recognize patio heaters if they had been out to eat during the past two years and sat outside in the cold with only a lonely heater to keep you warm while you eat your food. Not to be underestimated but the patio heater selection has only gotten better since more people are finding ways to enjoy events, evenings and even days outside in the fresh air.
It is fair to ask, what makes a patio heater worth the money over competition like a propane fire pit?
If you take a look at the table below, you will see that there are some key stand out features that will make a patio heater worth its price.
No embers or sparks
Little to no maintenance involved
Easy to relocate to any position in your outdoors area
Built-in safety features that give you peace of mind
Can be temperature controlled
A safe heating option if kids or animals are around
A patio heater is easily the most versatile unit on the market and owning one will elevate any event of relaxing evening you have outdoors. As a casual standalone heating unit, a patio heater offers a lot and could be exactly what you need to bring warmth and life to your outside area.
There are always drawbacks, of course, and if you keep reading on you can see that a patio heater has a few to consider and hopefully not become make or break points when you consider your purchase of one.
What Are the Cons Of A Patio Heater?
Generally, a patio heater will be the safe bet on the market when it comes to heaters. There are a lot of safety features built-in that make it reliable and give you peace of mind when you have little ones or pets running around it. So, what gives? What are the drawbacks to having a patio heater?
If you have a look at the list below, you will see that there are a few drawbacks to owning a patio heater and they should come under consideration before you purchase one.
There are limited design choice with patio heaters
There will always be a requirement of needing a power source whether its fuel or electricity
If you are not careful, attachments like cords coming from the unit can create a tripping hazard for those who are standing by the unit
Don't expect a great deal of light to be beaming out of this unit
Propane for fuel can become a costly investment
The cons listed above may not seem like they are troublesome but if you are looking for something with a bit more pizazz, a patio heater may not be the way to go.
Continue Reading: Best Contemporary Outdoor Gas Fire Pits
Final Thoughts
Purchasing the right heater is like purchasing the right couch for your living room. They are all unique, nice to look at, can be economical or very expensive but what matters most at the end of the day is how they make you feel. If having warmth as your overall goal and you are not too fussy about style, then you might be looking in the market for a patio heater.
If you are looking to add some style and mood ambience, then you might be looking at propane fire pits. No matter what you choose, you will have two solid performing heaters to enjoy with family and friends!